Mai Namikawa
From Persona MUSH Wiki
Mai Namikawa
Battle Waitress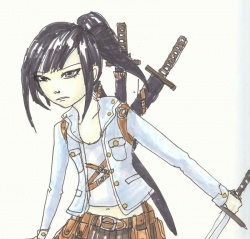 Status
Aliases
Mai, Hime
Arcana
Tower
Nature
Persona-User
Gender
Female
Age
18
Birth Date
May 14th, 1993
Blood Type
A+
Preferred Weapon
Sakaba Sword
Faction
Darkside
Teams
Tarjana
Job
Hakagure Ramen Waitress
Divisions
Warning, Control, Threat Removal
Assignment
Gekkoukan High School 2nd year
Origin
OC
Voice Actor
Miyu Matsuki
Player
'Trick
Trivia
Height: 5'6" or 165.7 cm
Weight: 137 pounds. On paper. If asked.
Eye Color: Grey
Hair Color: Black
Favored animal: Cats
Dislike to the point of freaking out: Scorpions
Favored snacks: Apples, mini-carrots.
Least liked snacks: Peanuts, chips
Favored gum flavors: Mint, Cinnamon
Cooking Skill: Average. Strong emphasis on symmetry, not very fond of using spices out of fear that it may wreck the taste rather than enhance it.
Used to always wear a green ribbon in her hair, or has it wrapped around her right wrist otherwise. The ribbon was given away in an effort to cut out a part of her past and move forward.
Has a very quirky sense of humor
Has religious beliefs but is rarely forthcoming on details.
She called Osaka her home for most of her youth, although she doesn't know if she was even born there. It never occured to ask. Current Disciplinary Head of Gekkoukan High.
She is the current wielder of both the Juuchi Yosamu and the Yawarakai-Te swords.
She has aided, then fought and finally fused with her doppelganger created by Pandora, however she remains the dominant consciousness.
Phone Contacts
Mai's cellphone address book and the people who actually know her number:
Quote
"If you think things are okay, you are delusional. If you thinks things are bad, just tell yourself it could get worse. So much worse."
Profile and Skills
Profile
Some people grieve by changing their lifestyle for a time, or by keeping a picture of their lost loved ones nearby. Some people scatter the ashes somewhere that the deceased wished to go. Mai Namikawa killed her identity and took the name and certain mannerisms of her dead sister in a desire to be forgiven both by her parents and her own self, driven to such an extreme by survivor's guilt. Brought to shed her false identity by circumstances surrounding the Abyss of Time, she remains mostly the same girl that people had come to know save for a few differences. Continuing to devote herself to better understanding supernatural matters and sharpening her skills to survive the strangeness in her new home and to avoid being a burden to those who took it upon themselves to defend it, she accepts her place and self-percieved role in the conflict and finding purpose in what she felt needs to be done. Not terribly overt in expressing her emotions, she prefers to pour herself in less complicated things like her part-time work and straightforward hobbies that use her hands. Prone to occasionally carry more on her shoulders than she should, Mai is perfectly willing to use any means at her disposal to get the job done, although having a disdain for unnecessary bloodshed. Those who have gotten to know her better tend to discover a caring if cautious and flawed heart, a morbid or plain bizarre sense of humor and a brutally critical mind with pessimistic tendencies coupled with enough imagination and will to plan for those very worst cases--at least, for those who she overcomes her reluctance to open up.
Skills
Spent a Year as a Dead Person, For The Greater Good, Blunt Sword Blunt Words Sharp Mind, Paranoia Agent, Worst Case Scenario Thinker, Kuudere, Fixer, The Glass IS Half-Empty, It's Also Warm, Stick-In-The-Mud, Obsessive Analyzer, Sometimes You Just Have To Let Go Of Your Dead Self, Adept Of Text-Fu, Terminally Uncute, Knows Where Your Joints Are, Twisted Humor, Did The Future Change? Insane Girl or Genius Planning Ahead All Depends On What Comes Next
Persona
Hannya
Background
Hannya is a jealous masked demon meant to represent the malice or sublime emotions of human beings. An ogre-sized woman, her limbs are slender yet freakishly long as she stands well over 6 feet five inches even when bent forward a little, her limbs however are perfectly concealed until she stretches them to full length beneath the robes and garb of a typical japanese miko priestess with long snow-white hair. The face is perfectly covered by a white mask of a demon[1], with golden teeth, horns and the area surrounding the eyes. The holes in the face area show nothing beneath, only darkness, although on occasion two crimson lights can be seen in the eyeslots. Her powers range over Darkness and physical attacks, attacking directly or empowering Mai to perform superhuman strikes.
It is unclear what sort of abilities Mai gains passively from Hannya. They seem best synchronised when Mai feels either extremely strong negative emotions or is in a very clear state of mind.
Resonance
For those who sense Resonance visually, Himeru's face would appear as if covered by a transparent Noh mask of a young girl. Those who sense internally would feel her radiating something akin to violent jealousy, anger kept chained down tightly and kept moderatly quiet by a strange feeling of calm, like if mere minutes before a thunderstorm would crash. Those who can smell it would detect her smelling like blood and talcum powder.
Social Links
0. The Fool
Minato Arisato - Fallen King - Ex-Field Commander of SEES and generally a Sempai she can't read. She tried, really. His facial expression and tone use however rivals her own, making Mai wonder if he's a natural or a master of self-control. His refusal to follow instructions have caused a drop in how she saw him, as his opposition was deemed poorly thought and foolish. Currently disliked as she considers he was forgiven too easily given the gravity of his actions, nor did he seem to do anything to deserve forgiveness. Her disdain had simmered back down with time to only mild dislike. After talking with him and getting his version and feelings exchanged with hers, they mostly made up and she's ok with him.


Minako Arisato - Upbeat Queen - Twin sister of Minato, and strange acquaintance made in Mikage-cho. Due to meeting at a time of emotional distress, being helpful in a selfless sense, cheerful and a non-Persona user at the time, Mai opened up a little and found someone who would listen and be with her when she needed to not be alone. It left her wanting to return the favor and get to know the revealed sister a little more too. Her energetic and lively behavior is pleasant to be around of. While they spend unfortunatly little time together due to very few common interests and grounds, Mai still loves her and wishes she could have the time and ability to be a better friend rather than the bearer of unpleasant news.


I. The Magician
Shiki Ichimonji - Shining Knight - A classmate, Shiki is disarming with his cheerfulness and just how outgoing and energetic he is, enough that he managed to slip through Mai's barriers. He is seen as someone very genuine about how he feels or the greatest actor ever if he isn't. His honesty and kindness has made him someone worth knowing and calling a friend. Has discovered about his art due to a very unexpected session of Live Action Captain R in Mikage-Cho. Has seen him assigned to a leadership role in SEES, and has some degree of interest in seeing how he grows into that. They share a workplace, too. Was among those who witnessed her past in the Abyss of Time.


Andrei Solokov - Solid Snake? - Father of Shinjiro Aragaki, ex-KGB, extremely cold-minded and professional man met during the incident that sent Mai and several others in the dreamscape. Left her more than slightly bothered in his presence, but unfortunatly he dissapeared before she could do something foolish such as beg to become his understudy or maybe worse. Their last meeting was chattier than the first, and she discovered he may be handsome but he's not the man she dreamed him to be. Her opinion dimmed as a result.


II. The High Priestess
Shiori Hibiki - Gentle Soul - A girl encounted first in Inaba' strip mall, Mai's relation toward her WANTS to be good and friendly, but is driven by guilt as Mai seems to be unpleasantly skilled at causing distress or indirect harm even when it wasn't her intention. Mai is thus driven with the desire to make it right someday, even if Shiori may not feel it to be such a big deal. The fact Mai keeps being hurtful to her everytime they meet is something she finds annoying, moreso as she isn't purposely trying to be.


Maki Sonomura - Whole - An experimental subject for the SEBEC's DVA system, Maki is a tragic case who somehow may actually not see a tragic end, against all odds. Divided into herself and three 'aspects' of her mind, her life seems to be an unpleasant existence of watching 'herself' live through proxies. A victim at times, a powerful bringer of change and creator of a pocket dimension, Mai cannot forgive those who bound a human being to that sort of life. Oddly enough, she feels most kinship toward Aki between the three separated Shadows. The battles and revelations found because of the DVA system had Mai shaken, and she's not entirely sure if she should thank her for it or not. Finds Maki's choice of putting another person in the device questionable, but lacking firsthand experience of the strain the DVA puts on a person' psyche, she can't argue. The choice of person however is not approved. Seems to be doing well since, having found a job, but is still a little difficult to predict and follow at times. Helped save Mai in the Altered Timeline of the Abyss, and the favor was somewhat returned as Maki' Shadow - Pandora was loose and threatening the world. Mai is genuinely glad that Maki is alright now, and selfishly happy that Aki is still among them even now.


Yuuka Chiba - Little Singer - Acquaintance, 2nd year of Gekkoukan, also believed to have had some interest in Blaise Cameron. Friend of Sayaka Takuma. Lost control in school and dissapeared slightly before the New Year. Her key wish was deemed selfish and necessary to be terminated for a return to the true timeline. Her cooperation was not expected but appreciated. A pacifist girl to a fault versed in healing arts, deemed a threat due to her willingness to use the supernatural to boost her career in a manner deemed careless..


III. The Empress
Mitsuru Kirijo - Burdened Queen - Leader of SEES, Mitsuru was not all that Mai expected. Wealthy, somewhat sheltered, the Kirijo heir impressed with her ability to manage in times of crisis and making difficult decisions regardless of her own feelings on he matter. Feeling that Mitsuru has enough burdens with her past and feeling to blame for the dangers in Port Island is part of why Mai has little difficulty getting her hands (or more) dirty for good reasons. Finding that SEES is lacking in the intelligence gathering department, Mai has a tendency to update or assist in that regard without asking much in return. While they do not cross often, Mai has confided herself in Mitsuru in some of her worries about the future and how she felt after the Lovers Arcana Shadow incident. Touched Mai's heart with kindness after accepting the events in the Abyss of Time, unknowingly securing a degree of loyalty that would be exceedingly difficult to break. That loyalty remains strong and has been gradually been coated with a friendship Mai has grown to appreciate and enjoy.


Tomomi Fujimori - The girl who wished for a gallon of gasoline and a match - An admitted revolutionary of sorts, Tomomi's admittance of a desire to purge the world in cleansing fire and rise from the ashes into a world cleansed of lies and masks made her sound more interesting than terrifying. The blunt honesty displayed mixed with a clearly advanced knowledge of the shadows and the world called the 'Midnight Channel' however made her someone deemed to be dangerous, and best approached with a bit of caution. Feels a hint of sadness toward her, as she was a pleasant person during her time in SEES and yet seemed so angry and hateful when she gave up her key. Last seen in an assault on Kirijo Labs, but not exactly chatty. Assumed to be up to no good, but whereabouts currently unknown.


IV. The Emperor
Akihiko Sanada - A Sempai met during her first year at Gekkoukan, Mai was told to seek him out for hand to hand training, and their first meeting was colored by her 'test' of his skills by throwing a punch at his jaw without warning. While he was quick to forgive, he also was willing to turn the other cheek and allow her to join his training routine, learning how to handle herself unarmed if necessary and a little about him. She had grown to like him but their primary source of interpersonal contact being one focused around training and Akihiko's lack of interest in her due to his 100% focus on said training prevented their relationship to grow into anything else. She has a bit of a crush on him.


Akatsuki Enda - Jerk Twin - Older SEES member who Mai met while looking for her classmates who had gone on a mission. Was originally seen under a neutral light, seemed like a 'perfect student' type who also had charming looks and she expected him to have a bit of an ego as a result, yet she never quite found that expectation furfilled. Their relation had gotten cold after her actions at the New Years Tartarus expedition, but after talking they have mended a little. For all his cool appearance, she found someone who had difficulties emotionally to love and afraid of loss. His willingness to show and admit he's not perfect if reluctantly is actually appreciated and comforting, making the older boy easier to talk with and try to understand. Currently believed to be dating Daiya Kimura. Mai admitted to having feelings for him via the influence of the Arcana Shadow, which led to an unpleasant talk and while she valued him for a time, their relationship feels less comfortable. Has asked about some of the ugliness she hides, was less than thrilled to actually receive exactly what he asked for. Their relationship turned bumpy as Mai lashed out at him for harm caused by Kyo Enda to her, and their friendship degenerated until nothing but pain and scorn seems to be left right now. She can't bring herself to hate him, but thinking of him is unpleasantly painful. Even seeing his bold words of taking care of his brotherly problem on his own get crushed into the ground alongside Akatsuki himself yielded no comfort, no matter how karmic it seemed.


V. The Hierophant
Shinjiro Aragaki - Grey Knight - On the opposite end of the board, Shinjiro Aragaki is a man who represents experience in many fields yet a gruff sense of wisdom. Lacking in tact, he was found to be refreshingly direct, blunt and honest about matters that people tiptoe about, allowing her to speak her mind and heart on many matters without feeling judged or outright called an idiot. His attitude is not monochromatic either, making him even more interesting to Mai. He also has a strength that she wishes to overcome, seeing his ability as a challenge and his past as a warning of how she could stray given her own tendencies. Mai cares for his wellbeing and believes he does care for his kohais too including herself, which is why it hurt her heavily to hear just how she wounded his trust in her due to her name subterfuge. Has actually seen Mai cry more than once and witnessed her past in the Abyss of Time. She trusts him implicitly on the field and almost all the time outside of operations as well, minus the occasional disagreements.


IX. The Hermit
Izo Imaizumi - Quiet Giant - A tall young man seen first as part of Masahiko Irie's entourage, the contrast between the idealistic and passionate Yakuza prince and the stoic Imaizumi made them an odd pair. She discovered a certain kinship with the young man as neither of them want or enjoy unnecessary conflict and bloodshed, yet seem to derive a strange level of enjoyment once they cut loose and release. His position in the Yakuza is a complicated one, and she likes/relies on him enough that she is willing to at least help him out as she can.
Eien Seida - Touch Detective - A D4 Intern that used to be Mai' Sempai in High School, their love of rhythm for drums and other percussion instruments in the Music Club of Gekkoukan led eventually to a budding friendship when her secret hobbies related to the supernatural were outed by Eien's own latent talents, which led to them becoming fast friends even if the Sempai was not as involved with the same people at first but given time mutual friendships have begun to form.
X. Wheel of Fortune
Ran Itoh - Kind Bishop - An indirect acquaintance, Ran Itoh was met due to the Misadventures of Shinjiro Aragaki. While they did not have a chance to chat there and then, they later met at the Lucky 7 where Ran's unexpected kindness and cheerful attitude made Mai smile a little. While the two don't really know each other much, she is considered as someone nice. Rarely cross paths, assumed to be a reservist or retired SEES due to a lack of a will to fight or the strength to do so. Slight jealousy/envy felt toward Ran due to having seen what sort of man Shinjiro will look like in a few decades after meeting Andrei Solokov.


XI. Justice
Arisa Shiratori - Prince? - A kind girl met at Kandori's ball and then inadvertantly harmed due to circumstances. Guilt led to apology, and eventually they met again on nicer grounds. Someone Mai likes a little even if she barely knows Arisa. She is her first friend from Lunarvale. Her maturity, organisation and the way she dug tirelessly to uncover the secrets of Lunarvale showed Mai a different side of the otherwise slightly shy highschool friend. Often text-messaged, and one of the few people she is willing to confide to. Her whole talk about prince-ness however has Mai confused and baffled. Was affected by the Videogame Suicide Hypnotism problem, and has been made to suffer by an unknown false medical practician. Witnessed the events revolving around Mai's past in the Abyss of Time, but was more concerned about Mai' safety than about having been lied to about her true name. Cherished friend. Returned the favor by helping Arisa in the Abyss, but would have done so even if Arisa had not saved Mai first.


XII. The Hanged Man
Michiru Fukase - Survivor of Inaba - A contact and combat comrade from the KDA originally, Mai knew little of Michiru Fukase besides name, affiliation and typical stomping grounds. Repeated contact had done little to change that, Mai's assumption however that the coldly professional mood between them was something more convenient for them both proved to be wrong as the older girl reached out to her. Between their common friendships and interests it was not particularly difficult to find bonding grounds, even if a suggested plan to hang out inadvertently touched old wounds. While they do not know each other terribly well still, their first and second contact has awoken a desire to bridge the gap a little more.
XIII. Death
Seiichi Miyamoto - Masque Démasqué - Once a Strega mercenary and even a NWO Masquerade agent, Seiichi Miyamoto is a complicated case. His masked identity was an enemy, and his unmasked self had been working to infiltrate and gather intelligence to use against people, Naomi Suzuno and Mitsuru Kirijo among others. With time and due to similar angles and ways of seeing things, Mai had grown to trust and even like him a little, even if she views his recent handicap as a very unfortunate thing.
Shirou Sekigawa - The boy who broke reality - A reckless boy who used to fight for the KDA, Shirou Sekigawa had the unfortunate burden of being seen as the cause of the Mikage-Cho incident, even when the whole thing had been staged and prepared with him being simply the one who provided the spark to light the fire. Ex(?)-boyfriend of Thora Kobayashi, he was just a boy who Mai didn't really know much but fought with on a few occasions, and now that he is a Masquerade agent, she...still fights alongside him, and considers him as either the worst double agent or the best mole the Masquerade has considering all the information he must bring back to them. Maybe. His motivations don't make much sense to her.
Minamo Takagawa - False Smile - A cheerful girl from her school that seems far too willing to let herself die at the first opportunity, Minamo is a source of frustration. First for being a better best friend to Itsuka Mizuhara, second for being someone with incredible potential who's far too willing to squander it. Grade-obsessed to a fault, her diligence at going to supplementary lessons and working for the best scores is praise-worthy yet at the same time feels hollow to Mai, who sees no point to work so hard for someone who has such a low attachment on life and the future.
XV. The Devil
Itsuka Mizuhara - Cheerful Mage - Another classmate, Itsuka struck as the foil of Shiki's exuberant attitude, the dose of reality and down-to-earth attitude. Yet she has a certain air about her, a strength of will and the ability to stand against Mai in debate that earned her respect and some degree of caring that transformed into a strange meld between best friend and rival. They fought before, and while Mai won the contest of power it was too close to really be a dominating victory, while Itsuka won the battle of grades. Their relationship feels more distant nowadays as they pursue different things with a lack of common goals and activities. Witnessed Mai's past at the Abyss, but they have not spoken about it much. Their relation did grow distant since, but they remain friends, if not as closely.


Daisuke Itami - Smiling Trader - A relatively young man who has an office in Okina, first encountered while investigating the dissapearance of Kasumi Horie. His knowledge of her was unsettling, and he was seeked out at his office after to obtain answers on why he knew so much about her kohai. While Mai actually got no real tangible answer she found his ability to evade her questions nimbly to be amusing in itself and his ability as an information trader was impressive enough to deserve some respect. He made her interested enough that she took his card and sees him as a contact worth checking in with. His sense of morality seems to have some echoing points with her own, even if it clearly differs in others.


XVI. The Tower
Takahisa Kandori - Dead Mephistopheles - Known as CEO of SEBEC, and generally a man shrouded in mystery shrouded in secrecy shrouded in a surprisingly good taste in clothing, Mai's encounters with Kandori had not been pleasant, often ending with wounds of the physical or mental sort. Yet the man she finds facinating, as she can't read him like most people. Sometimes his intentions are clear, sometimes it takes her days to figure out what he just did, but she finds him interestingly smart. In nicer circumstances she would love to cross wits with him rather than cross swords. But even in a battle of wits, she feels hopelessly outmatched just trying to keep pace and try to understand what he's saying and on how many layers. She is currently intrigued by him more than scared, but still amply cautious. The fact that he ended in jail is considered strange, and uncharacteristic of his usual shown planning and intellect. His prison stay seems to have been little more than a distraction, as he is back to where he was as anticipated. Attempted to achieve godhood, died in the process, Mai felt sorrow for his sake as it was a death she would wish upon no-one.


Minagi Shimizu - Baka Minagi - Ex-Avatar of Chariot and ex-Shadow Possessed. Mai met the liberated Minagi in the beginning of fall 2009 and at the time was unsure what to make of her. Not a friend or enemy, but they had a rocky start due to an offhand comment about Blaise Cameron made by Mai. Minagi eventually gained a Persona, does not seem terribly changed by it and it was assumed she already paid the price due to her past. Their personalities cause friction if they get in a heated debate. Mai was least surprised by her opposition to the standing orders of Mitsuru and almost looked forward to be authorised to strike at her even if the opportunity never came. Currently has no idea where she wentlives or what she's doing after being removed from SEES and is not terribly concerned by it. Mai has witnessed via the Abyss of Time how her fate came to be at a young age, and while it was an unfair fate she found herself glad that neither Minagi or anyone else present brought changes to the timeline. Still considered a little bit of a naive girl, but they work together in the Disciplinary Council of Gekkoukan High School and get moderatly along.


XVII.The Star
Ritsue Tetsumoto - Go with the Flow - Mysterious woman met and seemingly hanging with Kanon Itoh in Mikage-cho. Briefly seemed to have some degree of imbued increased power but seemed like an extremely relaxed and nonchalant woman otherwise. Nice enough if a bit rough on the edges. Met a few times since, and worked with in a team. Trustworthy and street-wise.


Kasumi Horie - Kohai? - A new highschool student, a gentle if naive and ignorant girl, Mai holds the belief that it's her duty to educate and help her along her path like a responsible older sister figure. Awakened via the meddling of the Masked Strega Man, she has been involved in the Supernatural since, and saw Mai's past in the Abyss of Time among various bizarre things she had been involved in.
XX. Judgement
Kanon Itoh - Relaxed Adult - Elder Sister of Ran Itoh, artist, free spirit and surprisingly informal adult. A person she talked with only briefly, but was quite interesting and passionate about what she liked. Was also in Mikage-Cho, seemed to have been taking it rather well there. A commonly seen acquaintance and even a comrade in arms at time not to mention a bit of a friend.


Character Unlocks
Why the Cold Shell? - Unlocked by Naomi Suzuno, Akatsuki Enda, Shinjiro Aragaki.
The Grief Carried - Unlocked by Naomi Suzuno, Akatsuki Enda, Shinjiro Aragaki, Kanon Itoh, Miwa Saitou, Michiru Fukase.
Home Bitter Home - Unlocked by Naomi Suzuno, partial unlock by Kanon Itoh, Itsuka Mizuhara.
The Dead Among The Living - Unlocked, period.
Hope for the Best Future, Plan for the Worst Future - Unlocked by Thora Kobayashi
Unwanting Prophet Of The End - Unlocked by Naomi Suzuno, Arisa Shiratori, Minako Arisato