Seiichi Miyamoto
From Persona MUSH Wiki
Seiichi Miyamoto
Concert Pianist/Man About Town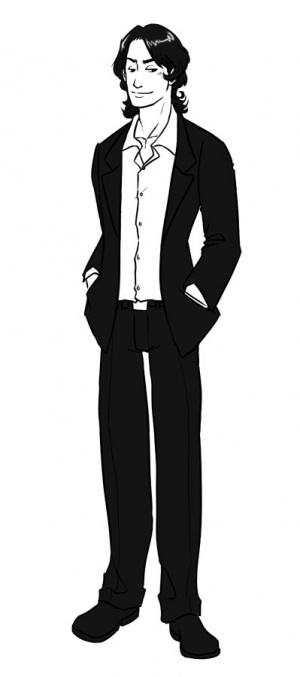 Status
Full Name
Seiichi Miyamoto
Arcana
Death
Persona
Set
Nature
Recovering Villian
Gender
Male
Age
21
Birth Date
October 10, 1990
Preferred Weapon
Katana/Double Wakazashi
Faction
NWO
Teams
The Dragons
Job
Piano Player and General Rabble Rouser
Assignment
Infiltration
Voice Actor
Takeshi Kaneshiro
Player
ME!
Set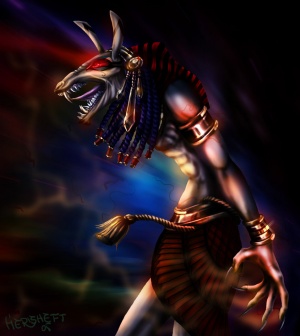 Social Stats
Understanding: 3 - ...dammit Mitsuru.
Courage: 4 - Taunting Shinjiro is a hobby.
Knowledge: 3 - I likes me some books.
Diligence: 4 - Plan, Plan, Plan.
Expression: 5 - Ninja Musician
Quote
"Lying is a skill. Like any skill it must be practiced to maintain a level of excellence."
Profile and Skills
Profile
The only son of a young housewife and a talented pianist, most would think that Seiichi had a fairly easy life. After a series of tragic events, his father's obsession with wealth and his mother's early death made sure that was not true. His father disappeared after a long spiral of depression, but Seiichi persevered, his kind deeds winning him the inheritance that his father denied him. His talent with the piano earned him the acclaim that his father always desired and the young man has decided to not squander his chances in life.
Or so most people think...
The truth is a touch darker than people would suspect. The mental abuse his father heaped upon him and his mother went deeper than most people would guess. Her death removed what he believed to be the only bright spot in his life. His thoughts turned to revenge. First on his father, and then on the family that caused Takeshi's obsession. With the goal of revenge in mind the young man lives a dual life of smiles and shadows. He seems content with it, and quite intent on bringing an end to this little family drama.
Skills
Makes Pianos Sing, I'm A Nice Guy...Really, Masks! Stylish And Functional!, Yes It Is A Sword In My Pocket, Power Makes The World Stop Going Round, Issues? Me? Naaaaaaah, Set

Was Just Misunderstood, The Piano Is A Lie, It's Also A Trap
Persona
Set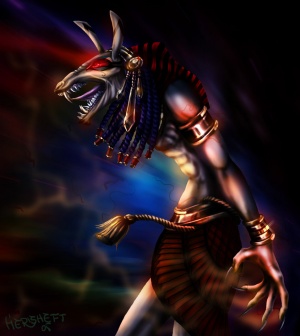 Background
Warrior, Murderer, Guardian, Chaos-Bringer, Hero, Villain.
Set has been many things over his life in the Pantheon of Egyptian Gods. He was at once the Guardian of the Desert, then the unisputed leader of the Upper Kingdom of Egypt. He was a god of the desert, as well as darkness, chaos, and storms. He had an intresting duality depending on which era of myth that is looked at.
He was a ruler who was jealous of his brother and killed him. Later he ruled beside his nephew Horus in peace. Later still he served as the Guardian of Ra, putting on a falcon's mask and battling Apep the Serpent as Ra sailed his barge though the underworld. In his finally incarnation, Set was seen as a force of both evil and darkness who slaughtered with abandon and brought chaos to the other gods.
Resonance
Seiichi's resonance is an odd thing. The young man learned early that he had a special power over his own Resonence, he has the ability to change the feel and the tone of it as well as the strength. He uses this power to keep his masked alter-ego hidden from the world and large and is the chief reason he can live a double life and not be found out by other Pesona users.
Seiichi's resonance is that of a desert in the noonday sun. Bright blasting heat, the dry smell of sand and wind, and the whisper of secrets and mysteries burried just under the ever shifting surface.
When in his alternate form, it is the cold and deadly chill of night. Biting and gnawing on the bones, cutting winds that feel like blades of steel and a deadly focus on one goal.
Now that Seiichi has come to terms with his darker side, the alternate form manifests rarely and in its place is a combination of the two forms. A chaotic desert wind with hidden whispers and mad eddies of cold and hot that whirls around him.
Social Links
O. Fool
Minako Arisato- Notes: OH GOD WHY?! DDDDD: - Added Notes: ...alright. Sometimes she isn't that bad. In fact /sometimes/ she can give good advice, there is more to her than meet the eyes at first.
II. The High Priestess
Yuuka Chiba - Interesting little singer that seems shy and bold according to her mood. Also looks good sitting on a piano.
III. The Empress
Mitsuru Kirijo - This redhead lady started as a mark. A good mark, an easy mark. She became a challenge when both Shinjiro and Naomi warned her against him. Then she offered to listen to his troubles. Thats progress, that is a good thing that she is beginning to trust him. Trust makes it easier to manipulate her...at least that's what he keeps telling himself...
Alright, he can't tell himself anything anymore. Somehow, somewhere along the way of manipulating her he tripped and managed for fall square in love with the person that he was suposed to be using. He still isn't quite sure how this happened, however it has and more amazing to him than that is that she seems to return the affection. What once was a mark is now something deeper and worth fighting for. Even if Shinjiro still wants to punch him on occasion.
IV. The Emperor
Kyo Enda - Was a possible partner in crime, now KOS. You do not traumatize Mitsuru and get away with it. More KOS. Must. Stab.
V. The Hierophant
Shinjiro Aragaki - A rival in the truest sense of the word. Even without the mask he seems to not be able to help but point fun at the powerful member of SEES. Mostly because it so much fun to do so. Somehow they have begun to at least tolerate each other, and while Shinjiro still doesn't seem to trust the slippery musician he at least puts up with him.
VI. The Lovers
Tohya Kidzuki - Target, but fun to talk to at least. Last time they met she was civil. At least she didn't shoot him. Yet.
VII. The Chariot
Aigis - Thought he was an NWO spy when he was with Strega, now he isn't sure what she thinks.
X. Wheel of Fortune
Takaya Sakaki - His former boss, an interesting man. Even if Seiichi never agreed with the goals. Still interesting.
XI. Strength
Yoh Yamagatani - MinMax the fighter-in-a-box, Thora's minion. So he's passable.
Thora Kobayashi - An odd friendship that grew out of a chance meeting, someone that he actually considers a friend and would go though fire to actually help.
XIII. Death
Shirou Sekigawa - Has no idea what Thora sees in him, but he makes her happy. So. Whatever works.
XIV. Temperance
Naomi Suzuno - His obsession, the focus of his vengence, there is no denying that Naomi Suzuno is important to his plans and to him personally. Even though he can't seem to fool that woman, he doesn't stop trying. -- Also. MINE. -- Alright, not mine anymore. Though at least there is some sort of understanding between them now. Even if she'll personally flay him alive if he turns out be be a traitor.
XVI. The Tower
Himeru Namikawa - Burns well, but the claws hurt. Also very agile. Also hates Rena. Alot. A whole lot. Somehow has made peace with her, even if he suspects that her revenge will come one day when he least expects it. They have a similar work ethic, and its refreshing to find someone that plans out an operation as much as he does.
XX. Judgement
Nagisa Renge - One more actual friend of the musician. This one is a touch bittersweet, as Nagisa has little time left to enjoy life. Though Seiichi has managed to convince his new boss to help her.
RP Logs
Haha! Logs! Yeah...I should likely do those one day.