Jason R. Butler
From Persona MUSH Wiki
Jason Butler
The American P.I.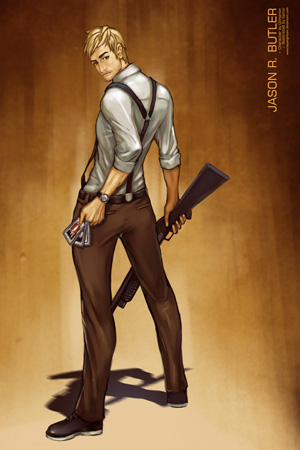 Status
Full Name
Jason Rhett Butler
Aliases
Butler, Rhett_Marlowe (Darkside SN)
Arcana
Strength
Persona
Diomedes
Nature
Persona-user
Gender
Male
Age
33
Birth Date
April 1, 1977
Blood Type
AB
Preferred Weapon
Shotgun
Faction
KDA
Job
Private Investigator, Pachinko Parlour Owner
Origin
Original Character
Player
Cyanne
Trivia
His e-mail information is jbutler@goldenboar.net.
He owns the Golden Boar Pachinko Parlour.
Profile and Skills
Profile
Americans owning and running businesses in Japan are rare, even rarer is the one who runs such a distinctively Japanese business like a pachinko parlour but Jason R. Butler is one such man. Rumor has it that he is also a licensed private investigator who specializes in missing person cases that the police tend to just write off. Though he's an older gruff man, he exhibits a certain kind of charm that Americans can only describe as 'Southern genteel'. He knows more about the 'other side' than most would think and enjoys spending his off hours drinking, smoking and hunting. Just what sort of game he hunts is anyone's guess.
Skills
Gambler, Not Dick Gumshoe, Not Philip Marlowe, Not Professor Layton Either, Well Educated, Knows More Than He Lets On, Stranger In A Strange Land, Good Ol' Boy, Still Says Ma'am And Sir, Even In Japan, Demon Hunter, Smoker, Drinker, Survivor, Want Some Jerky?, Good at Parkour, None Of That Freerunning Nonsense, Has Enough Courage, Doesn't Need A Reputation, Constant Five O'Clock Shadow, Loves That Shotgun, =_=
Social Links
0. The Fool
Minako Arisato - A High School Student. Currently one of Jason's clients.
II. The High Priestess
Kiyomi Ninomae - A Blind Woman.

Helen - Kiyomi's seeing eye dog and such a good puppy.
V. The Hierophant
Ryotaro Dojima - A Police Detective. Tohru Adachi's partner. As far as he knows, Dojima is in the dark about the weirdness going on in Inaba but office gossip pegs him to be an excellent cop.
XI. Justice
Katsuya Suou - A Police Detective. The Detective witnessed Jason and Leigh Anne's first explosive meeting after eight years. All in all, he's a good cop who seems to be doing his best to protect the people of the Five Cities. He trusts Suou to watch his back. Though he sometimes harbors feelings of jealousy towards the officer because he thinks Katsuya and Leigh Anne are 'together'.
XV. The Devil
Leigh Anne O'Hara - That Troublesome Red Head. Jason's ex-girlfriend who broke his heart when she left him and took his dog with her. He may or may not still be in love with her. Currently, he's doing his best to keep her in the dark about all the supernatural stuff crawling around Inaba.

Brutus - Jason's German Shepherd that Leigh Anne stole from him. A trained cadaver dog.
XIX. The Sun
Shion Katsuragi - A Police Detective. Katsuya's partner. He's not sure how he feels about her but from what he's heard, they should get along. Assuming they can get over the fact that she caught Jason and Katsuya tumbling out of the closet with Jason's pants down.