Daisuke Itami
From Persona MUSH Wiki
Daisuke Itami
A Great Helper Watching the Stage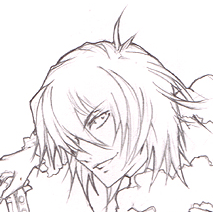 Social Stats
Expression: 3 - Silver-Tongued Devil
Knowledge: 5 - Well-Versed
Courage: 3 - Practically Prudent
Understanding: 5 - Loves Your Flaws
Diligence: 1 - Dog Chasing Cars
Trivia
Daisuke's first name can be roughly translated to 'great helper'; his last name roughly means 'watching the stage.'

Daisuke performs a side job as an anonymous rumormonger through the internet as something of a hobby. His handle is 'Gakichan,' which is the same as his Darkside handle.

He has a tendency to dye his hair roughly once every other month; he doesn't adhere to any strict schedule but seeing him go over two months with the same hair color is exceedingly rare.

Daisuke's musical tastes range from 'classical' to 'pop' and everything in between; sometimes he'll simply listen to white noise and make up the melody himself.

He enjoys gardening, and in fact maintains a hanging garden in his office.

He can speak and understand most of the romance languages and Germanic well; thanks to dabbling in the occult he has a fairly good understanding of Latin, and he has a vague but not perfect grasp of Standard Mandarin.

Itami operates a substantial information network spread across Inaba, Okina, and all of Sumaru, including Lunarvale and Tatsumi-shi. Daisuke has cultivated this network over many, many years through various seedy organizations, and his list of contacts include anything from the yakuza to experts on the occult and "supernatural."

Omoikane Investigations typically performs its jobs through the internet. Many of Daisuke's more illicit dealings involves the hacking of computer systems in order to retrieve data that is less available to the public. As such, Daisuke is rather skilled at the use of the computer in both general internet surfing and in hacking, both malicious and benign.

Though his connections with them are well-covered on his end, Daisuke counts the yakuza amongst his clientele. Specifically most of Itami's dealings are with the Yamaguchi-gumi stationed in Sumaru and Okina.

Daisuke has a tendency to run a number of short-lived side-businesses outside his job as a private investigator and information broker, depending on what might strike his fancy at the time. His pursuit of hobbies is equally flighty.

Daisuke keeps multiple cell phones, each serving specific purposes. Given his nature, he often cycles through these (read: breaks them) semi-regularly.

Daisuke cooks. "How well" is a relative question.
Logs and Cutscenes
Loggage can be found here.
Old logs can be found here.
Quote
"People who deny their true nature are the worst sort of person. Maybe that's why I love them so much?"
Profile And Skills
Profile: Daisuke Itami is a man in the business of interfering in other people's business. Running a cyber-investigation business known as Omoikane Investigations out of Okina City, Daisuke typically deals with performing background checks on individuals for various companies, amongst other assorted cyberspace sundries. Though rumors circulate that he may be involved in the dealing of slightly less legal information, there is no definite evidence to support it and his agency enjoys a moderate degree of success in the cities surrounding Okina. A somewhat eccentric man with a silver tongue and an eye for what his clients want, Daisuke nonetheless has a penchant for mischief that seems to skirt the moral boundaries far more often than can rightly be considered comfortable. But despite this generally annoying personality trait, Daisuke Itami is a man who absolutely loves to help people with their problems. And he'd love to help you, too.
Skills: The Biggest Jackanapes in the Entire World, That's Right, Jackanapes, Information Brokering 101, Very Passionate About His Hobbies, Hobbies Include: Screwing with your Raison D'être; Ruining Your Life; Gardening, I Think He's Willing to Make Some Kinda Deal with the Devil with You, Hair Color of the Month, Strange Taste in Clothes, Strange Taste in Music, Strange Taste in Everything, Life's a Game, Life's a Gamble, Just Wants to Help You
Combat Information
Daisuke's primary strength is his agility; he is skilled in the use of techniques like parkour to use his environment in order to outpace his targets, which is something he frequently relies on due to a general lack of physical hardiness. He has a great deal of knowledge on both the occult and Persona in general, and is thusly well-versed in magical techniques; while he himself is not extraordinarily strong, he is fairly proficient in the use of butterfly knives, which he seems to singularly use as his weapon in any given fight.
Special: Psychomachia - Calling up mystic power and his knowledge of his Persona, Daisuke throws seven cards into the air, each representing one of the Seven Deadly Sins; the imagery of the cards project out in phantasmal figures made of darkness that collide with the battlefield and anything in their way, weakening the spirit and mind and belaboring the body with lingering traces of humanity's greatest vices.
Persona and Resonance
"It is a man's own mind, not his enemy or foe, that lures him to evil ways."

???


Resonance:

Normally: Imagine the most annoying sound/smell/sense you can think of. Something that absolutely nauseates and irritates you to no end. Nails on a chalkboard, babies crying, the eyewatering scent of onions, or getting maced in the eyes. This is Daisuke's resonance. The form might vary depending on the person, but the theme is still very much there: incredibly, off-puttingly annoying.

NOTE: Since gaining Ahriman, Daisuke's resonance has changed. While normally the above it can be either completely nullified or changed into any variety of sensations, even others' resonances. Whether or not this is the case will be indicated in scenes he's in!


Notable Social Links
I - THE MAGICIAN

"Chibinin" -

A self-proclaimed ninja who Daisuke has alternatingly humiliated and saved over the course of their association. Affectionately refers to her as "Chibinin."
IV - THE EMPEROR

"Masachin" -

Co-founder of Kagutsuchi and a young man too mature for his own good. Has been slowly trying to see how that maturity fares under increasing responsibility and pressure. Affectionately refers to him as "Masachin."
VI - THE LOVERS

"Mikacchi" -

A person of particular interest, which probably means nothing good. She's currently hired him to look into her past and how she came to be reunited with her father. Affectionately refers to her as "Mikacchi."
VIII - JUSTICE

"Kacchan" - A great friend! He may or may not harbor some sort of envy towards his great friend! His great friend may or may not be a target of convenience due to his relation to a certain machine! Definitely a great friend! Affectionately refers to his great friend as "Kacchan"!
IX - THE HERMIT

"Saionchin" -

A new toy of Daisuke's, he is fascinated by the contradiction of Rei's apathy and his pursuit of risk. Affectionately refers to him as "Saionchin."

Izo Imaizumi -

hired him and then he went into a coma. worst employee ever
XI - STRENGTH

Enoha Koinose -

One of Daisuke's rare, longer-term projects. He has been trying to find the breaking point in her resolve and conviction in the benefits of hard work, and to this end is responsible for a number of the events that have recently plagued her.

"Thor-chan" -

An acquaintance Daisuke has taken an interest in largely due to her temper and her slightly immoral leanings, manifested chiefly in a fondness for pushing the boundaries on her patience. Affectionately refers to her as "Thor-chan."
XV - THE DEVIL

Itsuka Mizuhara -

Daisuke's on-again off-again employee at Omoikane. She has managed to provide him no small entertainment on multiple occasions.
XIX - THE SUN

"Taimichin" -

Once one of his greatest interests, Kyo now serves more of a harrowing example of how the SHU can butcher Daisuke's most favorite of things. Still, let it not be said Daisuke can't find entertainment even from abomination; like, say, a certain bet he has made with the young man...
XX - JUDGEMENT

Rem Sakurazuki Hoshii -

Formerly Nagisa Renge. Their connection is the definition of "It's Complicated."

Yisa Taimiev - Current object of Kyo Enda's obsession and current wife (her??), Daisuke's interests in her, while partly motivated by this, are also due to separate reasons. Has been working on enticing her into seeking his unique services.