Tohru Adachi
From Persona MUSH Wiki
Tohru Adachi
The Hero of the Story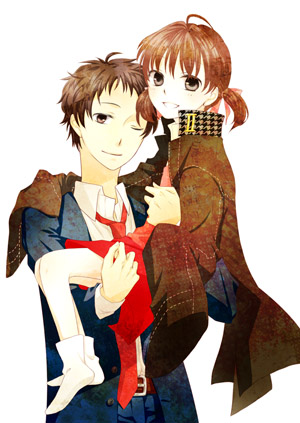 Status
Full Name
Tohru Adachi
Aliases
The TV Killer
Arcana
The Fool (Reverse)
Nature
Persona-User
Gender
Male
Age
29
Birth Date
February 1st, 1982
Preferred Weapon
The Midnight Channel
Faction
D4
Job
Detective
Assignment
Inaba
Origin
Persona 4
Trivia
Adachi is the TV Killer. Let's just be clear about it. Also: no one knows but him.
Adachi is in a committed long-term relationship with Enoha Koinose. They're adorbs. Like, toly.
Adachi is a member of the NWO through his parents, longtime adherents of Tatsuzou Sudou. Most people are not aware of this.
Adachi has a peculiar obsession with a "mysterious woman" who appears to him at various inopportune times. He may be completely crazy. (Well, beyond the whole "TV Killer" thing.)
Yoh Yamagatani says, "Adachi is a filthy IC metagamer"
Adachi's favorite movie is his old VHS dub of The Commitments.
Adachi's parents are both government secretaries and his relationship with them is strained.
Adachi once used his detective skills to determine that Yisa Taimiev was Susumu Kamiya's brother, then woke up.
Adachi once was able to figure out a suspect's location by putting himself into the suspect's mindset, via thinking "I'm a big stupid four-eyed lame-o and I wear the same stupid sweater every day."
Various in-jokes: cabbage, noodle incident, crooked tie, et cetera.
Quote
"Keep this between us, okay?"
Profile and Skills
Profile
Tohru Adachi is a detective operating out of the sleepy town of Inaba. He acts as assistant, sidekick, underling, and (to hear him jokingly tell it) slave to Ryotaro Dojima in the investigation of Inaba's TV Killer. Adachi's happy-go-lucky demeanor, soft touch, and occasional lack of focus often get him in trouble with the department -- leading to a reputation as a bumbler. Despite this, his commitment is clear, and many of the various teen and college-age crusaders in the world of Personae consider him an upstanding ally. Not that that stops them from exploiting his tendency to blurt out sensitive information.
Skills
I Can't Seem to Face Up to the Facts, I'm Tense and Nervous and I -- Can't Relax, I Can't Sleep, 'Cause My Bed's on Fire, Don't Touch Me, I'm a Real Live Wire
Persona
Magatsu Izanagi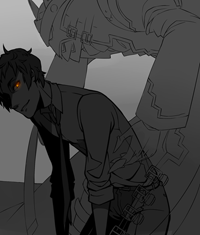 Background
Adachi's Persona is Magatsu Izanagi: a twisted, deformed version of Yu Narukami's Izanagi Persona. Obviously, a lot of this is to do with the mirrored relationship of their Arcana and blah blah blah.
With his sister, Izanagi is one of the chief creators of existence -- the two of them bore gods, landmasses, and great leaders of men. When his sister died, Izanagi pursued her into the underworld to bring her back -- but he gazed upon her too early and made her ashamed and enraged, which generally cocked it all up. Etc. Magatsu Izanagi is that myth, turned on its ear: Adachi wants to bring the world into hell in part because he can't GET a woman, his charming girlfriend excepted (not that any woman would completely satisfy him, anyway). Indeed, he's actually the one who kicks women INTO the 'underworld' when they won't acknowledge that what HE wants is more important than anything else.
Adachi is a creator, in his way -- he IS trying to create a new fused, horrible form of reality -- but all of his efforts are selfish and ultimately destructive to those around him. The 'game' Adachi plays is also only ever going to get more and more stressful and harmful to himself -- and on some level he knows this, considering the bloody, ragged appearance of his Magatsu Izanagi, a creature literally unable to ever get past its wounds.
To date, no one outside of Adachi himself is aware of Magatsu Izanagi's existence; he uses generic Personae to cover his tracks.
Resonance
Adachi's resonance is weak and watery and difficult to read. Those who are not extraordinarily sensitive may not even be able to pick up anything at all. Those who can tune in will find the station given to static.
Social Links
0. The Fool
Yu Narukami: Adachi gets along well enough with the co-leader of the KDA (who also happens to be his partner's nephew). They're not close or anything.
I. The Magician
Yosuke Hanamura: A KDA kid who Adachi has actually been rather close to in the past, to the point that Yosuke is even aware of Adachi's SEES ties. The two have sought one another's counsel before, but it's not clear if that relationship has maintained itself over the past year.
II. The High Priestess
Yukiko Amagi: Adachi barely knows this one, but he certainly doesn't feel sorry for the harm he's caused her family's business by committing a murder in their Inn. Adachi, you wag!
III. The Empress
Tomomi Fujimori (Reverse): Bitch.
Mitsuru Kirijo: The leader of SEES. She's pinged Adachi as a Persona user, but doesn't know the truth of things (of course). Nonetheless, she's made him an ally of SEES, albeit one kept at arm's length.
Tsukiko Otonashi (Reverse): NWO den mother. She and Adachi had dinner once, and she introduced him to a few occult principles. He's of mixed opinion -- fascinated by her wizardry, put off by her worldliness.
IV. The Emperor
Kanji Tatsumi: A KDA kid who's gotten himself into trouble with Adachi in the past. At one point, Adachi was his parole officer. Despite some positive interactions (including Tatsumi saving Adachi's life), Adachi still has a low opinion of Tatsumi, and thinks he might be, you know, queer.
V. The Hierophant
Shinjiro Aragaki: The SEES kid who trained Adachi when he became an ally of the group. The two are mutually aware that there's more to each other than meets the eye, and perhaps because of that remain friendly.
Ryotaro Dojima: Adachi's boss, partner, and best friend (aside from Enoha-chan, of course). The two men harbor an intense level of trust that Adachi is continually and consciously violating, what with being the murderer that they're both hunting. Won't that be a laugh, when Dojima finds out! If he finds out.
VII. The Chariot
Aigis: SEES kidbot. Adachi thinks Aigis is okay, he supposes, but the fact is, a robot is harder to deceive than a human being, even a weird, spacy robot like Aigis. He views her as a problem in his quest to not be uncovered as the TV Killer -- or possibly as a challenge.
Chie Satonaka: KDA kid. Adachi's had some fun screwing with her. ("With," people, "with.") He enjoyed himself, so the fun may not be over yet.
VIII. Justice
Nanako Dojima: Cute kid. Adachi has no beef with her. That doesn't mean she's not out of danger.
Katsuya Suou: Former roommates, Adachi and Suou are oil and water as far as personalities go, but they get along well. Adachi likes giving the far more uptight Suou a lot of shit, but in a good-hearted way. That good-heartedness is only because he's not aware that Suou has confessed his love for Adachi's girlfriend -- to Adachi's girlfriend.
IX. The Hermit
Azusa Shimegi (Reverse): A former charge of Adachi's who once assaulted Enoha. For that, Adachi did his best to make sure her time in his care was a living hell.
X. Wheel of Fortune
Ran Itoh: SEES kid. Aragaki's girl. Cute enough.
XI. Strength
Michi Aomori: KDA kid. Adachi caught her drunkenly vandalizing Junes once. Something off about her.
Thora Kobayashi (Reverse): A friend and drinking buddy. He doesn't mind being a doofy Barney Fife for her.
Enoha Koinose: Adachi's girlfriend. She's madly in love with him and absolutely devoted to him. Adachi absolutely loves that about her. He'd stick his neck out for her in a way that he wouldn't for other people, but his love comes with the possibility of a heavy, heavy cost.
XII. The Hanged Man
Michiru Fukase: KDA kid. Once got chucked through a window by Kanji Tatsumi. Possibly a bitch, so Adachi had some fun with her once.
Tohya Kidzuki: Ex-NWO kid. Adachi's had some interactions with her, and she knows something of his NWO involvement. Could be a problem, but problems always have solutions.
XIV. Temperance
Shion Katsuragi (Reverse): A D4 coworker, Shion and Adachi have both been stationed in Inaba for what feels like forever. He's perfectly okay with her, but they're not much closer than work associates.
XV. The Devil
Itsuka Mizuhara: SEES kid. Some mouth on her. Adachi doesn't like her. Bitch.
XVIII. The Moon
Kohaku Tsukino: NWO cop. Adachi likes busting his balls. Doesn't care too much about him beyond that, but then, he hasn't been given a reason to yet.
XIX. The Sun
Kyo Enda (Reverse): A former charge of Adachi's who's gone astray. Clearly, he'll need to be taught a lesson, when the time is right.
Tatsuya Suou: What a prick.
RP Logs
what the -- get out here, boy, there's a-doin's transpirin'
Soundtrack
He's a real cool guy and he's a hero of mine
Travis, Rhinehart, rolled into one cute son
Less than zero, a grotesque nightmare
Subtly disturbing like normal behavior
I understand nothing and I cannot speak
I'd walk in the park, but the trees are diseased
No sweetheart, and I am too confused
I only love my watch and my snakeskin shoes
I feel so small in the supermarket queue
People seem to laugh at my choice of food
My personality is held together with Sellotape
A loose fit, just like a numb junkie's hate
I pretty my face with all this cream and stuff
Ugliness inside, much harder to cover up
I lack the thought to care about politics
Just do what I like, ain't that democratic?
Genesis, Huey Lewis, Filofax, CD 5
A backdrop to discuss over expensive wine
Didn't even know when or why I should stop
I feel so stupid, like a joke that belongs
I guess all psychos are made out of money
I cannot be saved, as liberals keep telling me
I don't wanna be understood, I just wanna kill
Out of blandness, I am your everyday thrill
Patrick Bateman
We are babies crippled in Christ
Patrick Bateman
Therefore I must be God
I must
I must be God
I touched your lips but now I just paint
Surface reflection, all I desired, babe
I am melancholy, flower cutting through stone
I'm a crime everybody has at home
Papers hate me but they need my behavior
The dignity amongst Hollywood trivia
Escape is so cheap of alcohol and whores
Mine's the sanity of exclusive gun laws
Art critics say porno's easily obscene
Late Show retards, Dice Clay is true poetry
They've never tried living underneath the water
That's real end of the century nausea
Patrick Bateman
We are babies crippled in Christ
Patrick Bateman
Therefore I must be God
I must
I must be God
Patrick Bateman
We are babies crippled in Christ
Patrick Bateman
I fucked God up the ass
I fucked
God up the ass