Nagisa Renge
From Persona MUSH Wiki
Nagisa Renge
Lotus Shore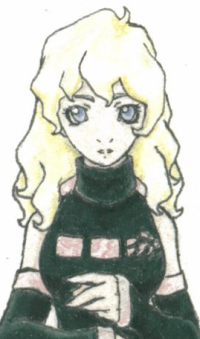 Status
Full Name
連花ナギサ(れんげなぎさ)
Arcana
XX - Judgement
Nature
Persona-User
Gender
Female
Height
145 cm (4'9")
Date of Birth
March 14th, 1993 (Pisces)
Age
18, appears 12-14; DEAD
Guardian Dragon
White Dragon
Persona
Miao Shan Custom
Weapon
Dual Knives
Faction
Strega
Team
Cult of Personality
Voice Actor

Nana Mizuki

(

For Reference

)
Player
Ayu Ohseki
Social Stats
Expression: 2 - Returning to Earth
Knowledge: 2 - Patchwork Self-Education
Courage: 5 - Ain't Afraid to Die
Understanding: 2 - Look, She Is Trying
Diligence: 5 - 'Til the End of Time
Trivia
Nagisa's first name means "seashore," while her last name means "lotus." The lotus flower is a symbol of enlightenment in Buddhist; Nagisa is the last name of Kaworu Nagisa from Evangelion fame, which can also be a girl's first name.
Nagisa is a very good cook as a result of helping out in various soup kitchens and homeless shelters in Sumaru City. She's esp. skilled at managing to make something very tasty out of relatively few ingredients, particularly ones that don't normally seem like they'd go together; she just has a knack at telling what will taste unexpectedly good together and in what proportions, like strawberries and black pepper, and beef and chocolate. Part of this is because when she goes to libraries, she likes reading cookbooks, which are frequently full of tips for making a meal extra-delicious.
Her tendency to hang out at libraries and read all day also means that she has a very patchwork education.
The last grade Nagisa officially attended was second.
Logs and Cutscenes (Incomplete, Shamelessly Stolen from Daisuke)
Quote
"I rather think my gracelessness is one of my good points. I'm not
skilled at manipulation like you are, Dai-chan~. So I'll simply be as I am."
Profile and Skills
Profile: A sweet, friendly, young-looking girl once content with admiring the beauty of the world as a spectator, Nagisa Renge has shifted into someone with attachments to it. Though it may bring her suffering, she treasures it as proof that she still lives and feels, and has gained an even greater joie de vivre and a deeper comprehension of what it means to be human this way, despite her continued affiliation with Strega and her own fragile health. Her especially strong attachment to a certain Okina-based information broker has led her to begin work as the same, dealing in knowledge of the hidden world of Shadows, Personas, and things yet stranger. However, while she's shed some of her innocence and gained some understanding of subtlety and tact, Nagisa still remains an overall honest, sometimes painfully direct person.
Skills: What Exactly Is A "Person"?, Eyes In Their Last Extremity, Leaving Behind Proof That I Was There, Is This Really Who I Am Inside?, Touch My Tears With Your Lips; Touch My World With Your Fingertips, Return To Me Stronger Than Before, Let's Head Home, So the Beautiful World, Until The Time This Pitch Black World Overflows With Light, What Will I Paint On The Tomorrow That Reality Stained Pure Black?, I'll Paint Out The Unfulfilled Dream, ...And Start A New Dream
History
Life means suffering.
Eight years ago [as of the start of the game], the Kirijo Group experimented on a group of one hundred children for the purpose of artificially inducing their Personas, putting them under the knife of advanced surgical procedures and giving them expensive, addictive drugs to control their powers. Because of this, the vast majority of those children died, and those that survived were sentenced to a greatly reduced lifespan--either their own Personas would kill them, or the suppressant drugs would, as one of its inconvenient side effects, induce an early death.

For seven sweet years, Nagisa lived knowing none of this. Although she grew up in an orphanage in Sumaru City after her parents died in an accident when she was four and she had no family to take her in, she got along well with the other children, made friends easily, and hardly ever made it apparent how badly she missed having a mommy and daddy to love her. She'd run and play with the other children, and when prospective parents came in, she'd follow them around with the most hopeful, terrified expression just like the other children--hopeful that she'd have new parents, terrified that she'd be rejected. Her fears increased in a vague way based on what the older children told her, that the people who came in only wanted very young children, and the older you got, the less anyone would want you. Someone will want you no problem, they kept telling her. You're young and you're really cute, there's no way someone wouldn't take you home! And although it was stated with mixed envy and resentment, Nagisa clung to that hope for the next three years. People who can't have children of their own want children who are good, the orphanage caretakers told her, and so Nagisa tried her very best to be good to everyone and everything, human and animal and plant and toy, shoving all her fears and anxieties and loneliness deep inside where no one could see or be bothered by them, for as she was repeatedly told, no one wanted a bothersome child. One day, it seemed her wish would come true when a representative from the Kirijo Group adopted her, along with several other children from the same orphanage.

It was the most thrilling moment of her life... and yet, very soon thereafter, she was introduced to hell. Nagisa was healthy but not an especially hardy child, and the experiments left her body frail. To this day, her growth is still stunted; although she's fifteen, she looks like she's only eleven or so at best. It was a deeply traumatic experience, and after she was declared a failure for being unable to manifest a true Persona--all efforts only produced something shadowy and misshapen--and thrown away back in the slums of Sumaru to die in the gutter, Nagisa felt as though everything she had ever hoped for and believed in had betrayed her. As far as she knew, all the other ninety-nine children who'd gotten adopted with her were dead, and the drugs she needed were so, so very expensive... Bewildered and hurt and afraid and (though she didn't like to admit it to herself) angry, she struggled on to do the only thing she could--live. The Dark Hour was open to her, and so it became unbelievably easy to come back to Port Island every so often to steal what she needed to survive and buy the drugs she needed (for the Kirijo Group didn't particularly care who bought what, so long as they had the money). But as hard as she struggled, she constantly had to contend with the Shadows that stalked the night and her personal Shadow that tried to destroy her constantly, held back from success only barely with the suppressants and Nagisa's own desperate hope that, in spite of her own slipping values in the name of her own survival and the fact that she was all alone, if she was simply good enough, someone would love her for herself. This hope, too, was the only thing that kept her from sinking into despair and depression and rage knowing that she would inevitably die young as a result of the operations that had been made on her by the people who had promised her a new home.
The origin of suffering is attachment.
It would be a lie to say that no one ever did love her. Nagisa managed to survive in face of her near-constant pain and the occasional proto-Persona attack, and the homeless shelters in Sumaru City gave her places to sleep and eat. The money she stole from homes and businesses when she returned to Port Island were shared with the poor when she returned to Sumaru City, to let her rationalize her "bad" actions. It was the little things that allowed her to keep her sanity--learning how to cook, talking with other homeless people, helping the shelter workers, helping out at libraries where she also stayed for hours to read, learning other people's stories, wandered and ran through the streets at night to explore Sumaru, and in a twist that never occurred to Nagisa to be messed up, was taught by an older homeless man who'd lost his own daughter to violence how to use knives to "dissuade" assailants and perverts. Nagisa slowly gained an understanding that, as unfortunate as her life was, she was not alone in feeling that way. It, at the very least, made it a little easier for her to try to be "good," and for a given value of happiness in light of her situation and her constant repressed fears and loneliness, she was, or at least could be, happy.

Unfortunately, Nagisa never fully took into account the suffering this caused for those losing their money--or that they'd contact the police to track it down. It took seven years, but when Nagisa was nearly fifteen, the money trail led back to the homeless shelter she frequented most in Sumaru City... and the shelter workers there were blamed. The charges placed on them were tenuous, because while they possessed the money, there was no proof that they had actually been the ones who'd stolen it. However, it being Sumaru City, rumors spread like wildfire--that the workers were all corrupt, that they were using the shelter as a front for their criminal activity. Rumors being what they are in Sumaru City, they took on their own life, and it became truth enough to shut down the place for good, and the ill that caused spread out like a drop of arsenic in a pool of water.

Nagisa was devastated and deeply confused by this. Why did this happen, after years of things being more or less okay? Why did the people who had been kind to her made to suffer and become twisted, when she hadn't wanted anyone to suffer? Had this been her fault? Had she been a bad girl after all? She spiraled down from there quickly after that, running from Sumaru and everything, not knowing where she was going or looking back at what she'd left behind her, only running, stumbling, walking, trudging along until finally she collapsed more than twenty miles from the city limits. Guilty and ashamed and in pain, she wept, staring up at the night sky and the moon above. Her proto-Persona appeared then, her latest swallow of suppressants having been ineffective. It began to smother her, and for a moment, Nagisa struggled desperately, casting about for the box of suppressants before realizing she had dropped it somewhere at some point. It was then that she collapsed on the grass, the will to struggle on in the face of hopeless odds drained from her, white spots going off before her eyes as she stared up at the full moon. It was at this time, feeling what remained of her life drift away, that her senses gained a certain clarity she'd never sensed before--the spring night wind was bitingly cold and carried the scent of cherry blossoms and newly grown grass, the crawl of ants up her arms, the subtle colors of the stars, the gentle buzz of insects in the brush and distant croaks of frogs as they ate them, the cold dampness of dew soaking her clothes, the pockmarks surrounding the rabbit pounding mochi on the moon, the taste of death in the back of her throat...
The cessation of suffering is attainable.
All of a sudden, it seemed to Nagisa as if the universe, for all its uncaring ugliness and thoughtless cruelty, was more beautiful than she could have imagined. The stars were brilliant and spread to all corners of the sky, and the full moon seemed to wrap her gently in cool light. Truly beholding them made Nagisa realize how vast a place it was, and how small she was within it. Why should the universe care? It wasn't that it was being cruel to her specifically, or that it favored anyone in particular. It was what it was, as was everything within it. An end would someday come to everything. Hers had just come then, that was all. In this way, all the pain and suffering and anxiety she had endured was unthinkably petty, but because it was petty, it was something she could rise above. There was no point in regretting or begrudging her short life, and in this way, the beauty that was the world would envelope her and return her to a place where there was no more suffering. And so, with this sudden understanding of the universe, Nagisa severed her attachment to life, accepted her death, and closed her eyes, letting darkness surround her.

The darkness broke, and changed into light.

The Shadow-esque proto-Persona that had never quite fully formed despite all the operations she'd suffered changed then, into a beautiful woman with a kind face, who smiled down at Nagisa and offered her a hand. Thinking that she had already died and this was an angel of some kind, Nagisa accepted it and stood up. Understanding, through the voice of her Persona, whispered into her soul: this was a true Persona, hers. The road would not be easy--Nagisa would still not be able to completely control her Persona, though at least now she could fight and defend herself--but nothing of worth was ever gained without suffering. And so, upon reconciling with her death, she was reborn. No longer did she feel resentful or hurt over what the Kirijo Group had done to her, and she felt that she could accept the burden of how her well-meant actions had hurt others she'd cared for. Feeling as if she had been somehow saved, Nagisa decided that she needed to think very carefully on how she should use her power to share this feeling with others. ...The problem with that was that Nagisa focused on the feeling of being truly alive and at peace the moments before her would-be death.
The eightfold path leads to the cessation of suffering.
And so Nagisa made her decision to start a new life, which she has embraced over the last year. She utilized the power of her Persona and the skills she'd learned on the streets to gain the strength enough to "help" others, the first of whom being those shelter workers who'd been warped as a result of the rumors that had been spread about them. They survived the attack--and by Nagisa's perspective, they seem these days much more sedate and at peace (or, possibly more accurately, terrified). More recently, she also began to hear the preachings of Strega, and recognizing its leader Takaya and supporters Jin and Chidori from their brief time together as the Kirijo Group experiments, Nagisa traveled back to Port Island and approached them, introducing herself plainly and asking to join them. Surprised to see that anyone else had survived those experiments, the three accepted her easily enough, at least from Nagisa's perspective. These days, she goes between Sumaru and Port Island to help Strega with their work, believing in Takaya and the message of the Fall--knowing very well from her own experience that death can, indeed, save someone. Whether she's simply deluding herself or not depends on one's point of view.
Personality
Right View
By Nagisa's reckoning, in an objective universe, there is no such thing as "right" or "wrong." The universe simply is, and people and the things and beings around oneself simply are as well. For that reason, life and death are not inherently "good" or "bad," which are just extreme extensions of the concepts of "right" and "wrong." What makes an impression on Nagisa is that a person lives passionately--she is most impressed by those people who truly believe in something and live their lives doing everything to further that end. To her, living life as if floating through it, not caring about what happens, being oblivious and being thoughtless are... well, defense mechanisms, but by Nagisa's view, unhealthy ones. These, along with the people who actively take their life for granted and complain about relatively small things, are the types of people she will typically attack after she's talked with them enough, though she'll also attack those who are striving for something, but don't understand why. To help these people is, in Nagisa's view, her calling--her way of sharing her insight and understanding, in the true style of the Judgment Arcana, even if her methods are rather warped by conventional ways of thinking.
Right Intention
It makes sense to her. She's suffered a lot during her life, but that eventually brought her to a true understanding and acceptance of the universe around her. Ergo, the best thing she can do is bring others to an understanding of the fragility that made life so beautiful, and in knowing that fragility, make them understand that no matter how big their problems and worries might seem, it won't be permanent. This brought Nagisa to the logical (to her) conclusion that if people were brought to the verge of death, but not quite pushed off, they would appreciate the wonderful parts in their lives, no matter how small it might be. As such, she takes it upon herself to not simply sit back and wait to be loved, but to bring people to the realization of the love they already had in their lives by... attempting to kill them. Nagisa's near-death experience had put lots of things into perspective for her, including what was truly important, so obviously this is the best thing she could possibly do for anyone else. Compared to the imminent prospect of getting brutally knifed to death, their problems really aren't that bad, that there is something worthwhile in living that makes it worth struggling on. In a way, this is because Nagisa wants to affirm for herself that this is so--to have others acknowledge the way she lives by responding (what she views as) positively to her attempts to teaching them this. This resurrection and redemption, core concepts of the Judgment Arcanum, are what define Nagisa as a person now, and so part of her needs others to acknowledge it as well. That said, Nagisa recognizes that, even if they DO respond positively to nearly dying, they won't necessarily respond well to her as the catalyst of this. She can accept this, even if it makes her lonely; she bears no hatred for the Kirijo Group for experimenting on her when she was younger, thus shortening her life, so it's her view that someone should be okay with what she does to try to enrich the lives of others in her own particular, bloody way. It doesn't quite occur to her that most people won't like someone who tries to stab them--she knows it, but can't actually quite grok it.
Right Speech
Her least favorite kind of person, conversely, is the kind that doesn't acknowledge what they have in favor of focusing on the things that they're not happy about (i.e., self-entitled whiners)--these are the ones where Nagisa will attack them without a dialogue first, where a part of Nagisa doesn't mind if she goes a little too far and kills them outright. It *is* important to Nagisa to talk to people first, after all; her time growing up homeless in Sumaru taught her that talking to people can show you so much about who they are. Perhaps, in their next life, they'll understand better what a gift it is. Nagisa has her own biases, though, and as poor people often do, she doesn't really grok the concept of having a materially fulfilling life but an emotionally miserable one. Nagisa typically prefers not to finish off her victims, but someone who seems to her like they aren't reacting to life and the will to live even after being attacked aren't, in her opinion, worth allowing to live. When she kills someone (or anything, really), she also always watches them die unless circumstances forbid it. Because Nagisa values living, she watches very carefully when she kills someone or something, to remind herself that the same could happen to her at any time. To Nagisa, "living" is not the same as "life." Anyone can sleep and breathe and eat and do the other necessary functions for a day-to-day existence, but not many are capable of really throwing themselves into what they do, to look at the world with eyes that renew themselves every minute. Memento mori--taking a good at death wherever it arises, be it at her hand or not--is how she keeps herself from forgetting this.
Right Action
In spite of all that, though, Nagisa doesn't believe in unnecessary cruelty. By her view, her attempted murders are (usually) done out of necessity. Suffering is needed to bring perspective, but she rarely gets any particular joy out of hurting others. If anything, she gets joy out of people understanding as a result of the suffering she brings them. On a certain level, she knows what she's doing to them is a bad thing, but so powerfully did her own experience affect her that she thinks it's okay. Although she was unhappy and wished it had never happened when she was suffering in the streets of Sumaru after the Kirijo Group threw her away, she understands now that it was necessary to get to the point where she is now. Ergo, even if people (quite reasonably) hate her for trying to kill them, she meets these reactions with a certain sad acceptance. Someone who tries to kill her back, not only does she not begrudge their efforts, she actually encourages them, because in her view, fighting for one's life means that one values it.
Right Livelihood
She is honest and direct--not necessarily cruel with her words but ironically not always understanding what she says might hurt someone. She calls things as she sees them, and she also answers honestly (though not necessarily completely) when asked questions. She's unafraid of speaking her own mind, as well. This means she is poor at keeping secrets unless told specifically to keep a secret, at which point she'll apologetically refuse to talk about the matter, but even then, the savvy interrogator could easily glean clues off of her body language. Because Nagisa is straightforward, she is easy to get information off of (ask her a direct question and she will answer it honestly), but difficult to manipulate in that special hard-to-fool way dummies can sometimes be. At the same time, she can't really manipulate others--she lacks the ability to do so, and can often miss subtle cues from those around her. She's also slow to make decisions on something or decide what she thinks of someone, but once she has, it's nearly impossible for her to shake her from that.

For the aforementioned reasons, Nagisa tends to appear innocent, even when she's trying to kill someone. Her frail, childish appearance helps with this. Some people will scorn her, because nobody is loved by all, but she has this air of needing to be protected, like a sheltered little sister who hasn't yet learned how to deal with other people. Nagisa can be and on the whole is friendly, tending towards the same sweet personality she had when she was younger, if more mellow and less with the desperation to please she once had. This is because she doesn't allow things like "propriety" and "shame" to color her reactions to and interactions with other people. This also means she is free to enjoy things that other people might find too embarrassing to admit to without feeling any of the social pressure, and likewise that she doesn't judge others based on normal societal criteria. Since life has no intrinsic meaning, either positive or negative, Nagisa feels no need to be embarrassed that she's "too old" for finding simple joy in nature and discovery, or that playing in the dirt is "for boys." It no longer even occurs to her to be embarrassed, and would be quite nonplussed to hear it suggested otherwise, either for herself or for others. Oh, Kanji is a big tough dude who likes to sew--it's so impressive that he has something he can be passionate about! Passion and a will to live and experience life are the things that Nagisa cares about. Everything else is mostly meaningless to her.
Right Effort
Indeed, she views herself and the entire world as insignificant in the cosmic sense, but finds this liberating rather than depressing. If, in the big picture, all things are meaningless, then one is free to do what matters to oneself without worrying about the others around oneself. Even Nyx and the Fall does not matter especially much to her in and of themselves, but what they represent. She participates in bringing it about because of two reasons: one, she's eager to see the world just before its demise, to see how beautiful it would appear when all people are moments away from becoming the Lost, how beautiful all substance is before being eaten up by oblivion; and two, she wants to see how beautifully people struggle to try to stop this entropy. If they can't or don't, then it's for the best that the world ends, so that it may somehow start anew. If they do stop it, then it is an affirmation of the will to live against all odds, and reinforces Nagisa's belief that suffering is what brings out the worthiest parts of a human being. Were she on the top floor of Tartarus the midnight of January 31st, she would be watching not the arrival of Nyx and the fall of the moon, but the reactions of a) the other people around her, and b) the people out in the city who have just awakened to the Dark Hour. To Nagisa, these are the things that have meaning, that make her feel as if she's still a human being.
Right Mindfulness
That last part is important. Nagisa has trouble holding onto her humanity. This is a thing that actually bothers her. When she really gets down to it, she does not feel as if she truly is a part of the human race, but is someone watching from in the middle of a crowded street as people flow like a river past her. Though she's unafraid of death or dying in and of themselves, deep down, she is afraid of dying alone and forgotten, or of getting eaten by Shadows/becoming one of the Lost (while everyone else is still human; the coming of Nyx is an equalizer in the same way Death is, and so /that/ doesn't bother her), just as she was before her Persona fully awakened. It at least doesn't matter to her if she is ever important in a big, cosmic sense; she just, in her heart of hearts, wants to truly matter to at least one other person. She loves her own Persona deeply, seeing Miao Shan as a symbol of overcoming all the suffering she's faced and being stronger and gentler for it, but one cannot live loving and being loved by oneself alone. This is the big reason why she hangs out with Strega--as people who have undergone the same experiences at her, even if their way of viewing the world is different, Nagisa feels as if she's the closest to Takaya, Jin and Chidori as anyone else in the world. This is also the big thing that might ever cause her to have doubt in her attempts to save people by brutalizing them, or even cause a breakdown in her paradigm--that even if suffering might bring them understanding, all it might cause in the end is to draw others' hatred as she fails to do anything of meaning.
Right Concentration
It's this contradiction that allows Nagisa to be all right with the Revenge Request and other less savory things that Strega does. The Revenge Request is particularly important, though. Tomomi is someone Nagisa's not especially fond of, but for Takaya's sake, she will work with her and the other members of Strega. Revenge Request is something that Takaya specifically is going--not to help people understand themselves, but simply killing people for money. Something about this jives Nagisa as being off, but just as the darker aspect of Judgment means that one may be deluding oneself, Nagisa convinces herself that what Takaya is doing is genuinely well-meant, and that his message of the Fall is the same thing as what she's trying to do, just on a greater scale. As a result, she can sometimes completely fail to acknowledge some of the things Takaya might say that would tell a more discerning individual that, nope, Takaya hates humanity and just wants the world to end. Nagisa does what she does out of a sense of love--most of the time, and twisted by the values of much of modern society--but she cannot or will not see that this is not the case for Takaya and the other members of Strega, because she wants to believe that, in being united in a single goal, they will love her too. She has patience now for the people she tries to save, thus why she can accept that they might not like her for doing what she must, but as time grinds on and she grows closer to death unloved, her resolve may eventually break. Social Links, as ever, are key.
Combat Information
Nagisa is understandably not very physically strong or enduring, though her strength has risen due to an improvement in her diet. She will get up from strong hits and keep going, but this is a result of her mental fortitude rather than any physical ability to soak hits. She is, however, very fast and nimble--one has to be when one is a frail girl who once eked out a life in the slums of a very large city--and because of her mental resilience, she has a particularly strong affinity for magic. Her vitality has fallen due to her health, but her luck has risen because in spite of it, she's happier now than she's probably been in her entire life, and so Nagisa does not think of herself as unfortunate. Nagisa uses a pair of knives in battle, and as such would do Slashing damage.
Special: Moksha - In Buddhism, "moksha" refers to the release/liberation from the chain of reincarnation and ascendance to enlightenment. This consists of Nagisa running forward and leaping nimbly around her target with a flurry of knives aimed for critical points, and is heavier on debuffs than actual physical damage, including a DOT attribute to represent bleeding from multiple cuts.
Persona Information and Resonance
"I am thou... thou art I. I am Miao Shan, she who forgives all... Though you may suffer, I shall help you accept the burden of the world's sins."
In Buddhist mythos, one of the most popular bodhisattvas is Guanyin, known in the west as the Goddess of Compassion, who watches over the world--her full name, Guanshiyin, means 'Observing the Sounds/Cries of the World'--until all suffering is gone from it. One legend posits that the person who would become Guanyin was a Chinese Princess named Miao Shan, who wished to marry a doctor instead of a wealthy man who'd improve the standing of the family. Her father, enraged by this, sentenced her to hard labor until she relented, but Miao Shan instead begged to be allowed to become a nun at a Buddhist temple. Her father permitted this, but had the monks there heap more and more hard work on her; however, because her goodness was so great, animals would come and help her complete them. Frustrated, her father set fire to the temple, and Miao Shan put on the fires with her bare hands without being hurt. Frightened, her father sentenced her to death, and her executioner attempted to kill her in various ways that failed to work (an axe and a sword to the neck shattered, arrows refused to find their mark) before finally attempting to strangle her with his bare hands in desperation. Miao Shan, understanding that not dying would mean that her would-be executioner would suffer, forgave him and allowed herself to take on his karmic debt before being strangled to death. When she fell into hell, her kindness and compassion was so great that the hells began to turn into Paradise, and Yama kicked her out of his realm before she could destroy it and sent her back to Earth. Miao Shan is Nagisa's starter Persona, with the eventual intent that it will ascend into Guan Yin. Miao Shan represents Nagisa's desire to help people even at the cost of her own health, and her forgiveness for those that made her suffer and tried to kill her.
Resonance:
SENSE: An absolute calm, acceptance of all things, serenity. SOUND: Waves rolling on the shore. SMELL: Cherry blossoms and lotus flowers.


Gallery
Nagisa's new standard outfit, as drawn by Lustrare@dA. Thanks!
Nagisa gifting Daisuke with a plush dolphin much to his dismay, as drawn by OgawaBurukku@dA. Thanks, Bu!