Rui Onishi
From Persona MUSH Wiki
Rui Onishi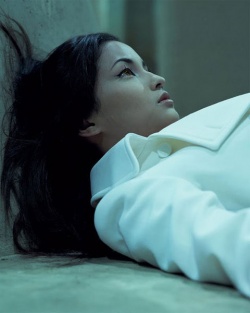 Status
Full Name
雄西瑠生 (おにしるい)
Arcana
XII -

The Hanged Man

Nature
Persona-User
Gender
Female
Date of Birth
January 4, 1987
Age
24
Faction
Unaffiliated
Occupation
Personal Assistant / Bodyguard
Persona
The Fisher King
Weapon
Customized Kyoketsu-shoge
Eyes
Yellow
Hair
Black
Height
5'3"
Voice Actor
Michiko Neya (in monologue)
Social Stats
Expression: 1 - Confused as a Baby in a Topless Bar

Annoyance: 99999 - ITAMI-SAAAAN

Knowledge: 3 - Extensive Book-Learnin'
Courage: 5 - Daddy's Little Martyr
Understanding: 2 - Fry Squint
Diligence: 5 - Disciple to the Gospel of Dad

Duty: 5 - Designed to Protect
Equipment
Weapon: Customized kyoketsu-shoge on a retractable cable.
Body: Tailored, immaculate business suits.
Feet: Expensive heels.
Accessory: Black beaded choker. Two silver hair clips.
Trivia
The particular kanji for Onishi (雄西) means "the heroic West," which is strange considering Japan's cultural reverence for the East. Rui (瑠生) is equally unusual and does not tie with her family name. Its characters translate to "genuine lapis lazuli." The name by no means attempts to explain her or boast an admirable quality, and perhaps on purpose...
Though it's not known for certain, Rui does not especially look like a full-blooded Japanese woman. There's a small, slight ethnicity to her features that would almost suggest she has South American blood, possibly from Columbia or Venezuela.
Rui keeps few ties with the yakuza; generally those she keeps in contact are men still loyal to her father. Rival groups may recognize her on sight.
Rui is presently employed at Omoikane Investigations as a personal assistant to Daisuke Itami.
Rui cannot physically speak in any way or form. She prefers to communicate through her PDA.
Despite her aphonia, Rui is fluent in a few languages.
Rui dresses to the nines and keeps her appearance immaculate. She prefers to wear suits that cover as much skin as possible. There's a reason for this.
She also habitually wears a black beaded choker that covers most of her throat, and very few have ever seen her remove it. There's a reason for this.
No one has ever seen Rui eat food or drink anything other than water. There's also a reason for this.
Rui has a fixation on fish. She regularly saves up to take trips to the city aquarium. As well, her only prized possession is her small collection of tropical fish. She does not eat sushi or seafood (or anything else made out of under the sea friends,) and can barely stomach seeing others eat fish. It will literally put her into violent throes of nausea.
Do not torment fish or fishy things in her presence. Just don't.
She also owns the Little Mermaid on DVD.
The Fisher King is totally voiced by Brian Cox.
Quote
"..." [Please refer to the screen of my PDA for all further correspondence.]
Profile And Skills

Little is known of the mysterious, unassuming, and perpetually silent Rui Onishi. Employed by Omoikane Investigations as the personal assistant to Daisuke Itami, she appears to be quite the consummate professional: strict, unerring, and always dressed in a business suit. Most unusually, no one who has met her can say they have ever heard Miss Onishi speak, and the young woman, strangely enough, prefers to communicate solely though text -- usually through her PDA. She dresses, works, and lives with an exacting precision, working tirelessly to deliver order and regiment to her employer's unruly life. However, appearances can be deceiving, and hers -- immaculate as it is -- is belied by her past, which speaks of yakuza ties and an equally mysterious father who currently serves on death row.

Queen Of Flat Affect, Father Complex To End All Complexes, Daddy's Little Lab Rat, Yakuza Daughter, One Big Guinea Pig Family, Blank Stare Extraordinaire, Yet Another Fuudere, Speak No Evil, Speak Nothing At All Really, Long-Suffering Lieutenant, Wire Fu, Trusty PDA, The Resigned Straight Man, Post-Modern Knight Templar, No Accusations Just Friendly Crustaceans, Freud Would Be All Over This So Hard
History
One Dream
And this new world opened to her like a wound.
It was the jaundiced sky she noticed first, stretching across the horizon in that too-tight, waxy way skin stretches on the face of a corpse. That yellowy sky framed a gutted landscape of what, long ago, might have been a lush, rolling valley, touching fingertips with the treeline of a proud forest. But the valley was now dust, the soil as bleached as bone, and those tall trees tangled their sharp, skeletal branches until the dead forest coiled like barbed wire.
A taint had crept into this sick world like gangrene, and now it was eating its body from the inside out.
She stood in the shadow of a great castle, also resigned to rot under the heavy, murky skies. Its towering parapets were crumbling and dilapidated, brick and mortar powdering into the air, and bramble netted shut its grand, rusted gates.
Even its fierce moat had nearly dried up, the churning water reduced to a thick, muddy stream.
A line was cast into it.
That's when Rui realized she wasn't alone. Next to her, an old man sat on the riverbank, his twisted back hunched forward. He was fishing. His aged, wrinkled hands, coloured the same as those diseased skies, held the other end of the line.
"I am thou," he began simply, tiredly, his papery voice as weathered and dry as the earth under her feet. "Thou art I. I am the Fisher King."
She couldn't see his face. Even then, she wasn't sure he was even a king. He looked so old and so frail. His hair grew grey and haggard. But there, on his sunken brow, was the glimpse of a crown, the studded gems missing, the gold dulled with generations of corrosion.
He pulled unremarkably on his fishing line. "I am to suffer the pains of my oath. I have chosen them, I shall endure them, but I shall never die of them. That is my curse."
He turned to look at her, and Rui stared into the face of the Fisher King. His eyes were cloudy like a corpse's. His peeling, scabbing skin was growing over the crown slumped on his brow, fusing it to his twisted face. He smiled regally at her, and Rui could see the Fisher King's hollowed teeth through the rotted holes in his cheeks.
Something compelled her to glance down, and she saw the Fisher King was seated in a dark, wet, crimson pool. It was blood. He was soaked in it, and it was pouring thickly and greasily from his body, trailing a highway down the riverbank. And that's when she realized the murky water in the moat wasn't water at all. It was blood. He was fishing in his own blood pouring from an eternal wound--
"And now it is yours."
The air felt cold on her neck. Something wet dribbled on her feet. Rui raised both hands to clasp down on her throat, which was opened now, split in two from where she'd cut it open, her arterial blood hot and sticky between her fingers. She tried to scream--
And there was only silence.
This world ended when she opened her eyes. There were no more jaundiced skies.
Just the bleary white ceiling tiles of her hospital room.
One Father
2009

There were two white-walled rooms, separated by a pane of glass: a typical visitation room in the Osaka Detention Centre. They were small and cramped, and the room where Rui stood wasn't even wide enough that she could spread her arms. But that was as much as she, or anyone, could expect when wanting to speak to someone on death row.
The cellar stinks of ammonia and old paint kept reminding Rui of her rage, the anger that seethed up every vein of her body like an infection. It was all she could do to stay still, to look composed, and to not tear this place down with her bare hands until it crumbled at her feet.
Pulled from her dark thoughts, Rui tensed, posture stiffening, as through the glass she could see the door open to the second room.
The ushering guard had his head bowed in an unusual display of respect; his eyes turned politely away, his lips curved into a strange, warm smile as he allowed Shinichi Onishi to enter.
Her father, though now dressed in prison whites and rattling chains, suffering a life of solitary confinement under the order of execution, looked no different from any one of Rui's memories. He still cut a striking figure. He was placid and untouchable, his youthful face untroubled, and his yellow eyes were hooded with gentle patience. He waited as the guard removed his binds and politely locked him into his own room.
When Shinichi met her eyes, and smiled in a kind, silent hello, it was all Rui could stand to shatter the glass dividing them and run to his side. She fought the tears prickling her eyes. It'd been so long, and seeing him here, now, reminded her acutely how badly she missed him. It was sobering how her lifetime of being in his confidence had now been severed to a single, half-hour visit once a month.
After a moment, he motioned her to pick up the telephone on the wall of her room. Rui obediently did as told, hugging the receiver close to her ear.
"Rui," his voice seeped smoothly over the line, in time to the silent movement of his lips on the other side of the glass. "My little girl. Have you missed me?"
It took all her strength not to let her knees buckle. Rui put on her strongest face and nodded her silent yes.
His smile widened as his eyes watched her. "I don't think you could ever disappoint me. My perfect daughter who has always done as she's told, and who looks so troubled. How lonely you must feel to be all by yourself now."
Silence followed from her end of the line, though both father and daughter both expected as much. Rui could not speak to confirm or deny. But Shinichi could read the answer well enough on his daughter's gentle, stoic face.
"Let me fix that, Rui. You can never let me down, so I know I can ask you to do this."
Stepping forward, his face softened with fatherly pride as he outstretched one hand to affectionately glide the tips of his fingers down the barrier of glass. Staring into his child's face, his yellow eyes never blinked once.
"There is someone you must protect."
One Promise
1990

When she was old enough to wonder, Rui asked one evening, "Father, do I have a mother?"
Shinichi Onishi had been absorbed in a book. The title of the book itself escapes Rui's early memories. But, for anyone else to ask him a question, her father would not have twitched an eye from the print. He would have answered, in that calm, metallic voice of his, without a single glance.
But his daughter had asked the question, so he closed his book and looked down inquisitively at her. Soon enough, that kind smile of his, the one he would only give to her, rose to his lips. "This is a conversation I hoped to save for when you were much older," he began, rather frankly, but with a strange wistful quality giving his voice a rare richness. "She is far away, Rui. She left us both shortly after you were born. She did not want to stay."
This gave Rui pause for a moment, her large eyes staring guilelessly forward, her face transparently digesting this information and trying to make sense of it for the very first time. New synapses were forming.
Most children would then want to ask, 'Why?' or 'Where?' or 'How long?'
Rui just said, matter-of-fact, "Then I will stay until you ask me to leave."
Surprise flickered across Shinichi's face, and it only caused his bemused smile to grow. He settled one hand over the top of his daughter's head. "What a good girl you are. I will allow it."
One Day
2005

So anxious was Mr. Akako Takemoto, one of the most respected senior members of the Yamaken-gumi yakuza gang, that he did not accept Shinichi's customary offer of tea. Takemoto was revered most for his flawless sense of public decorum, so for a man like him to deny tea was something strange and unprecedented.
Even worse was for a man like him to pause, and in a violent display of rage, knock the many delicate, antique pieces of the chadogu straight to the floor in a rain of broken glass.
Shinichi Onishi did not rise from behind his desk. Like Mr. Takemoto's reputation for decorum, Shinichi held his own reputation for placidity. He did not react outwardly to most things... least of all this. He only turned his hooded eyes in a silent command for the young woman at his side -- his daughter -- to close the office door.
Rui, same as always, did as she was told.
Door closed, it was only four of them inside the darkened office. Takemoto, a young kyodai who served directly under him (and was now looking a little pale in the face at his superior's display), the blandly-faced Shinichi Onishi, and his ever present daughter, Rui.
"This is unacceptable, Shinichi," Takemoto barked, all use of honorifics and formality forgotten. His face was purpling with rage, veins surging from his temples, sweat beading across his forehead. "The favourite nephew of the so-honbucho is barely alive. And now your kohai admits to the mistake. They confused him with another man. He was tortured for days. Now they suspect brain damage. He cannot even speak!
"And now there will be retribution! Any man involved will be killed. I too will be killed! I was the one who pioneered the allegiance between the Yamaken-gumi and the Yamaguchi-gumi! I will be held accountable for this!"
Shinichi Onishi considered all of this in that measured patience of his. His hands folded together. "I shall deliver all of my subordinates responsible for the torture. They will all present their hands for your discrimination. You may take what you feel is appropriate --"
Takemoto interrupted with a breathless roar, his voice seized with outrage, "A few dirty fingertips will not correct this!"
One May Smile and Be the Villain
2009


Years ago when she was just a child, Rui's father had chided her never to purse her lips. It was a sign of insecurity and weakness, and nervous habits were beneath her.
Absently recalling that advice, she adjusted the lapels of her suit for the sixteenth time in the past hour. Briskly, mechanically, she checked her hair, gliding one palm down its sleek, inky length, feeling reassured to feel nothing out of place.
It was of the gravest importance that she had to make a perfect first impression, especially to a man as important as Daisuke Itami. Her father deemed him as precious. Someone whose life must be safeguarded at all costs. Someone whose work may very well change the world. And now she was to become part of it. His work was about to become her work. His life was about to become her life.
Her existence was about to begin on the doorstep to Omoikane Investigations.
Again, she checked her appearance, afraid of the possibility that it would not meet the high standards of someone like Daisuke Itami. Her suit was unruffled and every pleat was pressed into a dignified line. Her shoes were polished to mirrors. Her appearance was fit to represent her blood, her family name and, most important of all, her father.
She took a moment to prepare herself.
Inhaling quickly and holding her breath, she reached out to knock twice on the door.
A minute passed.
Rui was still holding that breath. She knocked again -- twice of course.
More time passed.
Rui checked her watch. She was absolutely sure the building would be open. She had triple-checked her research into the company. Doggedly, she reached out a third time to knock--
--just as the door opened, leaving her fist outstretched in thin air.
In the place of the door stood a lanky young man, everything that the mysterious and dangerous Daisuke Itami shouldn't look like, shouldn't be, and was. He was wearing a three-piece suit. His hair was purple. And he was loudly eating a package of strawberry pocky as she stared at him, one piece sticking out of his mouth and bobbing up and down with every chew. He regarded her back, appearing to be waiting for her to say something.
Rui's eyes transparently reflected her own confusion. This is Daisuke Itami? This is the man worthy of her father's attention?
Remembering her plans, Rui straightened her back, put on her most stoic face, and, without any warning, thrust a tiny PDA toward him, screen-first, to read. The text was already there, pre-typed in preparation several hours ago.
[I am Onishi Rui. On the behest of my father, I offer my services entirely to you. I possess a considerable amount of skills.]
Still eating loudly, he squinted to read the phone, nodding to consider it all. Rui watched him, inwardly surprised at the lack of commitment on the man's face. She'd expected some confusion, or at the very least, a desire for explanation. She had that pre-typed as well.
Instead, Daisuke spoke up, mid-chew, "Hmmmm. You happen to have a sandwich-making skill?"
Rui's mouth moved a little of its own, though no sound came out. There's not many people in the world who can render a mute woman speechless.
"You didn't get the hint? Let me try again!" Daisuke conspiratorially leaned in. "Psst! I want you to make me a sandwich." He explained helpfully.
Rui pursed her lips.
One Choice
1997


It had always been her choice.
And this had been a particularly easy one to make.
Rui had just turned ten years old when her father asked one day, "Rui, do you love me?"
"Yes, father," she replied softly, obediently, and meaning every word.
"Would you do anything for me?"
"Yes," she repeated without hesitation.
"There is something I must ask of you," he revealed, staring straight forward as he walked along, leading her by the hand. "Should you accept it, it will be a heavy burden for you to bear. For that reason, I will not force my request upon you. You must choose for yourself."
Rui did not answer, though she was listening. Her eyes watched the way her father's hand held hers, and how similar their fingers looked next to each other.
"My life, my research, and all of my secrets... I need someone to protect it. Rui, I ask for you to become my guardian. Can you do this for me?"
Rui's eyes closed against her own contemplation, her head lowered as though already forced to bear the weight of those words. She was old enough to know that, as of that moment, everything had changed. Her father just asked her not to be his daughter, and that he did not want one. He wanted something else.
She felt a dulled, distant pang ache inside her chest, the same sensation she always felt when she knew he was silently assessing her. Despite that, Rui knew it was still her choice. She could have refused her father here, and remained as only his daughter forever. But she couldn't deny him. What if he stopped loving her?
She had nothing else. No one else. She couldn't let him down.
"I will, father," was all Rui said, her hand loosening inside of his.
Shinichi wasted no time to drop to one knee, and with all the affection in the world, draw the tiny body of his daughter into his arms. One of his hands stroked her black hair... which was still trying to grow back to its original length since that day when half of it had been cut off.
"Thank you, Rui," he replied dotingly, as his eyes stared into the space past her shoulder. "I know that you will always meet my expectations."
One Left
2008

She read that they lead him away in chains.
Rui was too late too see it for herself, when the police came to arrest Shinichi Onichi for the crimes of conspiracy to commit murder and treason against the nation of Japan. All the papers reported on it the next day: prominent surgeon with yakuza ties charged with treason. Respected medical professional alleged to be responsible for dozens of missing persons.
Her father's printed mug shot stared back at her with his same unmoved patience.
It did not take her long to learn it was a traitor among his own employ to turn him in... a plant from the Yamaguchi-gumi, themselves. He had become too dangerous for them. When they finally learned of his private army, they panicked. At that point, they found it too difficult to attempt murdering Shinichi Onishi -- too much collateral damage -- so a deal was struck with the police to arrest him.
His men, mostly immigrants lacking Japanese citizenship, were forcibly scattered under the capture of their leader. Some disappeared for good. Others re-emerged as corpses.
Rui, the police found, was particularly difficult to interrogate. It is hard to force brief, impassioned confessions from someone who cannot speak.
The trial was long and confusing, as one would expect for a man who surrounded himself with rumours and half-truths. During the proceedings, they called him many things. A disgraced surgeon. A yakuza senior. An accused serial murderer. A shadow mastermind behind the sarin gas attacks of a decade ago. A charismatic cult leader. They even said his private army had been offered promises as strange and ridiculous as immortality.
Shinichi Onishi did not speak once during his trial. Not even when he was found guilty of his crimes. Not even when he was sentenced to be executed by the state.
Rui spent the day of her father's sentencing trying to scream with a voice that would not work.
One Stone
1995


Shinichi Onishi was the very definition of professionalism and austerity.
While not a particularly cold or unpleasant man -- on the contrary, he was known rather well for a kind disposition -- he was reserved and serious. He smiled only out of warmth, and never from a particular sense of humour.
So Rui was especially surprised when one evening he asked, "Rui, would you like to play a game?"
Her father was not known for playing games. It would actually be the only time he would say such a strange thing. Confused as she was, the young child felt a thrill at this unexpected surprise, especially coming from a beloved parent who had never asked to join her games. It must have meant that he decided to love her just a little bit more that day. How could she ever say anything but, "Yes, please, father. What is this game called?"
Shinichi rewarded her curiousity with a fond pat of his hand on Rui's head. "It's called the Persona Game."
One Cut
2005


"If you expect the Yamaken-gumi to remain affiliated with the Yamaguchi-gumi, you will sacrifice more than a few fingers of unimportant men! Don't you understand the gravity of this?! What am I talking about broken alliances... there will be an open declaration of war!" Takemoto snapped, though the rage poisoning his voice did not reflect in his eyes. There was only fear there. He was afraid. His hands, usually held so elegantly, every gesture steeped with precision, were trembling.
He was truly afraid for his life.
"Everything will be changed. Everything. There will be no forgiveness if the so-honbucho is insulted," he rambled endlessly, pacing the floor of Shinichi's office while desperately wringing his hands.
Shinichi Onishi only watched him with his customary silence, looking more akin to be studying the man than truly listening to any of his cries. Takemoto didn't seem to notice. He was too far lost in his own hysteria.
He lifted one hand to brush the beads of sweat away from his eyes, and his own gesture stopped him in his tracks, arriving to a whip-crack pause as his beady eyes homed immediately on the elder Onishi. Takemoto frowned to himself, and then, without warning, motioned his young kyodai close.
The Yamaken-gumi enforcer, despite all his tattoos and angry piercings, looked close to shitting himself as he obediently inched closer to Shinichi's desk. It was telltale on his face that he'd heard one too many street rumours. However, he found the nerve to step close, bow deeply, and leave a cloth-wrapped bundle on the polished mahogany.
In one glance, Rui's downcast eyes recognized the shape of an aikuchi and scabbard.
Shinichi, unlike his daughter, did not glance once at the strange bundle. His attention was wholly focused on Akako Takemoto, watching the man's face and every play of emotion with a decidedly unusual intensity. His yellow eyes were dull and matte, unreflecting. "My patience cannot last forever, Takemoto-san. Please explain what you mean by this."
Takemoto was the total antithesis of Shinichi's calm disregard, but his blood refused him to look away from the man's eyes. He took in a deep breath, and spoke suddenly, his voice as cutting as what was concealed under the cloth, "The reason for my visit is to request your blood, Shinichi. It is the only way this can be forgiven."
Surely, any sensible man would be outraged at this point. Shinichi Onishi just appeared to look all the more amused, like Takemoto had just inadvertently revealed the punch line to his own private joke. Though he did not smile, amusement was coiling in the corners of his youthful features. Finally, as though to reward Mr. Takemoto's directness, he finally glanced down at the offering laid on his desk. He considered it transparently for a beat.
Takemoto's jaw steeled visibly when Shinichi reached one hand for the cloth-wrapped bundle--
--only to be stopped. A quicker hand flew in to steal it away before he could even touch it. It was Rui, accepting the weight of the aikuchi in both hands as her stoic eyes looked away. She did not speak a word. She did not need to. The look of acceptance gentling her face spoke volumes.
Inside a split-second, that still, stoic figure that stood aside her father's desk had swiftly crossed the room. She drew to a crisp stop, and her long fingers took one corner of the bundled cloth. In a single motion, and at Mr. Akako Takemoto's feet, the cloth was opened to spread neatly across the floor, Rui dropping soundly to her knees, her back bowing forward.
Now uncovered, the aikuchi's polished scabbard shone in her hands.
She did not lift her head to meet Takemoto's surprised, perplexed stare. Rui only spoke to him, softly, politely, "I am my father's blood. Please accept it. I hope it will suffice."
She pulled the blade free of the scabbard. And in one reflexive, automatic movement, like a smile, or a sigh, Rui cut her own throat.
One Braid
1996


Rui was nine years old, and attended one of the most prestigious private schools in all of Sumaru. All of the sons and daughters of the local Yamaguchi-gumi administration attended this school.
During lesson breaks, the Yamaguchi-gumi children preferred to keep to each other, their families close enough that they have grown up as constant playmates. The girls especially kept bonds that hold like meathooks. All except for Rui Onishi, though not for a lack of trying. She lingered around, a permanent wallflower at the perimeters of their games, trying to stir up enough courage to enter their circle. She wanted to terribly. She had daydreams of being able to play carelessly along beside them.
She was just not sure how. What came so easily to them wasn't the same for her. She didn't have their normal smiles. She had never laughed the way they do. She wanted to search her heart to find the feelings that they must have felt, but she wasn't sure how. So Rui thought the only way was to watch them, studying what they do, until she could learn to be the same.
The other girls barely tolerated her, not really knowing how to take Rui's stoic face, quiet manner, and that surgical way she liked to study their every movement.
It felt like she was trying to dissect them.
One day, she looked up, and they're all staring down at her, a wall of Yamaguchi-yumi princesses sharing the same staring eyes and pointed smile.
The boldest of them stepped up and dropped to an inquisitive crouch in front of the seated Rui, the girl's black eyes standing coldly apart from the gracious smile on her face. She inquired, bluntly, with no preamble, "You want to be our friend, don't you?"
Conditioned by her father's similarly direct manner, Rui replied quietly, automatically, "Yes."
"But nobody likes you. You're weird. You scare everyone."
That brisk statement confirmed every one of Rui's fears. Though it could not show on her face, she felt her heart sink. She didn't know what to say, so she said nothing at all.
Rui's young interrogator stared for a moment more into her face, her searching eyes not met. It seemed to appease her; her smile widened. "But there is a way, you know, to show us that you're normal. You have to let me do something and not tell on me. If you want to be our friend, you have to promise that. Do you promise?"
Her hooded eyes still averted, staring blandly away at nothing, Rui said again, "Yes."
That's when the girl reached out to her. It is the first time anyone her age had tried, or even wanted, to touch her. Rui dare not move a muscle, so sure that if she moved even just a bit, she'll reveal herself, reveal that she had no capacity to be normal, and then she'd scare her off.
Slowly, and very carefully, the Yamaguchi-gumi daughter took one of Rui's long, dark braids in her fingers, touching the girl's hair with exquisite gentleness, and Rui wondered if this is what friendship was. Did this mean she had a friend now?
Then, next to her ear, she heard the unmistakeable cutting sound of closing blades. And Rui's averted eyes watched as her long braid fell into her lap.
The girl drew back sharply, quickly, a small pair of school scissors held in her other hand. She looked fiercely, almost eagerly down at Rui, her face split with a vicious grin. Her expression dripped with hungry expectation, just hoping for a reaction, any kind of reaction--
Nothing at all. Eyes widening, the girl laughed in surprise and disbelief.
"You're not even crying," she declared down on Rui, who still hadn't moved, hadn't spoken. "Don't you even care?"
The girl ambled back to her feet, already lost into her own malicious giggles; she marvelled at the sight of Rui, the weird girl who didn't seem to mind that half her hair was in her lap. "You're not normal at all, Onishi Rui! You're so scary!"
The row of girls, some laughing behind their hands, broke into a quick retreat, afraid of being caught by one of their teachers. Their shrieks and giggles grew distant. And left in their wake, Rui still sat, watching her long hair slowly unravel out of its severed braid.
She had learned something very important.
She was different. And no one could ever love her.
One Consequence
2002


Sigmund Freud once spoke of a particular psychological phenomenon he called transference. The human mind compensates for dysfunction, and any one repressed emotion will find itself emerging, somewhat strangely, in other situations.
Rui was fifteen years old. While girls her age navigated their first pre-paid credit cards and kissed their first boyfriends, she was resetting her own fingers and popping her left shoulder back into its socket. She had worked with every formidable weapon forged for a human hand, learned every physical vulnerability inherent of the human anatomy, thusly experienced every sort of bruise and laceration that is possible on the human body, and could even write her own annotated thesis on the psychological ramifications of seventeen hours of a forced march while nursing an open wound.
Her father actually asked her to write a paper on something along those lines.
Rui handled it all with her patient indifference. She sat quietly, unassumingly, through every one of her lessons, be it in the presence of her father's trusted men who oversaw her own endurance training and combat hardiness, or alone in the presence of her father, teaching her the human body over the yawning thoracic cavity of his medical cadavers.
None of this inspired the least bit of anxiety on Rui's face, her expressed bleached of any sort of discomfort.
At least, not until the day one lesson had ended, and she spent the afternoon assisting one of her father's favourite soldiers in his sushi shop. His name was Aleksandr, and he was a hulking, grizzled old Russian who talked wistfully, nostalgically of the Cold War years, and had decided to defect and move to Japan after he saw his first photograph of a geisha, or "that woman who would change his life." He was still looking for her.
Despite his four or five solid decades spent killing people bloodily, he held a soft spot for little Rui, and sometimes he even felt proud of her like he would his own daughter. That day, he was adamant on giving her a deserved meal after all of her work.
As he prepped his kitchen, Rui had been distracted, staring into an aquarium tank full of wriggling eel, watching their slimy bodies twine past each other as they swam in a snakey mess. All except for one of them. It was focusing its big black, unblinking eye straight at her, staring at her in fishy silence. Something about that caught her complete attention, and she wandered closer and planted both hands flat against the aquarium glass. Rui and eel watched each other in total awe.
Until Aleksandr's big, meaty hand dove into the tank, snatched that very eel out of the water, slammed it down on his chopping block, and drove a knife through its head.
Rui just stared in disbelief.
The Russian was whistling some old Cossack song as he split the struggling eel's belly in two. He laughed to himself, spraying ashes off his cigarette, as he tossed the hacked viscera over his shoulder. Her eyes wide, her limbs locked up like rigor mortis, and with sweat pearling down her temples, the Onishi girl flinched as eel innards hit the trash bucket with a juicy thump.
As he began singing, Aleksandr didn't even notice Rui fainting dead to the floor.
One Touch
2005


White ceiling tiles were the first thing Rui could see. After a few blinks of her sticky, filmy eyes, their bleary mess took shape and form. She inhaled, and immediately smelled the sharp odours of plastic and antiseptic coming off the tubing run into her nose.
She was in the hospital.
Rui closed her eyes weakly, her mind somewhere lost in that limbo between medically-induced sleep and an achy awakening. Her entire throat felt like it was on fire, like it had been gored.
That's when she remembered. Her decision. The blade sinking into her trachea. The dream. Her throat, split in two, pooling blood around her feet. And the voice in her head, the one that spoke so clearly:
'That is my curse.'
'And now it is yours.'
She swore she could still hear the voice talking...
Rui inhaled sharply, the memory sobering her out of her cocktail of sedatives. Her eyes opened again, forcing themselves to focus, trying to find the owner of the voice she swore she could hear. For the first time, she could feel the thick bandages binding her throat, restricting her head from being able to turn. Instead she strained her eyes to follow the source of the voice.
It belonged to a young physician speaking quickly yet very politely, no doubt a personal employ of the Yamaguchi-yumi. Standing at the foot of her bed, he was speaking to her father, who was also there in her hospital room.
Rui's tired eyes creased with relief.
Father was there...
The physician was telling him, "--will never speak again. Other than the blood she's lost, the inferior laryngeal nerve has been severed, and there will be permanent injury. However, I feel confident enough to suggest invasive surgery in order to correct this. Of course, I expect a respected professional like Onishi-sama to be aware of this. While I cannot ensure it will be completely successful, there is the chance she--"
No.
They can't do that.
She won't allow it.
Her injury was Father's now. It cannot be returned. It was her gift to him. It was her offering for his protection.
She tried to speak up to voice her dismay, only to find her voice gone, and with only a sharp, acute pain left in its place. Of course it would be gone.
It hurt to breathe. But Rui still found the strength through the agony, and the focus through the dizziness, to reach one trembling, fumbling hand up and clap it fiercely down against the bedrail. Her long fingers curled around the icy metal.
The sound was loud enough to draw four eyes onto her, one surprised pair belonging to the physician and the second pair the same, bland, yellowy stare of her father's.
Her father considered her quietly, and appeared to understand the silent desperation in his daughter's face. His eyes softened.
"If you would excuse us both," he said to the physician, courteous, but at the same time, dismissive. "This can be discussed at another time."
The physician did not even attempt to argue with him, despite the finalizing tone to Mr. Onishi's voice. He had learned never to question his employers. He bowed and took his departure.
The door closed quietly behind them, and Shinichi's hand lowered to carefully brush a tress of hair from his daughter's face. "I will oblige you if that is your will, Rui," he told her affectionately. "Just when I think you cannot possibly please me any more, you surprise me again. I don't know how I managed to be blessed with such an obedient daughter."
The tense breath sighed itself out of Rui. It felt like daggers to breathe, but her father was there, and the pain was nothing.
He let his thumb trace the arch of her cheekbone before drawing his hand away. "Sleep now. I'll ask the doctor back to assess your condition."
Shinichi Onishi turned from his daughter's bedside, only to be stopped by her tug of her hand on his sleeve. Her fingers had caught themselves in his suit jacket, pinching the heavy material and beckoning him back. He turned his eyes down on her.
It was the first time Rui would ever reach out to him. She never asked her father for anything, physical contact included. She never invited herself to take anything from him, even the comfort of touch.
And now, she did not do that out of selfish desire. There was nothing on her face that seemed to yearn for him to stay or ask him to comfort her pains. Instead, there was only that same, desperate look, trying to convey what her voice could not. Rui couldn't speak to tell him this, but she had to let him know.
Her fingers tightened. And her dried, cracked lips slowly mouthed a single, ratifying sentence:
I did it.
There was an instant of silence, and then a slow, indulgent smile destroyed the blandness of his face. He turned his arm until he captured her reaching fingers in his, clasping his mute daughter's hand gently between both of his own. He handled her as though she were the most precious thing in the world. His world. "That is very good, Rui. Very good. You have earned your place in my confidence. I am so proud of you.
"Now I know I can ask more of you. Now I know that you'll never fail me."
One Truth
PRESENT


Death row prisoners spend their time waiting. They are not informed of their execution until an hour before the proceedings. Until then, they wait, faced with unique reality that is the limbo between life and death. They are too weighted by the inevitability of death that they cannot live, and yet they are still forced to wait to die, possibly even years.
Their limbo is a private one, restricted to a solitary cell that cuts them from all human contact.
This is how Shinichi Onichi exists, this day spent no different from the last, as he sits in his room, hands folded in his lap. Today, like all days, he spends in silent contemplation, his bland stare focused on one cement wall as he thinks.
It is a truth universally acknowledged that a single man in possession of an all-consuming hatred of the world must be in want for a means to destroy it.
Shinichi Onishi is not an angry man, but he hates the world for all that it is: worthless. He has no place in it. No one has any place in it. The world is a terrible place that all could easily see, that all have easily experienced at one time in their miserable lives, and yet no person seems to possess the will to stop it.
He first became aware of his hatred years ago in medical school. The hatred only worsened when he worked as a surgeon, one of Japan's most prominent medical authorities. So many people would come to him with their pains and their cries, and he only found them at their most tolerable when they were opened up, silent and offering him their beating, pulsing parts. Soon enough, surgery would turn into dissection. And then dissection into experimentation. In the end, that's what they all were. Raw material.
He hates all kinds of human beings. The gentle and the malicious, the powerful and the powerless... all are equal to him, all equally worthless.
And he is just as worthless as they are. He is no judge of humanity. He hates himself just as much.
His ultimate realization of such helped him discover his Persona.
Yet that simple realization was not enough. He had to concede that a powerless man could not accomplish what he planned for the world. He had power to attain. Power comes in many forms. Money. Control. Fear. Knowledge is the most terrible power of all to wield, and he has so much more to learn.
He is an intellectual. A scientist. He is an eternal student of the world, bowed to its lessons. He hates the world, and everything it has to teach him, but he does not let that fact taint how precious knowledge can be. He is decreed to observe and test this world until he has understood all of it. Once that is accomplished, then he can find the means to destroy it. There will be nothing left for him than to make every useless living being feel the way he has, and suffer out the pains of his hatred. All they'll have left to feel is his despair.
And when he has finalized his knowledge, he will impart every single one of his lessons and show all human beings their true natures.
Since the discovery of his own Persona, much of his research has been focused upon them. Why have so few people been able to understand them, much less attain them? It countered his theory on human beings. There were all the same. Any differences among human beings were superficial at best, and their true natures were static, immutable and born wrong.
It wasn't long until he found the New World Order. It helped that he already held a position of power. It was so simple for him to ascend to the upper echelons of the yakuza. It also helped that he was willing to do anything for this secret organization in exchange for his research. He was one of their many generous benefactors of raw materials toward their cause: human beings who would be tested upon to find their own Personae. Few succeeded. Most failed.
And that margin of error was enough to claim his interest. Human beings were all the same. They all had equal capacity to realize their own worthlessness. But he was sure that he could perfect the inherent science to these experiments.
Knowledge is a tedious thing. Humanity has refined knowledge to the practice of science, embodying it under specific laws that answer only to a single authority: observation.
He is a researcher. He directs experiments of all types in his quest for knowledge, carefully manipulating variables and observing the effects. Sometimes he amuses himself with his research, and expresses his own thesis before even considering the experiment's results. He has learned so much by now that he is barely ever surprised by the outcome.
This makes his favourite experiment -- the one that would surprise him the most, the one that would surpass all his initial estimates -- all the more precious.
Little Rui... she is not precious to him in the way a father would liken his daughter to diamonds. Her data is precious, one of the few private amusements left in his life.
But she is a guinea pig. A lab animal. He could care for her no more than a microbiologist for his multiplying virii on a petri dish. Other than providing the basic sustenance to allow her to survive, his relationship to her is nothing.
It had been that way from the start, when he first held her infant body in his hands and was able to look into the sleeping face of his only child. He could only think of how pure she appeared, the ultimate tabula rasa, an incomplete human being that could produce any sort of data he wished.
As he studied her newborn delicacy, the first thought to strike him was the question of human endurance. It was an important concept, and a particular study he had yet to breach. To what lengths could a human endure? How long until the body wears out? How long until the mind falters? How long until the soul is evacuated?
Oh, the worthless world must have looked on him and watched him smile down on his newborn daughter, thinking him so full of love and affection. He meant that smile, but there was no love.
It was his will from the start not to teach her about his hatred. She would never learn about it unless she would, by rare permutation, be able to discover it on her own. He would give her the same worthless world as everyone else, operating under the pretense of family bonds. One variable would be his role as her father, a kind one, though with some unique differences. The human spirit perseveres the greatest under the burdening weight of lofty expectations...
He would be the father, but she would not be raised as a daughter. That is not a role fit to test the hardiness of the human spirit. Instead, he could raise her as a warrior. A guardian.
But there is a delicate balance to the human condition. He wanted to raise a human being, not an automaton. It would be incredibly easy to erase her of any sense of humanity and build her as an unfeeling machine, a mindless tool constructed for a single purpose. But there would be no spirit. To test human endurance and keep the evidence valid, there would have to be an element of choice.
She would have to choose everything on her own, even her own rewards. He would not provide her with neither reward nor punishment, and allow her to internalize it for herself.
But, in the end, he had underestimated the lab rat. Abandon it in a maze with only one correct path out, and it will ultimately find its way. Reward the rat, and it will remember that path, and run it so quickly, so precisely, that you will liken its escape to an art. Reward it again and again, and the rat will dedicate its life to escaping.
But this rat saw the reward, ignored it, and retreated back into the maze. The rat has been rewarding itself ever since.
He had never been so surprised. He had never been so pleased. His own daughter... forsaking years of evidence, disproving his own theories, and all in order to give him inconceivable data. She has to be his greatest experiment, a human being that has given up her own happiness to remain in his service. His loyal guardian.
His protector that managed to attain her own Persona through the power of her denial and self-estrangement. Her acceptance of her own unhappiness was her Renaissance. He was so proud of that. Just when he was resigned to sign her up for the experiment, she manages to succeed on her own...
And now the worthless world has her, a being so perfect in her tragedy. Will its human beings question their own happiness when forced to look at her face? Will they, too, come to realize their own miserable lives? Would they be able to smile again knowing a creature as pathetic as her exists in their reality?
Rui, his little lab rat. If he were only to ask her, would she remain in her maze forever?
He will observe the answer to that question soon enough.
In the privacy of his prison cell, Shinichi Onishi breaks into a slow, unwinding smile.
He doesn't intend to remain forever in his.
One Hope
2005


The aikuchi fell from her fingers. Still bowed in reverence, Rui craned her head to make sure the unfolded cloth caught the blood from her butchered throat. It did.
Rui made no move to stop the bleeding, to hold her laceration together. It wasn't for her to determine how much blood the Yamaken-gumi required. It was her father's decision. She would wait until he told her it was enough. She would just have to be patient...
Only four seconds passed before the world began to spin. Mr. Akako Takemoto was speaking, but she couldn't make out his rushed, wild words. Nor could she hear her father's bored, measured response. All she could hear was the pulse of her own blood in her ears. Rui blinked her eyes once, slowly, heavily, and raised her eyes from her spreading blood. She saw the sunlight beaming in through the window, the dust motes wafting through the streams of light, and the unreadable look in her father's yellow eyes. He was watching her, not saying anything. It wasn't enough blood? Did he need just a little more? Surely he would say something soon. He loved her. She wouldn't die. He would tell her...
Shinichi's face was marble. His mouth was unmoving. His eyes watched as she bled. Rui didn't think he ever looked at her before in such a way. Father's kind eyes looked so cold, and the colour in them was shifting, mutating, and she wasn't sure into what. The world tilted dangerously, and she sunk to one elbow, trying to keep his eyes. She held on to them for as long as she could.
Then she blinked again, and then all Rui saw were those endless yellow skies.
Personality
A Father's Love
The Alpha and Omega of Rui's entire being is her father: Shinichi Onishi. He is quite literally the center of her universe, and she believes herself as existing solely as an extension of his will. Her love for him knows no bounds, and her loyalty is the single absolute throughout her life; she simply is incapable of thinking one wrong thought toward the man.
She is in a continuous, tireless journey to please him, wanting nothing more than to live up to her father's expectations. She will do anything for him. She is prepared to kill for him. She has even tried dying for him. Everything she has, and is, belongs to him, and all of this obsessive devotion stems from a single belief: she worships him because she believes he is the only person who loves her.
Apart from her father, Rui has little of an identity of her own. She is his -- his child, his blood, his weapon, his tool -- and has no desire to be otherwise. Her love for her father is her identity. Thus, she is resigned to the reality that she will never be a normal woman, she will never find her place in a normal world, and she would never be easy to love. On the contrary, Rui knows no one could ever love her... no one except for her father.
Love is a frightening thing for Rui. One of her greatest fears would be to lose her father's love, and to realize that she is truly an unloved person, and alone in the world. The product of being raised by a particularly dispassionate father, who would never once confirm any feeling of love for her, much of her personality hinges on this deep insecurity. Thinking herself as so gravely impossible to love, she has dedicated herself to ensuring that at least one person will continue to love her, even if he's never declared it himself. So her life has been a gradual series of sacrifices to remain in her father's favour, perhaps working fervently as well to hear him one day tell her that he loves her, if just once.
A Fractured Daughter
As a result of someone who has gladly refused to develop into a complete person, Rui lacks for many emotions. She is certainly not unfeeling; on the contrary, she has an amazing capacity for passion, to love and to hate, but she has only allowed that passion to turn on a single source. She is ambivalent, even apathetic, to the rest of the world, having never kept friends, hobbies, or even the desire to stray from her father's side.
Now that he is imprisoned, and appears to be remaining that way for the rest of his life, Rui's reality has undergone a sea change. She is without his constant presence, and her unerring devotion is only allowed to see him once a month for an hour at a time. Even though she remains his will, following the man's every order, she is finally on her own. She has to integrate with society.
And this loud, alien world both confuses and disorients her, and Rui's incomprehension of the lot of it further divides her from society at large. By all appearances, she seems normal, but she knows she is not, and will never be. To become normal would be for her to reject her father and stop loving him, a notion that is simply inconceivable to comprehend.
Silence Becomes Her
Rui's silence is somewhat symbolic of her temperament: she is patient in her manner, unassuming, and mysterious. Her sense of mystery may be her most palpable trait -- when one cannot speak, they cannot tell the truth or speak any lies. They can neither confirm nor deny, neither educate nor manipulate.
She keeps a strange sort of innocence in that respect, all the more attested by her general naivete of the world at large. Society's little details are going to render her looking like a deer in the headlights more times than not.
The cost of permanent silence has also made Rui a very inward person. Her 'voice' only exists in her thoughts, and when she is thinking can she only hear herself. As a result, she thinks quite often, if not too much, able to spend hours wrapped up in her own internal monologue and the thoughts in her head. She's become quite analytical, a person who is fated to think and over-think the same constructs over and over again. She even has mental conversations with her own thoughts in her own last means to exercise her lost voice.
Patience is Skin-Deep
Though she is not genuinely shy, she's a consummate loner, and seems content to live in the silence that has been forced upon her. As a result of her muteness, however, she has an expressive face and a transparent way of conveying what she cannot say. Despite any stoic manner she'd like to assume, her face can reveal her as startlingly as a silent film, when those black-and-white actresses of years past had to have faces which transcended spoken word. Her over-expressiveness can almost get comical at times, and her facial tics and nuances are many. She's learned a new language in her silence, her face and body language trained by years to convey what her voice cannot.
She is a creature of contradictions, appearing gentle and forbearing at some times, but also dangerous and aloof at others, and with a deep capacity for ruthlessness: both in a cool, surgical manner and in a fiery, tempestuous display of vengeance.
Rui isn't without her temper, and she can lose it. The woman at her most wrathful could only be awakened by mentioning her father. Speak disrespectfully of him, insult him, dismiss him, and her reaction will be sudden and terrible, a destructive impulse only able to be soothed by fresh blood. Threaten him, and there may be nuclear fallout to deal with for the next several generations.
A Stayed Hand
Despite all that, Rui does not appear to have an innate disposition toward violence. And though her father raised her to be a warrior, wanting to test another curious question if enough exposure to war could make someone forget their soul... Rui's nature is far from aggressive. She does not try to seek out combat, does not enjoy participating in it, but she will readily engage anyone to defend herself or her father's wishes. She is so habituated to violence that she does not even have too much inhibition against murdering -- even though she has yet to take a life. Deep down, she does not like the thought of killing, but she understands the necessities taken to protect one's family.
In which case, there is no 'good' and 'bad' for Rui. There is only 'what her father wants' and 'what her father has no need for.' His desires are her raison d'etre, and she has no ethical interference in executing his every whim.
There is some reluctance in Rui's violence, however. While she may appear like some cold machine, she does not take pleasure in murder, nor does she relish the thought of taking innocent lives. Of course, someone who intentionally poses a threat to her father immediately loses any 'innocence' they had in her eyes.
A creature also born out of her father's pride and hubris, Rui shares his distaste for cowards. She refuses to condone the actions of cowards -- taking hostages, exploiting the weak, or threatening the lives of the innocent -- especially children. And when she chooses to be violent, there is a certain honesty about the way she fights; she prefers her battles one-on-one, direct, and to the point.
Blood Divides
Rui is generally dismissive of people, though she can't resist being somewhat curious of them -- especially those people who would try to confuse her world views. She doesn't understand them by and large, and has ignored the little intricacies of human behaviour for most of her life. For the most part, people other than her father have let her down, and she's left more than a little guarded, not quite the type of person desirous to have friends or even create a relationship that could supplant her father's role in her life. Even then, she can admit to herself that she is lonely. With her father at her side, she had a strange sense of loneliness that even all of her devotion could not exorcise. And now, with him imprisoned and far away, that feeling is getting worse.
To Rui, family is everything. She fervently believes that there is nothing more important than family ties, having people who will love you unconditionally, people who mean so much that you will do anything, become everything, to make them happy. Without family, a person loses all meaning, forced to walk through life as an empty husk. Most frightening of all, the family bond cannot be mimicked, and strangers cannot replace blood ties. This notion makes the idea of 'family' all the more precious and tragic, something that needs to be protected and cherished at all costs because it cannot last forever. Her greatest fear would be to ever lose her father.
Two Worlds Too Many
Despite her own immersion into the supernatural world, it too does not engage her as it should beyond her purpose. Rui has embraced its endless possibilities as just another tool that could benefit her father. If it is his desire for her to learn more about it, then she shall.
Personae, however, Rui cannot find herself so easy to dismiss. She can't help but be fascinated by them, and is utterly delighted by her own -- her Persona represents her single most important success, and that her ability to gain one had made her father the most proud he had ever been. It was the catalyst that had him take her into his confidence, when she could finally prove to him that she had both the strength and the will to fulfil his expectations.
A New Man In Her Life
And she intends to dutifully serve every single one of his commands to the end. The most recent of those commands, of course, has been Shinichi's designs for her to work for Daisuke Itami, serving the man as his own personal assistant and bodyguard. She accepted this command without question.
And she still does not question it, though by all means she should. By all means, she almost wants to.
Rui cannot understand Daisuke Itami. As much as she tries to ignore him, he has this deliberate way of getting under her skin, fraying her last nerves, and almost -- almost -- wishing back her lost voice so she could just scream in frustration and indignation once and for all. But, for all the times she loses her temper, Rui protects Daisuke's life with her own, deeming him precious. He has to be for her father to ask his only child to guard him. He has to have some great purpose, and even though she isn't sure what it is, she won't question it. She cannot question it. For now, Daisuke has become the most important person in Rui's life -- second only to her father. She will continue to protect him for as long as her father wills her to, possibly for the rest of her life.
Even if it kills her. Or ANNOYS HER TO DEATH.
Persona and Resonance
"I am thou... thou art I. I am the Fisher King. I am to suffer the pains of my oath. I have chosen them, I shall endure them, but I shall never die of them. That is my curse."

The Fisher King keeps many names and wears many faces over the span of mythology... he is also known as "the Wounded King" and "the Maimed King," the broken remains of a once great and noble ruler. He is most prominent in Arthurian legend as a Grail King -- the sworn protector of the Holy Grail -- one that attains a deep and critical wound in his devotion to the divine artifact. Made by the Spear of Longinus that had spilled Christ's blood on the cross, the wound does not heal and burdens the king to the point of uselessness.

Once glorious, his kingdom too sinks into a state of slow decay and becomes a wasteland around him, reflecting his condition and expressing the more twisted consequences of divine right. As for the Fisher King, he has no health left to do anything but fish in the river of his ruination, that is, until Arthur's virtuous knights can save him.

Additionally, the Fisher King imbues Rui with another passive gift -- the ability to strive most seriously and formidably under the pains of injury. When seriously wounded, Rui becomes her most dangerous, gaining new nerve, focus, and intensity where pain would otherwise burden most people. On the contrary, agony and debilitating injury seem to hone her to a razor's edge.


SENSE: The sensation of standing in the ashes of the dead world, one that has long forgotten life. This is the Wasteland that supercedes the fall, a peaceful, barren place that stretches into vast, endless nothingness in all directions, where the horizon bleeds out the same dead colour as the dirt. It is a place that feels like it once thrived, teaming with life and obligation, but the sense of duty has become something so twisted that it has tainted the land. This duty -- this promise -- is heavy and smothering, and has choked this world into desolation.
SMELL: The burnt odours of creosote and vaporized resin. The molding smell of standing water. The basement sighs of dust and antiquity.
SOUND: Heavy and watery. The wet sound of steel being pushed through a sucking gut wound. The wet plop of a fishing line being dropped into lake water.
Notable Social Links
I - THE MAGICIAN

Yuzuriha Hatsumi

- Rui originally caught the girl trespassing Daisuke's office in an attempt to collect intelligence on his operations. She put a stop to it by nailing Yuzuriha's limbs down with knives and interrogating her for three days straight. Despite their less-than-promising encounter, Rui has found something of a kindred spirit in the girl - she sees herself, before she gave her humanity away. Disarmed by Yuzuriha's dedication to her purpose and own "precious person", Rui is surprised of how protective she feels over the girl and may find herself compelled to destroy anything that would try to corrupt it.

II - THE HIGH PRIESTESS
IV - THE EMPEROR

Kyo Enda

- A student employee at Omoikane Investigations. Appears very cordial. Appreciative of good tea. Not at all an insufferable man like Daisuke Itami... so why is her boss investing so much attention into him?
V - THE HIEROPHANT

Shinjiro Aragaki

- Rui will live a long and peaceful life if she never meets him and his PITYING GLANCES ever again!!
VIII - JUSTICE

Noriko Ishibashi

- WHO IS THIS WOMAN WHAT DOES FATHER WANT WITH HER?!

Katsuya Suou

- A meddling, incorrigible, and it appears incorruptable police detective who first appeared in Rui's life by following her for a week. Having caught onto his investigation, she determined to ventilate years of resentment for the force by humiliating him publicly. However, instead of the rivalry one would expect from this wayward pair -- one a cop, the other a yakuza princess -- Katsuya has become something of a strange acquaintance to Rui. Despite all her dismissive ways, not even she can explain her desire to have him understand her.
X - THE WHEEL OF FORTUNE

Akira Ookuma

- A fellow employee of Omoikane Investigations, and an old friend of Daisuke. The word 'friend', however, is a term that's highly debatable. He is one of Itami's best enforcers, and Rui has had the (unfortunate) experience to seeing Akira in action. Despite his unparalleled brutality, he has a strange, direct way about him that she finds calming, and he puts her at ease more often than not. Still, she's pretty sure she's caught him staring at her ass.
XV - THE DEVIL

Daisuke Itami

- Her employer, charge, and, at present, the most important person in her life. Rui Onishi has accepted the (great, great...) burden of protecting Daisuke Itami's life with her own, dedicating herself to ensuring his health, safety, and survival. Even though she isn't sure why, she believes that he is precious, and is fully prepared to remain in his employ for as long as she lives. Even at the cost of her own sanity. Because he's certainly not helping it. (UPDATE: HE REALLY ISN'T)

Itsuka Mizuhara

- Another young student working an internship at Omoikane Investigations. Quite bright and sharp for someone her age, and Rui is impressed with her gift of insight. But what did she end up reading on that mysterious piece of paper?

XVI - THE TOWER
XX - JUDGMENT

Nagisa Renge

- A strange little girl, stepped out of nowhere and appearing to have deigned herself as Omoikane's newest mascot. Rui isn't too sure what to think of the girl, but feels resolved to treat her courteously. She's not too sure the girl's sanity is even all there, especially when she confessed the total impossibility of loving a man like Daisuke Itami. Having grown strangely close to the girl, Nagisa recently confessed to Rui that she's dying, and may only last a few months. Rui hasn't a clue how to deal emotionally with this sort of realization, but she did promise the girl to keep her secret -- especially from Daisuke.

Kichiro Higa

- Suffering from infection from her own debilitating wounds, a fever dream had Rui mistake Kichiro Higa for her father, and for a night she loved the man with all her heart as he carefully dressed her wounds. Even though she's now discovered the truth, embarrassed by her own error, she still has trouble trying to parse her own lingering feelings...
?? - ??

Shinichi Onishi

- Father. The only person who could ever love her. He is everything.
Soundtrack
BONUS TRACKS: Father's theme:

Hurdy Gurdy Man

- Donovan

Histories of ages past / Unenlightened shadows cast / Down through all eternity / The crying of humanity / 'Tis then when the Hurdy Gurdy Man / Comes singing songs of love

When the Man Comes Around

- Johnny Cash

The hairs on your arm will stand up / At the terror in each sip and in each sup / Will you partake of that last offered cup?
Gallery
Error creating thumbnail: File seems to be missing: /home/m295reb/public_html/mw/images/d/da/Rui02.jpg

get off the ground it's dirty