Noriko Ishibashi
From Persona MUSH Wiki
Noriko Ishibashi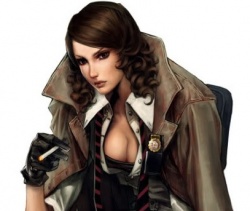 Status
Full Name
石橋法子 (いしばしのりこ)
Arcana
VIII -

Justice

Nature
Persona-User
Gender
Female
Date of Birth
April 19, 1983
Age
27

Guardian Dragon

Scarlet Dragon
Faction
Unaffiliated
Occupation
Inaba PD Detective
Persona
Vahman
Weapon
ASP Baton
Eyes
Brown
Hair
Brown
Height
5'10"
Voice Actor
Atsuko Tanaka
Social Stats
Expression

1

Socially-Awkward
Knowledge

3

Educated
Courage

5

Fearless As Hell
Understanding

1

"DON'T BE CRY"

Diligence

5

Fiercely Determined
Equipment
Weapon
ASP Baton
Body
(Men's) Business Attire
Feet
Polished (Men's) Shoes
Accessory
 ???
Trivia
The kanji of in the writing of Noriko's name (法子) means "law child."
The Ishibashi (石橋) family name translates to "stone bridge."
The scent of Noriko's resonance has meaning: in the language of flowers, chestnut means "do me justice," while red lily means "high-souled aspirations."
Noriko is exactly one year older than her

brother

.
She is an animal lover--particularly, Noriko is fond of dogs. However, as she lives in a tiny apartment, she cannot have one.
...so she has a goldfish named "Gulliver."
Has once admitted to using her oven only to warm her jeans on cold mornings.
Noriko is an admitted workaholic.
Noriko's favorite brand of cigarettes is Mild Seven Mild Turkey.
Her favorite drink is the Suntory brand Yamazaki Single Malt Whiskey.
She is a terrible cook.
Noriko has only worn a dress a few times in her life; the last time was her wedding.
...she is divorced now, though.
She is also known to go shopping in the men's department for clothes.
Quote
"Liars, cheaters, manipulators, hypocrites; they're the worst sorts of people. Maybe that's why I can't stand them?"
Profile And Skills

Once, Noriko Ishibashi was a very promising detective with Sumaru City's police force. It seemed that there was only way for her to go, and that was up. Then one nasty rumor and subsequent bribery scandal later, Noriko found herself disgraced and stripped of her hard-earned prestige, dumped and "demoted" to Okutama as a detective on its police force before another transfer landed her in Inaba. Still, for all she has been forced through and the seeming bleakness of her career, Noriko has not let it defeat her; a strong and incredibly forthright woman, she is not so easily broken by hardship. She works hard, remains determined and strong-willed, an adamant believer in "truth" and "justice." But her hard work has an ulterior motive, one that ties back to the sole heir of the Ishibashi, the estranged brother that single-handedly destroyed a legacy.

Smoker, Drinker, Daddy Issues, Brother Issues, Issues PERIOD, Possibly Nicholas Angel's Japanese Long-Lost Twin Sister, Might Also Be Det. John Munch's Long-Lost Illegitimate Japanese Daughter, More Of A Man Than Her Colleagues, Now That I've Got Your Attention, Let Me Tell You a Story About a Bridge, Do You Know the Story of How Cornmeal Came To Be? Neither Did The Miller When He Left His House That Morning, Independent Woman, Painfully So, It's Amazing She's Not A Catlady By Now
History
On The Ground, Seeking The Sun
My father was a cruel and selfish man.
These are not the words most would want or ever think to speak of their parents; however, it is most apt of him, because my father was precisely that. Selfish, only concerned with the legacy he built, preoccupied with "work" and all of the years he spent on his "empire." I was his first child, his first daughter--
But he could have cared less. For all he knew, I never existed. He didn't WANT a daughter. He wanted a son, a strapping young man to carry on his family name--the "legacy" he was always so preoccupied with, so concerned with. As far as my father, Keita Ishibashi, was aware, he only had one child, THE heir that he desired from the moment he set out to "make" one.
That child was my brother, Keitaro Ishibashi.
It wasn't exactly my fault I was never close to my father; believe me, I tried many times to get close to him, the man who was one-halfs the reason I even existed. But every time I would try, each time I would try to precisely that it was "not now Noriko, I am busy," or "I don't have time for this, Noriko, this fiscal statement isn't going to write itself." With each passing year I grew further and further from my father.
It didn't really matter, though. To Keita Ishibashi, he only had one child, his dear, precious Keitaro--his heir to his "vast" legacy. Even though he was born a year to the day apart from me, my father never paid attention.
Oh, my name? Noriko. It's the name my mother gave me; my father was, you see, caught up late at work. From the moment he learned my mother was pregnant with a girl, he quit caring about me. For all I know he probably hoped she would miscarriage; that would have been one less mouth to feed. It'd let him start over, like crushing up a piece of paper and simply discarding it into the garbage.
But I didn't, and my mother was more or less left to raise me, bless her heart.
Another drink? Sure, I won't mind--I could use one. Care if I smoke?
...thanks. I owe you.
Anyway, I really shouldn't rag on my dad so much. For all his lack of being around and there for me, I was actually "taken care of." I went to school, I was blessed with an education, I got things and so on and so forth--it's just the whole "emotionally deprived" aspect that left a real sore spot. Can't really say I was too crushed when the old man wound up kicking the bucket.
What? Oh, he died of cancer. He was sixty-something; honestly I forget the details. I paid him a few visits with my mother, but he barely seemed to make any effort to reach out to me. It was my last (and vain) attempt to make amends for his shitty parenting, but that didn't work out too well. He would always ask where Keitaro was.
But, really. I shouldn't speak so ill of the dead. What's done is done, they say.
Spread Thy Wings & Fly, To The Skies High Above
The only problem that was "left" in his passing with my brother, Keitaro. But you may ask yourself "problem? Why would you say he's a problem?" or wonder why on earth I would have any issues with my brother. Wasn't it my dear old dad's fault I was neglected as a kid and cast aside in favor of his "blessed son?"
You'd think that, but let me tell you--Keitaro was by no means humble or innocent. From the beginning he was a spoiled little shit, and the best part was he KNEW it. He knew he was dad's favorite and he used it to his advantage. While I barely got a damn thing he got anything and everything he wanted. When something broke, he immediately threw blame on me. When in the rare event I got something I actually wanted, HE would take it from me.
Don't get me started on the "doll" incident. It's a real sore spot for me.
Anyway, the point is that Keitaro Ishibashi was--is--a real douchebag. The two of us never got along; we were night and day, polar opposites while our poor little sister Akiha was caught in the middle. We'd bicker and argue and fight, and she'd just try in vain to mediate and smooth the jagged edges. It never worked, mind you, but I guess it's the thought that counts..?
Moving on. Things were a real damn trial as a kid, and believe me I wanted out as soon as humanly possible. Even in high school that little bastard made my life hell, cutting classes and dicking off while I tried my damnedest to make top marks and actually APPLY myself. And you know what my dad would do?
That's right, you got it. He'd just focus on Keitaro, lavishing him with praise, enabling him when he "did good" and laughably "punish" him when he did bad--which was nine times out of ten, of course. Dad didn't CARE that I made all A's; he'd just plea and beg with Keitaro to "work harder" and apply himself, so on and so forth.
My mother? Oh, don't get me wrong--she was an immense part of my life. Like I said, she was the one who basically raised Akiha and I. But, still, raising two daughters AND Keitaro was hard on her, on top of cooking and cleaning and basically being the good, obedient housewife to my "hard working" father who was barely around to give HER a break now and then. It was essentially a single mother raising two children--occasionally three, when Keitaro wasn't being coddled by my father.
Oh well, no sense in lamenting about my youth, I guess. Besides, you don't seem the type to get the kick out of someone who dwells endlessly. Don't get me wrong; the past is that--past. It's behind me, there's nothing I can do about it, right? So despite my less-than fabulous childhood, I swore one thing:
I would get out of there and make something of myself. Sure, I was smart. I could have gone on to some great college, gotten a degree in pharmaceuticals or some biology degree...but that wasn't what I wanted. I didn't want anything remotely similar to what my father had any associations with--because that would ultimately mean I'd have to deal with Keitaro.
So, what'd I do?
Well, I knew the way Keitaro was--he was a manipulative son of a bitch that would get himself into trouble someday, somehow. So what would be the best way to assure that I'd SEE him get his just desserts?
I'd become a police officer.
Fly High, Icarus, On Waxen Wings, Higher and Higher--
...What's that look for? I know it seems as if I'd just decided my career and chose my LIFE to be the pursuit of justice based solely off the fact I really didn't like my brother, but that wasn't entirely it. Yes, it was a "factor" in it, but that wasn't it entirely. I'd always enjoyed the thought of being an officer and actually giving my time to the city--to the people in the world that actually TRY to live honest, good lives. They deserve that much, don't they?
But yes, a driving factor was my brother. He was everything I didn't want to be, ever. He was manipulative, sneaky and callous--a sociopath. He was what I wanted to try and help protect people FROM. If I became an officer, I would be in a position of authority--and how could he ever ignore me, as he so frequently did as a child?
Hah, it's cruel, I know. But you didn't have to grow up with that little monster.
So I went away and joined the Sumaru Police. I was a quick learner--I ascended swiftly, I impressed my superiors...I was in the right place. From the first day at academy I knew this was the right choice in my life. I was going to enjoy this work, protecting the city from the na'er do wells and miscreants.
And everyone knew it. They'd praise me, give me compliments and I would always have some of the highest marks. Now, don't get me wrong--I'm not trying to gloat here, or rub it in your face. That's quite the contrary; I'm actually working up to something. When I get there, it will make sense. So bear with me a moment here.
Life goes on. A year into the work I meet a wonderful guy. He's a good looking young man named Keiichi that pampers me and says he loves me. We date, we have fun and another year later I'm standing at the altar in a small wedding that consists of my sister, mother and a few work associates. It's a sad little lackluster wedding, sure, but it was quaint and charming.
Another year later into our "wedding bliss" things turn sour. He gets mad I'm working odd hours, I get mad he can't understand that it's part of my job. At this point I'd moved from being a beat cop to being a detective, and my work generally had me investigating organized criminal elements, among other things. So yeah, I'm working pretty irregular hours, like I was before on the streets. But Keiichi just can't take it.
A year and a half later, I'm Ms. Ishibashi again.
Bitter? Maybe a little. It was a nasty divorce that had him taking most of everything. But I was an independent woman, and one little scuffle with some grown-up baby wasn't going to keep me down. I moved on, got a promotion. All my female coworkers are stunned I'd recovered so quickly, but hey. After dealing with a father who basically did not acknowledge your existence and a brother who went out of his way to torment you, well.
You grow a spine and thick hide.
Moving on, I'm doing pretty well in life. I'd gained considerable recognition among my peers in the force and lost track of my brother's existence. That didn't bother me because, what the hell? He can't bother me if he doesn't know where I am or what I'm up to, right? As it turns out, dear old brother Keitaro's got his hands in some shifty deals--that's the EXACT thing I was hoping for. Finally--FINALLY--it was an opportunity to catch the little brat with his hands in the cookie jar, and you know what? Dear old dad isn't there to bail him out anymore.
PERFECT.
Well, with this little bit in mind I do a bit of "investigating" in my own time. Turns out Keitaro's got a little business for himself, some cyber-investigations organization out of Okina. It's small and seems legit on the outside. But he's my brother, and I know he's got to be up to something ELSE with that business of his. So for the next several months I do a bit of research and snooping, trying wait it out until he slips up JUST ONCE. Then I'd slap him in the face with the law.
So life is basically great at this moment. Then you know what happens?
Too High; You Tumble From the Skies, But Never Cease Looking to the Sun
I'm being thrown into the Internal Affairs "interrogation" room because they found evidence that I'M involved in the very work I'm trying to stop. Yeah, they accuse me of taking bribes from the local Yakuza in a big corruption case among the department.
Color me stunned. Me? ME? Taking bribes like some dirty meat-eater cop? After all the hard work and time I'd devoted to the force in Sumaru? After all the praise and compliments I'd received from these people, NOW they're throwing me into the fire with stupid, unfounded and baseless accusations?
Now, as bad as this may seem for me, they can't precisely accuse me, because they have very little "evidence" to go off of. So a few months into the investigation they're telling me that I've got two choices. One, I can quit the accusations will be wiped off record and I will "leave gracefully" if I choose or...
They can transfer me to Okutama.
Well, I'm not about to just quit, and I sure as hell am not about to give them the satisfaction of getting away with accusing me of taking bribes and being some crooked cop after I'd worked to the bone being the best I could be. So I take the transfer to Okutama, because I actually ENJOY my work enough not to give up on it--and the people I'd essentially sworn I'd protect. Because if someone like me wasn't around, who was going to protect them? Those crooked bastards that WERE actually guilty? Hah.
A month later I'm living in some backwater town in a cramped one-bedroom apartment working one of the most boring detective jobs of my life. But you know what? I wasn't about to complain, because this gave me time to breathe. In a sense, this was a blessing. Why, you ask?
Because now I could do something I had ignored in the hustle-and-bustle of my life in Sumaru. I could spend my spare time "investigating" my DEAR brother Keitaro and find out--finally--what he was doing, if anything. He'd spent so much of our childhood tormenting ME, wasn't it about time to payback by using something against him he couldn't argue? The law?
Because if that little BRAT was up to no good, I was damn sure going to see to it that he'd get his desserts. Hah, maybe it's a little twisted in some way, to think so poorly about my brother like that. But he'd spent so much of HIS life giving me shit, wasn't it about time I got him back?
Then, not even a year later the police in Okutama are telling me that THEY want to transfer me to backwater Inaba, because the city "needs the manpower." How do I read it? I'm just too good for their police force and making their men look bad. Feh. So I transfer AGAIN, and it's into yet another small cramped apartment, wasting my nights away in tiny little bars.
Ahhhh, my life is so dull now, sitting around on slow nights drinking, talking with strangers. ...what's that? Have I heard of that "Persona-sama" game?
Now that you mention it, we'd played it once when we were kids. Keitaro was bugging the hell out of Akiha and I to play with him, and we did- -well, Akiha was more ambivalent to my brother's horrible whims, but I obliged because I just wanted him to leave me the hell alone. Nothing happened though.
Well, when I think about it, I had a weird dream later. But beyond that--
Well, there WAS this one time back on the beat when I was nearly cornered by some thug. I could have sworn I dreamt it, when some ghost shot out of my body and caused him to run away in horror before it turns to me saying how it "art thou" or something. But...
I think I've had a bit too much to drink, mister. What'd you say your name was again?
Igor? Heh, a foreigner? Thought you looked a bit unfamiliar around these parts. Nice club, by the way. I like the blue motif. I'm not really sure why I picked this place to stop in at. The place is dreadfully empty, but you're a good listener, I suppose.
What? You want to tell me more about this Persona nonsense?
...well, okay. You listened to me, so it's the least I can do, right?
Persona and Resonance

"I am thou... thou art I. I am Vahman, the cause of good intent..."


A facet of Ohrmazd, one of its six "divine sparks," an Amesha Spenta of Zoroastrian myth, Vahman is a cause of good intent. It is considered of "Good Purpose" or "Good Mind", which refers to Vahman's duty of aiding in the good and moral state of mind that enables mortals to persevere and accomplish their duties. Vahman is the polar opposite of Akoman, a corrupter and perverter of mankind's thoughts. As a reflection of Noriko, Vahman represents her determination and steadfast belief in being true and honest, giving her the strength to push forward, despite all that happens to her.

SENSE: The feeling of Noriko's resonance is very unnerving, in that it feels like being at the front of a courtroom in the witness stand, that awful feeling that every move is being scrutinized, that one misstep could end up in a complete disaster. It's subtle but strong and powerful, like the calm before a storm. Yet, there's a certain innocence about it--it's a pure feeling, like the eyes of a higher power giving its patient observation, biding its time before passing its judgment.
SMELL: Like the scent of roasted chestnuts and the faintest hint of Oriental lily.
SOUND: A dull murmur, almost soothing, like white noise at 4 am. It's there, it can be kind of obnoxious, but there is a certain calm and relaxing feel to it.
Notable Social Links
VIII - JUSTICE

Katsuya Suou

- A fellow officer in Inaba, Noriko's first impression of the guy was he was too damn nosey for his own good, what with his prying into her personal life--particularly her brother. Still, she grew to have some shred of patience and learned he's a pretty good man who also hails from Sumaru. She believes that, while he might be "just investigating" Rui, there's more to it--because she witnessed one of his greatest embarassments thanks to Rui. She is somewhat leery of him, mostly because he seems to ask a lot of personal questions. What the hell is this Persona nonsense??
XII - THE HANGED MAN

Rui Onishi

- The mute Yakuza princess was an interesting encounter for Noriko; her reactions upon Noriko tearing up her father's creepy "love letter" to her resulted in violence from Rui, leaving the detective confused. While a bit wary, she has no real reason to like or dislike the woman. Yet, anyway...
XVI - TEMPERANCE

Akiha Ishibashi

- Noriko's little sister, the youngest of the three Ishibashi siblings, she is incredibly over-protective of her, and secretly admires her ability to essentially forgive her brother for the mess he created with his awful existence. She would do anything for her little sister. She's also a little jealous and feels that her sister is the pretty one of the Ishibashi family. Noriko remains completely unaware of what happened to her sister at the hands of someone, the fact that it unleashed her Persona, and--most importantly--Keitaro was the one behind it all. But if she finds out there won't be a soul on the face of the Earth that can save Keitaro from the wrath of khan Noriko Ishibashi.
XV - THE DEVIL

Keitaro Ishibashi

- Her brother, he is the one person in the world that draws considerable amounts of ire from Noriko. He's everything that is completely opposite of her. He was the reason her family was so devastated after their father's death. He was the reason (unknown to her) she lost her prestige and was demoted in Sumaru as an officer. He was the reason her father never paid attention to her. He was the reason she was a miserable child. ...and because of that he is truly one of the people in this world she utterly despises with every fiber of her being. He is also the reason she remains a detective; one day she knows she'll find him again, and when that happens she's sure he'll be doing something bad--and that's the day she'll gleefully throw cuffs on him. It is also worth noting she does not know his current whereabouts or name--but she is determined to find out.
XX - JUDGMENT

Nagisa Renge

- A subsequent encounter with Nagisa--at the Inaba PD, no less--resulted in the revelation that she knows Noriko's brother...and seems to have some weird, complicated like/dislike relationship with him. She was nosy, wanting to ask questions about his past and learn anything and everything she could about him. While she was ultimately humored by Noriko (to her chagrin), it left Noriko with a feeling of uneasiness and general unpleasantness from her encounter Nagisa. Fortunately Nagisa made amends, and then went off and died, leaving Noriko feeling pretty awkward in the process. Oops. :(
Soundtrack
Hatesong by Porcupine Tree
This is a hate song just meant for you, I thought that I'd write it down while I still could, I hope when you hear this you'll want to sue.
Novio by Moby (Vahman Theme)
Instrumental
In Search Of by Miike Snow
And we won't back down from anything, in search of a remedy.
Grounds for Divorce by Elbow
I've been working on a cocktail called "Grounds For Divorce."
Thursday's Child by David Bowie
All of my life I've tried so hard, Doing my best with what I had, Nothing much happened all the same.
I Won't Back Down by Johnny Cash
You can stand me up at the gates of hell, But I won't back down.
Cello Suite No. 1 ~ Prelude by Johann Sebastian Bach
Instrumental