Yu Narukami
From Persona MUSH Wiki
Yu Narukami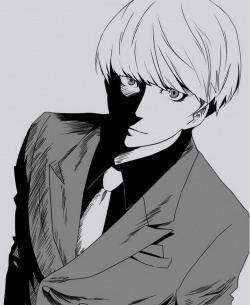 Status
Full Name
Yu Narukami
Arcana
O - The Fool
Nature
Persona-User
Gender
Male
Date of Birth
May 1st, 1992
Age
20
Faction
KDA
Occupation
Jack Of All Trades
Persona
Izanagi
Weapon
Two-Handed Swords
Eyes
Gray
Hair
Gray
Height
5'11"
Voice Actor
Daisuke Namikawa / Johnny Yong Bosch
Social Stats
Expression

4

Charisma
Knowledge

4

Brofessor
Courage

5

Heroic
Understanding

4

Charitable
Diligence

5

Rock Solid
Equipment
Weapon:
Two-Handed Swords
Body:
Jacket w/ Popped Collar
Feet:
Shoes
Accessory:
Glasses
Trivia
Yu Narukami needs to RP with more people! It's on this wiki, it has to happen now!
Quote
"So this is my power."
Profile And Skills

At first glance a silent protagonist, Yu Narukami is anything but to those who get to know him. Often going out of his way to help complete strangers in their sometimes bizarre tasks, he is the quintessential boy scout to the casual observer. Attending Sumaru University, he transits daily from Yasoinaba while working odd jobs on the side to make ends meet. A man of many friends and a joker at heart, he is behind his quiet appearance a very warm person with a particular fondness for unraveling mysteries and puzzles. Gifted with the power of the Wild Card, he uses it with a near unwavering determination, clinging fast to the hope of a brighter tomorrow.

Definitely Fred, Big Bro, Sempai, Wanna-be Detective, Great Actor, Great Basketball Player, Great Athlete, Definitely Gary-Stu, The Fool, Origami Lover, Iron Chef, Needs A Mystery Machine, Deadpan, Perfect Delivery, Method Actor, Wild Card Bitches -- Yeeeehaw!
Persona and Resonance

It's Izanagi. Deal with it.




For the by and large, Yu's resonance is much akin to taking a delightful walk in a forest. There's the mystery of it, the serenity of it, and yet the constant noise of animal life under the rooftop canopy. It can at times be very peaceful, and at other times be very chaotic.
SENSE: Like being in the middle of a forest.
SMELL: Fresh morning dew.
SOUND: Birds chirping.
Notable Social Links
O - THE FOOL

Minako Arisato - SEES girl he's interacted with a few times and encountered 'his shadow' Kyrie with one time at Samegawa Flood Plain.
Tohru Adachi - Fumbles. He eats dinner over at the Dojimas sometimes, he and Yu have had a few conversations. While they aren't exactly buddies, they aren't strangers either.
Yuzuriha Hatsumi - KDA's 'ninja' informant. Potentially a loyal friend and a trusted confidante, but that relationship needs some additional care. In all likelihood, they interact frequently enough anyway, since Inaba isn't a very big town.
II - THE HIGH PRIESTESS

Yukiko Amagi - A friend of Chie's and a fellow student at Gekkoukan High, as well as Sumaru University. He, Yosuke, Chie, and Teddie helped rescue her from her TV dungeon. Beyond this they've interacted a few times. Not particularly close, but he likes her well enough. Another relationship that needs some fine stoking!
IV - THE EMPEROR

Kanji Tatsumi - Former underclassman, but strong friend and ally. Literally strong, too.
V - THE HIEROPHANT

Ryotaro Dojima - His dear Uncle, and the father of Nanako, and the brother to his mother. Also the person whose house he's living in, since he's opted not to transfer to a dorm in Sumaru. They get along like real family -- they are, after all.
VI - THE LOVERS

Rise Kujikawa - Rise is the bestest. The two are close, and have been close for years. There have been rumors. Rise usually hangs off him like an extended Frankenstein arm. What's the truth of their relationship?? WHO KNOWS.
Lisa Silverman - Pretty hot girl. Fiery temper. Fierce battler. Might be drug-addled, after hearing a number of her dark secrets.
VII - THE CHARIOT

Chie Satonaka - Fellow student once at Gekkoukan High, and now Sumaru University. She's joined Yu, Yosuke, Teddie, and other KDA members on various forays into TVs and other similarly dangerous places.
VIII - JUSTICE

Nanako Dojima - His cousin, but essentially the sister he never had. He looks after her, and while she doesn't always need it, she's always got him in her corner. The two are exceptionally close.
Katsuya Suou - A friend of Ryoutaro Dojima's whom Yu went to visit at the hospital in Sumaru with Michi Aomori. Nice enough guy.
X - THE WHEEL OF FORTUNE

Naoto Shirogane - Naoto's that great detective that everybody talks about; they've met a few times, but aren't exceptionally close. He doesn't know about a lack of a thing between Naoto's legs, not yet anyway!
XI - STRENGTH

Thora Kobayashi - A giant of a girl whom Yu helped saved from a TV Dungeon in one of his first excursions. They're still friends, but time and a lack of an active Yu has made for a slightly faded friendship. Still, Yu cares for the girl and has shown that when she's come to harm.
XII - THE HANGED MAN

Michiru Fukase - Saved from the second dungeon by the Inaba investigative team. That pipe smoking is a bad habit, young lady!
XIII - DEATH

Eikichi Mishina - used to know him but now he doesn't. A mystery for the ages!! B| MYSTERIOUS
XVI - THE TOWER

Mai Namikawa - Yu helpfully helped Mai after she was kidnapped and thrown to her death by her Shadow. Yep that sentence is awkward. As a reward, he got to see just how much leg the girl has. Fair trade?
XVII - THE STAR

Teddie -- They bearly get along. That's just a pun. Yu is Master! Teddie is slave! What?
XIX - THE SUN

Tatsuya Suou -- A fellow harem MC. Respective leaders -- Yu holds respect for the somewhat silent protagonist.
Tatsuya Sudou -- Ugly face. Yu helped push a door open for him once.