Susumu Kamiya
From Persona MUSH Wiki
Status
Full Name
紙谷 進 (かみやすすむ)
Arcana
XII -

The Empress (REVERSE)

Nature
Shadow-Possessed
Gender
Male
Date of Birth
 ???, 1991
Age
20
Faction

New World Order

Occupation
Fool in Love
Shadow
Jabberwock
Weapon
Pipes
Eyes
Black
Hair
Gray
Height
5'8"
Voice Actor

Mamoru Miyano
Social Stats
Expression

3

Infectiously Friendly
Knowledge

3

Studyholic
Courage

3

 ???
Understanding

2

Kindly(??)
Diligence

5

Off The Charts
Equipment
Weapon:
Pipes
Body:
Sweater Vests & Button-Up Business Shirts
Feet:
Worn Sneakers
Accessory:
Handmade Playing Card Case
Trivia
While Susumu is adopted by Hideo Kuromiya, he still uses his true family name of Kamiya.
Hideo Kuromiya is a saiko-komon of the Kikuchi-kai yakuza family.
Susumu Kamiya is also a member of the Kikuchi-kai, and currently acts as a handler to one of their chief enforcers, Nika Rumyantseva.
Official records state Susumu's parents are distant relatives of Hideo Kuromiya who died in a plane crash when he was a child.
While Susumu is very dedicated to his schoolwork, he currently has no declared major or minor and his course load is almost impractically diverse. Because of this, he takes semi-frequent meetings with Sumaru U's guidance counsellors.
Susumu has a terrible sense of direction and will frequently get lost even trying to find simple things. This is in part thanks to a general absent-mindedness.
He also has a tendency to take naps in unconventional and oftentimes completely inconvenient places.
Susumu knows bits and pieces of Russian thanks to his work experience with the Rumyantsevas, but is not fluent in any other language besides Japanese.
Susumu possesses an Evoker; despite the fact that he is Shadow-Possessed, he still uses the Evoker in the rare times he calls forth Jabberwock.
He always, always, always carries with him a deck of playing cards held in a handmade card case. He claims it was given to him by his biological father. Attempts to probe deeper are ill-advised.
Despite his absent-mindedness, Susumu is a fairly good cook; his recipes however are sometimes a little unconventional and barebones.
Susumu's informality extends to the point that he abstains from using honorifics when speaking to others; the only situations where he will use honorifics are relatively extreme (such as most yakuza-related meetings, so as not to get his ass beat and then possibly murdered).
Quote
"I don't care what I have to do. If I can see you again... it'll all be worth it, right?"
Profile And Skills

The adoptive son of successful businessman Hideo Kuromiya, Susumu attends Sumaru University alongside a long-standing family friend, Nika Romyantseva. Cheerful, kind, and unassuming, Susumu strikes a bright and carefree presence that always seems willing to laugh or smile even in the worst of times. Though he sometimes behaves oddly, from his almost absolute informality to his passion for gambling, Susumu is an outgoing and friendly person who is well-liked by many who meet him. But more than that, Susumu Kamiya is a boy in love -- and driven to be able to see the object of his affections, no matter what he must do.

Handsome Hobo, Looking for Love in all the Wrong Places, Baby - You've Got a Stew Goin'!, Make Love not War, A Manxome Foe, Whatever That Means, I Purchase All My Cars From Police Auctions, Crazy, Stupid, Love, Hey -- We're Just Two Adults Getting Our Stew On!
History
HIS HISTORY'S A MYSTERY
HA HA! INTERNAL RHYMING!

Shadow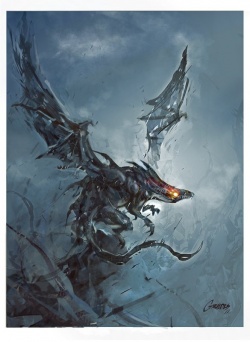 "Beware the Jabberwock, my son!
The jaws that bite, the claws that catch!"

The embodiment of fury, the Jabberwock is the titular character of Lewis Carroll's famous nonsense poem. The Jabberwock was a fearsome monstrosity amongst monsters, and yet for all its terror, it's sole purpose within the poem is to be violently killed.

As the Jabberwock, Susumu Kamiya is directionless violence and anger akin to a force of nature. Just what such a senseless mass of unspeakable hatred could represent inside of Susumu is as unclear as it is harrowing, but when the Jabberwock is unleashed, he is completely possessed by the shattered, perilous thoughts of his subconscious that have formed the creature.

RESONANCE: Susumu's Resonance is wildly different depending on whether his Shadow is out or not.
Normal: Almost like someone who has the Potential but has not awakened to it yet, Susumu's resonance is so faint that it might not even register for some: the unobtrusive serenity of a shallow, undisturbed body of water, so still and calming that it is hard to notice the lack of depth and life beneath the surface.
Shadow: Explosive and cacophonous anger, full of sound and fury. The feeling, the sight, and the smell of a pent up volcano's first awe-inspiring eruption, spewing heat and rage with bombastic violence.
Notable Social Links
O - THE FOOL

Minako Arisato - He remembers there was a girl once. She was strange, but kind, and when she was around he felt like he could do anything. But she's gone now. ... Maybe... maybe she was never even there to begin with.
V - THE HIEROPHANT

Hideo Kuromiya: A saiko-komon of the Kikuchi-kai, Hideo Kuromiya is Susumu's adoptive father. Despite being his father in the legal sense, Kuromiya and Susumu share more of a mentor-student relationship, and Hideo has taken Susumu under his wing in instructing him on various yakuza practices and business.
XIX - THE SUN

Kyo Taimiev: the snake gardener
Tatsuya Sudou: His boss! Seems like a pretty alright guy! Doesn't know why people are so intimidated by him!
XX - JUDGMENT

Yisa Taimiev: A foreigner attending Sumaru University who had been attending some of the same classes as Susumu. Very self-conscious. Susumu has both hindered and helped her on a few occasions, and seems to consider her a friend.
Soundtrack
Danse Macabre by Camille Saint-Saëns
Instrumental

Love Love Love by The Mountain Goats
Love love is going to lead you by the hand, into a white and soundless place. Now we see things as in a mirror dimly; then we shall see each other face to face.

I Would Do Anything For You by Foster the People
Every day is a battle I face. Strange life I live but it's what you've decided. I'll give it all into your hands, do what you will with me, and oh I'll smile when you speak.

Out Here in the Cold by Gotye
Oh but I'll stay, if you promise to keep me safe. I can't make it alone, I'm afraid, oh my angel just don't go away.

Animals Part 1 by The King of Spain
This is what's done on the water ship. The wills of war have little to do with it. On a rescue mission to save our city, I got sidetracked because the water looked so pretty.

Save Yourself by The Make-Up
I was just a body, until you gave my life. And now I walk the earth, sprung from your doctor's knife. You're my, Dr. Frankenstein! Oh yeah!

Wake Up by Arcade Fire
Somethin' filled up my heart with nothin', someone told me not to cry. But now that I'm older, my heart's colder, and I can see that it's a lie.

Majestic by Wax Fang
In such disbelief, I thought I was asleep when I met you. My heart liquefied and I sighed; oh this must be a dream". If I forget to set the alarm and sleep on through the dawn don't remind me. I'd rather be dreaming of someone than living alone.

Pictures at an Exhibition - The Hut on Fowl's Legs by Modest Mussorgsky (Jabberwock)
Instrumental

Jack Sparrow by The Lonely Island
FROM THE DAY HE WAS BORN, HE YEARNED FOR ADVENTURE, OLD CAPTAIN JACK GIVING THEM WHAT FOR. HE'S THE PAUPER OF THE SURF; THE JESTER OF TORTUGA! BUT IS DAVY JONES' LOCKER WHAT LIES IN STORE?

Cooking by the Book -=LIL' JON REMIX=- by Lazy Town ft. Lil' Jon
You gotta to the cookin' by the book! (WHAT) You know you can't be lazy! (HELL YEAH!) Never use a messy recipe! (WHAT) The cake will end up crazy! (HELL YEAH)

Hammer Man by MC Hammer
Here's how it started, a long time ago. The legend of the Hammer, and how it began to grow. He was given magical shoes, from a hip-hop mo-town dude. Together they had power, they stood up for what was right. But Gramps was getting old, and he couldn't keep up the fight. RIGHT! So Gramps and his granddaughter, they went out on the road to find the man they knew could tell who was worthy of the load. They met a guy named Stanley who was dancing every night. He helped the kids play everyday, his heart was out of sight. So Gramps opened up the bag, and took out the magical shoes. He set them on the ground and they soon began to groove. The shoes knew at once, they had finally found their man. They hopped right on his feet, and he became HAMMERMAN!

One Track Lover by Matt Berry
I'm a one track lover, down a two way lane. Drivin' fast down the highway, must've been insane. Cause the temperatures too high, traveling driving way too fast! And I knew our lovin', was too hot to last.

MORE LATER
OR NOT
WHATEVER