Naoto Shirogane
From Persona MUSH Wiki
Naoto Shirogane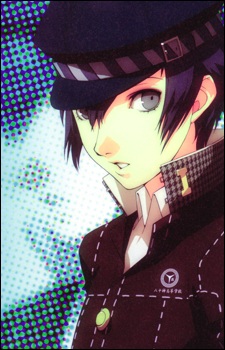 Status
Full Name
Naoto Shirogane
Arcana
XII -

The Wheel of Fortune

Nature
Persona-User
Gender
"Male"
Date of Birth
April 27, 1993
Age
18
Faction

KDA

Occupation
High School Student / Detective
Persona
Sukuna-Hikona
Weapon
Revolvers
Eyes
Grey
Hair
Blue
Height
5'0"
Voice-actor
Paku Romi
Social Stats
Expression: 2 - Frosty
Knowledge: 5 - Holmesian
Courage: 4 - Invented Recklessness
Understanding: 1 - I Work Alone
Diligence: 5 - Case Closed
Equipment
Weapon: Licensed revolver
Body: Pea coat
Feet: Platform shoes
Accessory: +10 Hat of Floppiness
Quote
"Are you all imbeciles?"
Profile And Skills
Known colloquially as the "Detective Prince," Naoto Shirogane is the current heir to a long line of genius investigators, already made famous throughout Japan as being one of its most legendary detective minds. Despite his young age, he is consulted regularly by police departments and private agencies for his talents, and when not working, Naoto currently attends Yasogami High as a third-year student. Keeping few acquaintances, the young man's formal, exacting, and blunt personality does not invite fast friendship, and he's known best among his peers for his chilly regard and dismissive manner, cautioned as well as an unrepentant heartbreaker of girls. Of course, that doesn't seem to burden the Detective Prince's popularity, and especially among the girls in his school, who like to deem him as the "untameable boyfriend."
History
The Past
There are few things as precious as reputation.
Reputation is both immeasurably powerful and hopelessly fragile, something that takes years, decades, even lifetimes to attain and only seconds to destroy.
The Shirogane family were notorious for their reputation: they were a family of investigators bestowed with the intelligence, passion, and skill to oppose the criminal nature, and these talents were inherited by each generation who diligently assumed the honourable name. They were keepers of the judiciary, a family who were ethically bound by their very blood to work for the people, using all of their talents to hunt down criminals and unmask corruption. The relationship between the Shirogane name and the police was an old and prosperous one, and the detective family was trusted implicitly over the years.
It was the way things had always been. For generations, fate would have that the first born child would be given the dignity of bearing the family title, trained and encouraged from birth to learn all the necessary skills and accept the pride of the Shirogane business and name. Fate would also have this child be a man, a male heir to carry the name infinitely with his blood. That tradition, which even seemed to transcend the biological roulette, was never questioned. It never needed to be. It was simply the way it was.
Until Naoto Shirogane was born, the first born heir, the fifth generation Shirogane, and... a girl.
She'd been born to the withering shock of her father, who had prepared fastidiously for her arrival with boy's things, boy's clothing, and even a boy's name, and for a man who was raised to believe totally in the Shirogane family's ancestral traditions, he was thrown. And though he did not ever openly say as much, he was also disappointed.
It was decided that Naoto would keep her name, and even if she could never be that first-born heir, they would raise her the same way they would a son. And while not she was raised to delude herself to thinking she was a boy, she was certainly raised with the masculine responsibilities and expectations of one.
So it was only an exercise in inevitability that would have Naoto become something of a tomboy. Even from her earliest years, the only thoughts that would dominate her head would be how she could please her parents, and especially her father. They were her entire world.
Until they died.
Most of that night was a blur, one only she can half-remember, a few images and feelings that would haunt her mind for the rest of her life. One evening, when Naoto was only starting compulsory school, being cared for by a neighbour as her parents chased one case or another, they didn't come home. She remembers waking up to her neighbour's stunned reply to the phone call. The police said it was an accident, a roadside mishap from too much rain. The vehicle flipped and they both died instantly.
Naoto remembers sitting at the top of the stairs, trying to comprehend with her six-year-old mind how everything was going to change.
But it did. It changed the day of the funeral, when she stood in the rain and watched the soil cover her parents' cooling bodies, when a heavy hand dropped down onto her shoulder, pressing down with grim weight. Naoto looked up from the calloused knuckles into the weathered, frowning face of her grandfather. He had determined to adopt her.
The elder Shirogane was the most imposing man Naoto had ever met, the hard-boiled, gruff, intimidating master sleuth who raised her late father to be a formidable, unstoppable detective. He was a fierce, deft man of little words but had eyes whose glances made one feel like they'd be pinned to a dissection tray. Naoto had only ever met her grandfather on sparse occasions in her childhood, where his fierce and frowning way quickly sent her hiding. Now it was just the two of them, forced to deal with each other in the lonely Shirogane estate.
For the first few months, Naoto alternated attending school and hiding from him, finding his abrupt manner and loud voice frightening and unbearable. She felt like a guest in her own family estate, someone whose presence was foreign and possibly even grating. She missed her parents horribly. Missed her father's patient guidance, missed her mother's gentle encouragements. For those long and desperately miserable weeks, she was beginning to conclude that her life was always going to be this way, feeling afraid and lost and all alone.
It didn't help the way her grandfather would watch her, staring at her pensively, looking at her like she didn't quite measure up.
It continued that way, Naoto retreating further into her lonely awkwardness, her social skills already stunting under her reticence and insecurity. Her classmates picked up on it, and the Shirogane orphan was already becoming shunned by her peers; once declared "weird" and "too quiet", she made no attempt to win their favour. She ate her lunches in her lonesome, and read books while her classmates laughed and chased each other.
Then, one dreary day later, she returned home to find a note from her grandfather -- he'd be working late that evening -- with the house left dark and quiet. Taking the reprieve from his intimidating presence to explore the house, she found something else highly suspect. It was one of his rules, set out to her the day she was taken under his care, that any closed door in the house was closed for a reason. It was never to be breached. He would know if it was.
He'd left his office door ajar.
It almost felt like a morbid invitation. Sure, her grandfather put the fear of God into her soul, but something about that action called out to her. But for someone who felt like she couldn't even belong, the curiousity was unimaginable, and no measure of fear could sway Naoto's desire to learn more about her mysterious, intimidating grandfather. She felt that if she managed to discover something about him, then maybe she wouldn't feel so alone.
His office was nothing she'd ever seen.
It was a veritable Eden for a curious mind like hers, a high-ceilinged, ornate room gone gloriously mad with yellowed newspaper clippings, old books, aged loose leaf papers twined in old leather, animal organs floating in formaldehyde, and strange minerals locked in vials, with all surrounded by the sharp smell of sulphur. She remembered being unable to do little but simply stare at it all, and it lured her in, every last inch of a detective's private space. She lost track of time in there, and found herself swallowed in the shadow of her grandfather, caught red-handed in his most precious of rooms. Naoto couldn't breathe under his stare. He just looked at her, the books around her seated body, the little things she'd taken out to decipher and figure out, and smiled.
After that, Naoto's grandfather became the most important person in her life. He no longer intimidated her, she grew to find comfort in his rough and blunt manner, and the two bonded in that lonely house. He took immeasurable delight in her interest in detective work, and had given her his entire collection of old novels to read, the ones he said he grew up reading as his father groomed him for the family business. She devoured them hungrily, becoming quietly enamoured, even obsessed with those 'hard-boiled detectives' of different times, the ones who needed only their wits and reasoning to dissect and triumph over the criminal mind. Even as a young child, she dreamed about inheriting the business, the title, and the Shirogane name, so that she could become those strong, intelligent, untouchable men who--
Men--
That was one problem with all those books.
There was no such thing as a detective woman. They were all men, tough, solitary, intimidating men whose presence was just as important as their minds. She'd watch how people immediately cowed in respect to her grandfather, deferring to the roughened way of his face, the tall shape of his body, the set of his eyes. How could a woman possibly command such respect? How could a woman maintain a serious reputation?
Without any women in her life, with her hero and closest friend being her grizzled grandfather, it's easy to say that Naoto grew up something of a tomboy. She kept her hair short, detested dresses, and only liked the things boys did. She especially liked detective work, and from her first opportunity, begged to help him in any way she could. Pleased to see the Shirogane heiress enthused to inherit her family name, and really unable to say no to her pleading eyes, her grandfather let Naoto stay close. And for her formative years, that's how life went, and when the girl wasn't in school, she was helping her grandfather with his casework.
And then she was solving them before he could.
Her grandfather was always a good detective. He trained his son to be a good detective, and the boy, through his pride and hard work, excelled in the profession before his death. Both were solid investigators.
Naoto was a natural. More than once, her grandfather was simply left stunned as her mind, only nine or ten years old, recalled evidence, pieced clues, dissected human mannerisms, and made inductions that left his reeling. Her talent was something he'd never seen, and he knew he certainly didn't impart it into her. With Naoto under his tutelage, and helping him with his work, the average time he spent on a case halved. Soon enough, the "junior detective" Naoto was being recognized easily by police officers and others, who all looked upon the heiress favourably and would tell her that she "was a good boy to be working so hard."
Boy... that's how they saw her. With her tomboyish appearance and masculine mannerisms, all developed by sleuth novels and watching her grandfather in admiration over the years, duped even the police inspectors. And, to Naoto's own confusion, she actually found herself enjoying to be called a boy. They smiled at her in a different light, and seemed to promise her that someday, when she grew up, she'd become their equal.
Soon enough, it became second nature for everyone to take one glance at Naoto and assume her as a "he" or a "him." Soon enough, she even began thinking herself in terms of masculine pronouns, as a masculine ideal.
It didn't help her resolve for Naoto to see how adults treated girls. It was a common situation in school, with teachers and even with the parents she'd watch who'd pick up their daughters after classes. They were sweet and doting, but then she'd see them dismiss the girls' questions with fond laughs and pats on the head. Boys hoped to be called strong and smart and full of potential, but it seemed all girls could aspire to be was cute. What purpose did cuteness solve? Were girls just worth their looks, or how polite they acted?
Just before she would enter middle school, she surprised her grandfather with a strange request. She wanted all her public records doctored to state that she was a boy. He was understandably confused, having no such issue with his granddaughter's gender; unlike her father, he had never felt disappointed that Naoto was born a girl. When he questioned her, she became almost immediately upset, insisting that it was what she wanted, that it was necessary, and would ensure the future of the Shirogane reputation. She told him that if that couldn't happen, she wasn't sure she could ever be a detective.
While still confused by his granddaughter's request, unsure if it was something she held true to her nature of if she had just misinterpreted the nature of detectives, he ultimately couldn't deny her. And between their skills, as well as the considerable Shirogane reach, it was almost bafflingly easy to have the officially word concede what everyone already thought her to be. From that day on, Naoto truly began her public life as a boy.
Life seemed to make sense for her after that. Feminine things always bothered her, and she adopted the masculine role rather seamlessly, even if there were a few stumbling blocks along the way. Even if she could fool the public world, Naoto couldn't fool her own genetics, and puberty setting in made things all the more difficult and awkward. She kept her hair short, took to binding her chest, wore clothes tailored with hard lines to cover her curves, all the while thankful that her presence and manner could reconcile her more feminine features.
Of course, she didn't even realize that many girls actually prefer pretty men.
Still, Naoto wasn't ever that social.
She kept to herself as a child, and as an adolescent blossoming into her teenage years, the prospect of social butterflying seemed dismal. Detective work with her grandfather took up the brunt of her time, her passions single-minded and horrifically focused, and as she became more intent to grow into her Shirogane name, she seemed less inclined to make or keep friends, or actually give another human being an iota of her attention. She always had trouble relating to people her age, and the dissonance only increased with time.
Rare were the chances peers her age reached out to speak or interact with her, though her own, reserved demeanour made those occasions too far and few. It came to a point that Naoto could count on her fingers the occasions she ever spent with children her age (the most recent of which was pretending to play a foolish game called "the Persona Game" with a few neighbourhood children, while helping her grandfather investigate leads on a missing local), and she gave up almost entirely on the concept of "friends" -- something she resigned she would never have. Not if she was to be serious about her future.
She had already become set to be a detective. She was already poised to accept her legacy. She had to be taken seriously. She had to be serious. She had to be mature.
And boys and girls her age simply reminded Naoto of everything she detested: they were fickle, emotional, irresponsible, and easily dismissed. She had no time for them and their carefree youth. In order to become what she wanted to be, she had to turn her back on all of that.
In the process, it made Naoto a desperately lonely person. (It also made her extremely popular among the girls as the untamed bachelor -- the greatest hunt a girl could behold to win a boyfriend.)
But even if Naoto didn't have friends (and didn't want them either), she had numerous hobbies to make up for them. As she grew up, it became quickly obvious that her knack for detective work was actually a prodigious genius, which was perpetually insatiable for knowledge. Schoolwork couldn't hold her interest for too long (deemed too easy), and between cases she consumed whatever she could, reading up on all sorts of strange subjects from botany to organic chemistry. She took a peculiar interest in engineering, and in her spare time -- while boys (girls) her age went to movies and began to date -- took to invention, taking simple machines apart, learning how they worked, and then enterprising on the design.
With patience and time, Naoto slowly built herself up a small arsenal of detective's tools, such as her universal lockpick, her trusty pen-light, her homemade police scanner, or her GPS-wristwatch... all strange little gadgets that would help her obtain her goal.
Naoto was on the cusp of turning fifteen when her grandfather decided to retire, officially hanging his hat up as an active investigator. Though her inheritance of the business was far in escrow, waiting upon her emergence into adulthood, Naoto took that day as the personal day she became a "true" detective and a Shirogane, believing that her grandfather was silently expecting her to continue where he had left off.
She couldn't wait to assume the mantle. She was breathless with anticipation as she visited the police precinct to inform them personally that she was more than prepared to be their next Shirogane contact, and that she was already ready to be trusted with their confidence.
What she got was none of her grandfather's respect. Just a few derisive looks, some amusement, a pat on the head, and a question as to whether why she should be out so late on a school night. When her patience finally broke, the staff captain told her personally that children have no place solving crimes. She was escorted out under the threat that she'd be charged with obstructing the law should she be found near a crime scene.
Naoto had only one response for all of that.
She went out on her own and solved one of the most prolific cold cases in Sumaru, the ten-year disappearance and murder of a boy her own age.
And even though she did prove her meddle, it took the police months before they even dared get in contact with her. It was an unprecedented move to rely on a child -- if even an apparent male -- all of fifteen years old, but a young child had gone missing out of her own bed, the trail had turned up dead, and time was of the essence.
Within fifteen hours, Naoto had found her, and the whereabouts of her kidnapper, and came across a perfect dilemma. Should she waste precious time on the arrival of the police? Should she handle it alone? Could she handle it alone?
Confident she could, unwilling to sacrifice time and needing to prove her own talents, she stole into the house with the plan to sneak the missing child out, but found herself quickly cornered. Weaponless, with no combative training, with no one to help her, Naoto still fought valiantly but found herself with a knife to her throat, more than prepared to meet her fate that night.
Instead, someone -- something -- answered her silent call.
It was no imposing figure, no impressive hero, but a twist of matter itself and then, out of nothing, a small suited thing no bigger than a storybook fairy flitted into existence and appealed to Naoto's rapidly deteriorating sanity.
It was wearing a cape.
It spoke into her head:
"I am thou. Thou art I. I am Sukuna-Hikona..."
And it thrust the man away in a torrent of light, barreling his body unconscious practically through a wall.
With a crying child in her arms, Naoto became an overnight sensation. The police were dumbfounded and hesitantly gracious, but the media were swarming the younger Shirogane, declaring her the long-awaited successor to her family line, the answer to all the prayers of Japan, the one boy with the talent to solve any mystery, the... "Detective Prince."
Naoto found herself quite enjoying her new title, even if it was a bit embarrassing, but all that took a second seat to what really consumed her mind. There was the fact a Japanese god was living somewhere in her cerebral matter. Soon enough, her research took a turn into the supernatural, and despite the secret nature of Persona, it really didn't take her long to snoop her way into their world. Bit by bit, piece by piece, she began to develop a base understanding for the incident that saved her life that night. It appeared that not just Sumaru, but the whole of Japan, was rife in secrets: such as the power of rumours taking shape and form like entities of their own, the existence of things called Shadows, and the slow understanding of Apathy Syndrome. It all culminated upon learning of something called the "Midnight Channel" -- something Naoto has ultimately determined to conquer when she has learned enough.
The cases continued. She solved them all. Upon her sixteenth birthday, she had become a legend in her own country, known not just as any sort of detective -- but THE detective -- the literal last resort for any mystery thought unsolvable. The police department appeared to accept her something of a peripheral among their ranks, reluctant to admit her usefulness and their need for her mind. They did what was seemingly unheard-of in the country, issuing a "boy" her age the permit to carry and use a firearm, determining it necessary for her to continue her line of work. Naoto obliged them by demonstrating to be exceedingly responsible with the weapon, and spent many afternoons learning how to shoot under the watchful, smirking eyes of adult officers, who seemed to be hoping with their eyes that she'd accidentally shoot herself and confirm all their suspicions that she was too young, too immature, too foolish for all of this.
It only provoked Naoto to become a deadeye shot.
She knew that her reputation had reached an unparalleled high, but that it was essentially a temporal thing, something that could easily be destroyed with one wrong decision or one bad step. Only a simple mistake would need to happen. It would not have to be her own fault. They would find reason to blame her, to take it all away, to have the evidential proof to admit that she was a stupid child all along.
One day, she simply decided to stop inventing gadgets on the side, and deemed all her childish projects as foolish and illogical. Since then, she vowed not to build more "silly toys" as she called them, as much as she loved her hobby. That, among all else, was part of the forcible excision of her childhood, Naoto almost gearing for war that would be obtaining complete adulthood at age sixteen. She abandoned anything that could have her considered immature, devoted herself purely to adult interests and tasks, and alienated herself all the more from peers her age.
It was about that time she was asked to join the Inaba Branch of a faction called the Kuzunoha Detective Agency by a personal request from the police chief; she'd be serving as something of a "guide" or even "mentor" to the newly-opened branch. Her national renown, expertise, and genius were said to be the perfect assets to bring to the organization, which specializes primarily in the more supernatural occurrences. They were becoming too numerous too fast -- especially in the small town of Inaba. Though her initial, reflexive action was one of skepticism and wariness, resistant against the idea of bringing others into her investigation -- after all, she was a professional, she worked alone, she trusted only herself, amateurs could be endangered -- Naoto hesitantly accepted. Part of her was just a little curious to be surrounded by like minds. A place where she could be taken seriously. A place where--
--everyone was mainly her own age.
Underneath her formal, dignified manner, Naoto was quietly appalled, taking her membership in the KDA the worst way possible: like a slap-in-the-face reminder of her own young age. While the other members appeared very courteous and welcoming (except for Tatsumi, whom seemed unable to speak five words to her -- odd), she didn't know how whether to accept the KDA as a promising venture or the end to her reputation.
Reputation is such a precious thing. And hers would have to be ruined if she was associated with other children... because that's what they were, peers whom she had spent her entire youth attempting to avoid. She didn't abandon the KDA, but Naoto took her membership with great caution and unease, making herself quickly realized as the most distant, reserved member despite all her talent. She's the detective with the most experience and infamy, but she's also the one most inclined to split off, trust only herself, and do things on her own.
She -- he -- is one hell of a detective. But not much of a team player.
The Present
When the TV Killer case had begun to go cold, Naoto thought the only salve to his restlessness and frustration would be a new change of pace -- and he took up an offer to join the ranks of Department 4. This decision was met with a variety of reactions among his colleagues and comrades in the KDA, some of them supporting the move wholeheartedly while others finding it surprising, if not somewhat insulting.
Department 4 was not everything Naoto had hoped. The world of adults was cool with its welcome, and its doubt in a high school student -- especially one who demanded he be their professional equal -- quickly ground down the lingering threads of Naoto's patience and self-esteem. Still, he persevered to remain as reserved as possible, pushing down that deluge of inadequacy what only wanted to fester in his forced silence.
However, new leads have recently resurfaced with the TV Killer murders, and not one who can forget an old obsession that easily, Naoto made the decision to return to the KDA, hoping more than ever that solving this case can salve his worried confidence.
Personality
Traits
BATMAN WOULD UNDERSTAND
Naoto Shirogane, for all his prodigal intelligence and skills in analysis, doesn't keep many friends. And he appears to like it that way. He has long sworn off friendships and relationships as illogical and unnecessary, things that would ultimately become impediments in his work. Much like the fictional Sherlock Holmes, he is known to be dispassionate and cold with others, and guardedly maintains that stoic reputation. In the matter of work, Naoto remains the stereotypical lone wolf, having little time and energy to spare on others, almost appearing disagreeable to having to explain his inferences and deductions to minds that are not as clear and sharp as his own.
In truth, Naoto works alone partially for that reason, and partially out of her own insecurity: she is afraid of being stopped, or not taken seriously, and simply cannot yet find in herself the force of personality to "lead" investigations along. Many do not trust her strange inductive mind, or discredit her genius as a fluke, or even child's play, and she's simply found it easier to just isolate herself totally and trust little save for her own instincts and mind.

ALMOST BRITISH FORMAL
Naoto bleeds total professionalism. He is prim and exacting, and in possession of a Victorian's sense of mystery, giving due, civil courtesy to all who encourage and deserve it, but offering little emotionality or humanity beyond that diplomacy. He seems so formal that it's almost frigid, a young man who seems to lack all innate desire to know a person on an intimate level, or to let down his own austerity enough to relax.

ICE COLD
It's a wonder how popular Naoto Shirogane is among his peers, and especially the girls, because to know him... isn't particularly to like him. He is as icy and unforgiving as a human being could possibly get, having no patience whatsoever for anything that isn't his work. He cannot seem, nor has any desire, to understand why a person would ever want to be so wasteful with their time or talents, and has no kind words to say for anyone who would dare waste his. He acts like a person older than his years, careful, artful, and serious, and cannot seem to relate in any way to teenagers his age. Their emotional ways, chemical imbalances, and predilection for relationships and romance exasperates him, and there is nothing that tests Naoto's strength of will than those silly girls who deem to "crush" on him.

BASICALLY A GENIUS
Naoto is a true Shirogane, with an intellectual prowess that potentially surpasses her grandfather and deceased parents. She's a master investigator, possessing almost a supernatural inductive skill that only a handful of people in the world could be similarly assured. She's got the Holmesian mind, able to dissect and analyze any conceivable problem that presents itself to her, and has begun to supplement it by ingesting large amounts of semantic knowledge on her own time. Between her talents, passion, and unbridled ambition, a decade may see Naoto reach the potential as one of the world's most feared investigatory minds.
Despite her young age, even now the Inaba Police Department cannot deny Naoto's obvious gift, and rumours of his intelligence are widespread. There are some people who are skeptical of it, even deny it as something so parsimonious as trickery or dumb luck, but the general consensus is a truthful one: no one can really keep up to Naoto's brain. And not many want to try.

NOT WINNING ANY MR. PERSONALITY AWARDS
Naoto Shirogane is a logical person. He is a factual person. He is a details person. He is not a people person. Oh, he could go to great and frightening lengths to dissect someone's entire psyche like a biology class bullfrog, but past all necessity to analyze he has demonstrated no need or want for others. Slightly more caustic than the ambiguous loner, he even goes to great lengths to push others away, citing little desire for their foolish and troublesome ways (sadly, this makes him all the more popular with the girls.)
While capable of expressing courtesy and tact, both chief components to his formal nature, Naoto also keeps a famously short patience and a quick temper, and there have been more than one silly girls who have cried themselves to sleep after finding themselves on the receiving end of Shirogane's exasperation. For those who proactively try to annoy Naoto, the gloves will come quickly off.

WORKAHOLIC
Others will attest that Naoto Shirogane lives for his work. He's inherited the family business from his parents, and even in his relative youth manages it with absolute seriousness and complete dedication. He is a talented student, consistently scoring within the top two percentile of his year, but the fact of the matter is that Shirogane's academia has no designs for a career. He has already found his, and is living it out right now. At the moment, he would probably be the top student in Japan, or among the jealous few, if his detective work didn't absorb all of his free time.
In reality, Naoto is slacking in school and paying her classes only the bare minimum of her attention, all passion for learning superseded by her passion for investigating, unravelling crimes, and upholding the proud, dignified Shirogane name.

ANALYTICAL
However utilized for investigation, Naoto has the mind of an engineer. It's not just a job, but part of her very nature. She thinks in the terms of questions and answers, and engages the world as little more than a large, closed machine: a simple equation accumulating from input to output. She's insatiably curious about practically everything in life, and believes that just about anything in the universe could be understood if there is someone who knows how to take it apart.

INVENTOR
Naoto's particular kind of intelligence also extends to building and utilizing tools, and she has a keen sense of resource for every day things. Given enough time, she could probably break down and strip the most complicated of machines to their base components. But as much as Naoto likes to rip things apart and put them back together, where her passion truly lies is her desire to build upon the existing design. She's a potential MacGyver and a natural inventor, and seems to have developed something of a passion for technological gadgetry. Over the years, she's built and modified her own private arsenal of "detective tools."

INSECURE
Underneath it all, Naoto is one big walking inferiority complex, and his (her) one great fear is not being taken seriously, or worse -- to realize that she is necessary and that no one needs her. For that to happen, to have others dismiss and ridicule her as a detective and as a Shirogane, it would mean she has failed her legacy and her only purpose. To combat that, she's been prepared to do everything it takes to be taken seriously -- to be respected and even feared for her gifts, to the extent of inhibiting most of her personality and even abandoning her very gender.
That insecurity is all the reason for her cold and brusque nature: all of her rigid formality hides a real undercurrent of awkwardness, one built on Naoto's real inexperience in talking and relating to others. She's a very nervous and gentle person beneath it all, unsure of herself, her fallibility, and all her flaws just as any girl her age, and for her to truly open up is for her to reveal all of that discomfited timidity.

DUDE LOOKS LIKE A LADY
No one knows this aside from a sparse handful souls in the world (his grandfather and the family butler), but he is really a she. Naoto has completely forsaken her gender and determined to live life as a boy, finding the transition rather easy, if almost laughable, with her already-masculine personality and ambiguous looks. Even far beyond puberty setting in, no one has ever glanced twice at her, sought to question her masculinity, and she's gone to great (and considerable) pains on her end to keep up the charade.
What's interesting is this is not a case of gender dysphoria or transsexualism; Naoto doesn't cross-dress because she particularly "wants" to be a boy or even feels born into the wrong biological sex. She doesn't even hold intimate feelings for other girls. Her identification with the male gender, much like every other facet in her life, is driven out of anxiety and fear. Living under the shadow of her family name and obsessed with the archetype of lone detectives, Naoto knows she must be perceived as a male in order to thrive as an investigator. This is because she believes she is nothing else. She has no other skills, no other talents, and no other friends -- no option for another life except for this one. If she fails, she will be nothing.

SUPERNATURAL
Is just another mystery to Naoto Shirogane... yet this one is perhaps "the" mystery, and the Detective Prince has obligated himself to demystifying the mysterious. In terms of understanding, studying, and encountering the hidden world of Personae and Shadows, he is unabashedly fierce and reckless, treating the entirety of it with the same arrogant recklessness as he does most of his other commissions. It's almost as if Naoto thinks it just another case within his genius and inside his control...

KDA
Naoto has mixed thoughts about this faction; part of her is secretly enthused at the idea of "kindred spirits" (who may attempt to include her and may even enjoy her company) and the opportunity it allows people her age investigating crimes and dealing with the supernatural entity -- but even then she's reticent to be considered one of them, afraid that if the group receives a terminal mantle of "silly kids" that she'll be grouped along with them. As it is, she watches them closely and judges them on the littlest moves and actions they make, almost as if she wants to dismiss them all as foolish children playing games.
She's also unused to dealing with others, and is resistant to working on a team, greatly preferring to investigate leads on her own.
Persona and Resonance
"I am thou, thou art I; what will compel you up the millet stalk to gaze upon the Heavens beyond the Earth?"

Sukuna-Hikona is a Japanese deity of healing, famous for his diminutive size. Despite his tiny form, he is well-regarded in the mythology as a hard-working god who helped develop the land into fruitfulness as well as bringing about the invention of medicine. Later on, he is said to have left the world entirely when he climbed up a stalk of millet, was thrown away as it bent and rebowed, and crossed over into the "eternal land."

SENSE: There is a sense of urgent restlessness that nearly approaches desperation. Also, there is a lingering feeling of absolute desertion: the total isolation of a lonely island, as well as its implicit mystery of having only its tip uncovered by murky, dark water.
SMELL: The mineral and water smells of volcanic hot springs. The faint notes of healing balms and freshly-brewed sake.
SOUND: The sound of a solitary wind brushing through a grassy plain. The slow dripping of water.
Notable Social Links