Akari Hoshi
From Persona MUSH Wiki
Akari Hoshi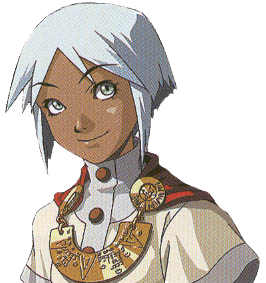 Status
Full Name
星あかり(ほし あかり)
Arcana

XVIII -

Moon Reverse
Nature
Shadow-Possessed
Gender

Female

Height
5'1"
Date of Birth

March 8th, 1996 (Pisces)

Age
16
Guardian Dragon

White Dragon

Shadow
Ixquic
Weapon

Golden Sword

Faction
NWO
Team
The Dragons
Job
Magical Girl Intern
Voice Actor

Hikari Tachibana (JPN)

Player
tlynn2002
Quote
"The world needs more heroes, I can be that hero!"
Profile
Akari Hoshi may seem to most people like an ordinary teenage girl, though perhaps a bit prone to magical thinking. She can be heard saying that she goes to Sevens High School, but very few people have actually seen her there more than a few times. She won't usually be seen with people her age but rather Tatsuya Sudou or Seiichi Miyamoto, often calling them by familial names. This has led to a lot of speculation on her relationship with them. Other than this Akari doesn't talk about her actual home life too much and seems to live in multiple places. After an unfortunate set of circumstances Akari's fantasy about being Magical Girl Ixquic came true when her shadow self manifested. It's hard for her to make connections with people, especially her peers, but when she does the bond is usually unbreakable.
Social Stats
Courage

4

Brave
Diligence

2

Distracted Easily

Expression

4

Animated
Understanding

3

Selective

Knowledge

3

Creative
Trivia
Trivia
Akari has weird hangups at different times. Something that bothers her today may not bother her tomorrow. She is unpredictable like that.
Akari's eyes are green and her hair is a platinum bluish-white.
Akari has a lot of different cosplay outfits but she doesn't always dress in it. She does wear it enough that she is well-known for it.
She has a massive manga collection and that is always a good topic for conversation.
Akari loves sweets but beware the consequences if you give her too much of it! Actually... even if you only give her a little!
She also collects a lot of stuff like colorful rocks, shells, flowers and such.
Akari has her own demon named Belphegor. He is a lazy but dutifully protects her and watches over her most of the time. Unless some other very 'special' arrangements have been made and even then he can be summoned if necessary.
Akari had an older brother who died in a house fire when she was 12, shortly before she met Leo. Unknowingly, this is how she gained her persona. The psychological trauma of seeing her brother die protecting her has a lot to do with how she behaves now. She also has a couple remaining scars from the fire that no one knows about since they are able to be hidden most of the time.
She has one large scar on her stomach from being injured in a fight with Kyo Enda.
Her parents live in Sumaru in the Renegadai Ward. She hates her parents for the most part because after her brother died they stopped paying attention to her completely. When she began high school, she convinced Leo to get her a dorm room at Seven Sisters High School. However, most recently Leo has officially adopted Akari and she now lives with him in the Yumezaki Ward in Sumaru.
Shadow and Resonance
"I am a shadow, the true self! My name is Ixquic, the reincarnated warrior!"
Ixquic, is a figure from mythology. Her actual name is Xquic and she was known as the blood girl/blood maiden.
Special: Starlight Breaker

Special Persona: Belphegor
"My name is Belphegor. I am the Duke of Hell. As an investigator of harmony on Earth, I govern laziness."
Belphegor is a demon that was given to her by King Leo to watch over and protect her. Despite being a lazy, he also helps her in combat and he is summoned in the same way as Pairika is. Akari talks to him much as a person talks to their best friend. Her nickname for him is 'Belphie' or 'Bel-chan.' Only those within the Masquerade or those who have fought with her in combat (in some cases) know that he is more than just another persona. He is able to be summoned or will usually just physically accompany Akari.
Belphegor is a demon of Sloth, one of the 7 Deadly Sins. His name is a corruption of Baal-Peor, the name for the god of the Moabites. Belphegor gives people ideas for inventions that will make them rich and thus greedy and selfish. He is a monstrous demon with horns. Some claim that he must be worshiped on a toilet.
Resonance
Sense:
Sound:
Smell:
Logs
All logs are posted here.
Notable Social Links
Social Links - Fool Through Fortune
III - THE EMPRESS:

V - THE HIEROPHANT:

VII - THE CHARIOT:

VIII - JUSTICE:

Social Links - Strength Through Judgement
XI - STRENGTH:

Enoha Koinose: Akari knows Enoha thanks to an incident in which the older girl protected her and also helped her defend a Jack Frost demon. She knows that Enoha is a persona-user and was questioned by her about her involvement in the NWO. Akari remained close-lipped about it but Enoha was there when things went down at the Sky Museum.
Masahiko Irie: The first encounter with Masahiko that Akari had was during a NWO operation in which Akari was Magical Warrior Maiden Ixquic. She did not care for him much at first but in subsequent meetings she seemed to forget about the incident. Although they're not friends, she doesn't mind talking to him provided he doesn't try and hurt her.
Thora Kobayashi: Akari's relationship with Thora has changed quite dramatically from their first encounter. When Thora was in the NWO, Akari was aware of her but never talked to her. Later, they met officially and despite a conflict of interest, Akari seemed to be drawn to her especially since she was friends with Seiichi. After giving her a puppy that she had found, Akari found a stronger bond with the girl. Lately, their relationship has grown and Akari considers her a friend, even having divulged about her past to the older girl. Thora has helped save Akari on a few occasions which only strengthened that bond. She's also rather impressed with Thora's combat skills.
XIII - DEATH:

Seiichi Miyamoto: It's no secret that Akari adores Seiichi and even after just meeting him she was drawn to him. She looks up to him and considers him like her brother. Seiichi knows more about her than most people do aside from Leo and she finds it easy to be around him. After Akari decided to sever ties with her parents due to their neglect, she moved into Seiichi's apartment. He has cared for her in ways that no one else ever has and she is grateful for him.
XIV- TEMPERANCE:

Miwa Saitou: Miwa and Akari haven't met in the best of circumstances and it was because of her that Akari ended up following Seiichi into Kyo's dungeon in the TV World. Since it's hard for Akari to get close to most people, she has kept Miwa at a distance.
Naomi Suzuno: Akari knows Naomi by name and worked alongside her to help Kyo in his dungeon. Unfortunately, Naomi was there when Akari was under Leo's influence and was deluded into trying to blow up Smile Mall which ended badly. Akari knows that Leo seems to speak fondly of her for some reason but she isn't really sure what that's all about and doesn't share the same sentiment...for now.
XV - THE DEVIL:

Belphegor: Akari's amazingly patient demon who was given to her by Leo. He often will fight alongside her.
Daisuke Itami: A private investigator that Akari met through Seiichi. Seems to want to help her and also told her about the crystal skulls.
XVI - THE TOWER:

Mai Namikawa: Akari has run into Mai numerous times. She doesn't really know much about the girl though aside from her being a strong combatant and seemingly a little cold natured.
Takahisa Kandori: He was the leader of the NWO and worked with Tatsuya Sudou. Akari didn't know him extremely well and since he was killed recently it seems like she never will...
XVIII - THE MOON:

Maya Amano: Reporter for Coolest. Stole Akari's punch line! >:(
XIX -THE SUN:

Kyo Enda: Akari and Kyo have an interesting relationship because despite his repeated attempts at murdering her recent events have indicated to the girl that there is a more gentle side to him.. or so she believes. Even though Leo and others would like for her to sever ties with Kyo and avoid him, it seemed unlikely after he willingly took her in and trained her after she became shadow-possessed. However, when she actually saw Kyo attack Seiichi, causing him to lose an eye, she realized that he did not actually care about her. In her anger and attempts to send him a message they had another encounter which ended in her breaking down in confusion. He has an uncanny ability to easily manipulate her.
The Royal Wing: Annoying 'super-hero' that evidently had some kind of bangle that she believes is magical. Akari was indifferent to the power that it supposedly would give her though.
Tatsuya Sudou: Akari met Leo when she was 12 and after manifesting her Persona in front of him he took her under his wing and taught her everything about personas. He also gave her the two-handed golden-sword that she uses now as well as giving her the fallen angel, Belphegor to watch over her. She adores Leo and has grown close to him. Akari considers him to be like her older brother. After Leo took her in as his ward, Akari really started seeing him more as a parent. He recently gave her a tiny devon rex kitten that she named, Mirai. Unfortunately, he also informed her that her possession could one day kill her...
Soundtrack
For You - Staind - Parents

The silence is what kills me/ I need someone here to help me/ But you don't know/ How to listen

Just Another Nightmare -Shadows Fall -Kyo Enda

The echoes creep into your dreams. Torn awake from your sleep/ Unholy nightmare of savagery

Sharada -Skye Sweetname

Once upon a time there was a girl/You wouldn't really call her typical/Had her own definition of cool/She lived in her own world
Gallery
Mirai - Gift from Leo (August 2011 ICly)