Mikage Kohama
From Persona MUSH Wiki
Mikage Kohama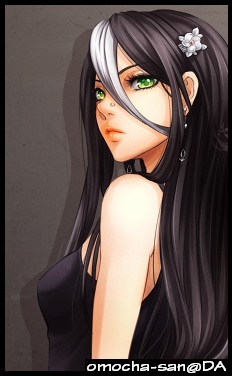 Status
Full Name
湖浜美影(こはまみかげ)
Arcana
VI - The Lovers Reverse
Nature
Shadow-Possessed
Gender
Female
Height
5'3"
Date of Birth
May 23rd, 1990 (Gemini)
Age
22

Guardian Dragon

Gold Dragon
Shadow
Odile
Weapon
Needles
Faction
Kagutsuchi
Player
tlynn2002
Quote
"So tell me more about yourself. You seem very /interesting/!
Profile
Mikage Kohama is a recent graduate of Sumaru University and currently works as a nurse at the Yumezaki Municipal Hospital as well as the privately-owned New World Order Hospital, Fujiwara. The daughter of a government official and higher up in the NWO, Mikage has spent most of her life trying to make her father proud of her but has been met with cold indifference. She can be very talkative and outgoing but other times can seem to not care about anyone else, showing the same attitude of indiference that she was met with most of her life to those around her.
Social Stats
Courage

4

Valiant
Diligence

4

Works Hard
Expression

3

Animated
Understanding

2

Unsympathetic
Knowledge

5

Educated
Trivia
Trivia
Mikage has an older sister, Mitsuki, who was born 5 minutes before her. Their relationship is generally a very tense one.
She was hit by a car in what should have been a fatal car accident for her. Miraculously, she survived with only minor breaks and a few lasting scars. However, there is more to the story than even Mikage realizes right now.
She likely suffers from one form of a dissociative disorder but it has never been clinically diagnosed.
She is a registered nurse at the NWO's private hospital, Fujiwara, but she also works part time at Yumezaki Municipal Hospital in Sumaru.
Their mothers name was Amaya Kono and she died when the girls were 3 years old. They spent the following 4 years of their lives in an orphanage until their father was located and decided to adopt them.
Her father, Daisuke Kohama, is a government official and because of this she has some influence to her name as well as being well taken care of. He is also a member of the NWO but it is generally kept secret whether or not he is a persona-user as well.
She can be seen riding a black and red scooter from time to time.
Her name means 'Beautiful Shadow'.
She has a tattoo (see picture left) on the back of her upper left shoulder.
Patients
A listing of people that Mikage has seen as a nurse.

Katsuya Suou

Mariko Ohmukai

Izo Imaizumi

Mikiya Ryouhara

Seiichi Miyamoto

Daisuke Itami

Shadow and Resonance
Odile
Odile is the daughter of Count Von Rothbart in the ballet, Swan Lake. As the story is portrayed, Odette has a spell cast on her by Von Rothbart. In order to break the spell, she must fall in love with a prince or else be cursed to remain a swan in the daytime and regain her human form at night. When Von Rothbart sees that Odette is falling in love, he sends Odile to trick the prince into falling in love with her, thus keeping Odette under his spell forever.
Special: Feather Buffet
Shadow Form: Odile takes the form of a large swan with large black, feathery wings. Her face is masked in white but retains its human characteristics.
Resonance
Sense: The feeling of deception and a dark feeling that something is watching.
Sound: The sound of a flock of swans mixed with the sound of water in a lake.
Smell: The smell of the evening air.

Logs and Cutscenes
All logs are posted here.
Notable Social Links
Fool Through Judgement
V - THE HIEROPHANT:

VII - THE CHARIOT:

VIII - JUSTICE:

IX - THE HERMIT:

XI - STRENGTH:

XII - THE HANGED MAN:

XIII - DEATH:

XIV- TEMPERANCE:

XV - THE DEVIL:

XVI - THE TOWER:

XIX -THE SUN:

Soundtrack
Duality - Slipknot


Tell me the reality is better than the dream/ But I found out the hard way/ Nothing is as it seems

Maneater - Hall and Oates
She's deadly man, and she could really rip your world apart/Mind over matter/The beauty is there but a beast is in the heart

Power, Seduction, Cries - Clint Mansell
Instrumental

Perfection - Clint Mansell
Instrumental
Gallery
Commissions and Concept Art