Mitsuki Kohama
From Persona MUSH Wiki
Mitsuki Kohama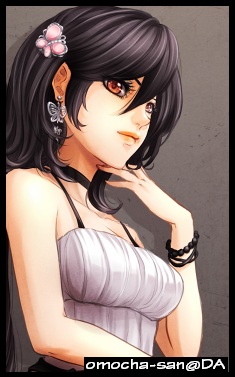 Status
Full Name
湖浜光姫(こはまみつき)
Arcana
VIII - Justice
Nature
Persona-User
Gender
Female
Height
5'6"
Date of Birth
May 23rd, 1990 (Gemini)
Age
21

Guardian Dragon

Gold Dragon
Persona
Odette
Weapon
Sai
Faction
D4
Quote
"Dreams won't put food on your table."
Profile and Skills
A graduate student in the law program at Fra Mauro University, Mitsuki Kohama is perhaps the very image of a proper young Japanese lady: studious, reserved, but with a will that is not vulgar but instead firm, guiding those around her to better success. Or at least, that's her image professionally--the daughter of a government official (who happens to also be a high-ranking member of the New World Order), she knows a lot about the importance of appearances. Despite a reputation for academic and social success, however, she's consistently proven unable to succeed in one very important aspect of her life: reining in and relating to her twin sister. Polite and pleasant, Mitsuki manages to display a more relaxed side in private settings, but even there she can't escape an extremely strong ethic of responsibility and a need to make sense of the world around her.


Brilliant Light, The Taller Twin, I'll Be There Dad, Everything She's Supposed To Be, Tell Me About Your Problem, And Make Sure to Smile, Talks About The Right Amount, Drinking Is a Job Skill, Sense Of Loss, Guilt Complex, White Swan, Doesn't Forget, Trying To Help, Not Quite Enough
Social Stats
Courage

?

 ?
Diligence

?

 ?
Expression

?

 ?
Understanding

?

 ?
Knowledge

?

 ?
Persona and Resonance
Odette
Special: Feather Rain


Resonance
Sense:
Sound:
Smell:

Notable Social Links
Fool Through Judgement
0 - THE FOOL:
I - THE MAGICIAN:

II - THE HIGH PRIESTESS:

III - THE EMPRESS:

IV - THE EMPEROR:

V - THE HIEROPHANT:

VI - THE LOVERS:

VII - THE CHARIOT:

VIII - JUSTICE:

IX - THE HERMIT:

X - THE WHEEL OF FORTUNE:

XI - STRENGTH:

XII - THE HANGED MAN:

XIII - DEATH:

XIV- TEMPERANCE:

XV - THE DEVIL:

XVI - THE TOWER:

XVII - THE STAR:

XVIII - THE MOON:

XIX -THE SUN:

XX - JUDGEMENT:

Gallery
Mitsuki and her twin sister