William Blazer
From Persona MUSH Wiki
William Blazer
Traffic Cop of Hell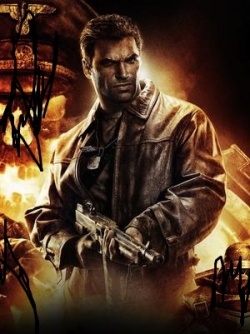 Status
Full Name
William Arcturias Blazer
Aliases
Faceless EMET
Arcana
Chariot
Persona
Golem of Prague
Nature
Persona-User
Gender
Male
Age
44
Birth Date
December 4th, 1967
Blood Type
AB
Faction
NWO
Teams
Sumaru Police
Job
Token Gaijin Cop
Assignment
Traffic Bureau/Wetwork
Voice Actor
William Blazer
Player
Patware
Equipment
Weapon: M4 Carbine, .50 cal Revolver, Copy Longinus
Body: Army Jacket / Dark Fatigues
Feet: Old Boots / Foul Stompers
Accessory: Green Beret / Enigmatic Goggles
Social Stats
Expression: 1 - Gaijin
Knowledge: 2 - Informed

The Military: 4 - 12-Year Veteran

Courage: 5 - De Opresso Liber
Understanding: 2 - Sharp
Diligence: 3 - Strong
Quote
"In over my head? Don't be ridiculous!"
Profile and Skills
Profile
William Blazer is in over his head. Formerly a member of the US Army's Green Berets, he was caught in the Dark Hour ten years ago, and his country's mishandling of the matter (as far as he was concerned) prompted him to resign and move to Japan to try and find out more. Life is hard for a foreigner, unfortunately, and after working exhaustively just to get into the police force he's found himself pinned by the weight of cultural xenophobia. The vital, confident army man has since turned into a man troubled by self-doubt, losing sight of his path in life - at least until he was approached by the NWO, offering him a chance to advance if he'd just do a few... little things, here and there. His survival of that first Dark Hour can be attributed to the awakening of his Persona, the Golem of Prague.
Skills
Language: English, Language: Mandarin Chinese, Language: Japanese, Language: German, Language: Yiddish, Pushed Around, Needs Two Chainguns, The White Man, Lifts Weights Like The Cure's Inside, Army of One, His Middle Name Is Arcturius, The Good Cigars, Stone Cold, At Least Until The Next Day, WHAT AM I FIGHTING FOOOOR, Keeps Kosher, Traffic Cop From Hell, De Oppresso Liber
Persona
Golem of Prague
Background
The Golem of Prague was created by a rabbi in Prague (surprisingly), to protect the Jewish ghetto there from anti-semitic attacks. Formed from clay and animated by ancient rituals, the Golem followed its orders to the letter, eventually growing out of control as it rampaged, killing innocents for the crime of not being jewish, and conflicting orders caused it to go completely haywire, killing basically everyone it saw until it was deactivated. Supposedly entombed in the Rabbi's attic, the Golem has since disappeared.
Appearance
The Golem of Prague is an enormous Persona, over ten feet tall and of an incalculable theoretical weight. The Golem is composed entirely of a slick, dark-brown clay that bends and molds to suit its will, even completely changing its form. An iron ring cinches each wrist and ankle-like zone - its feet are mere nubs that flatten across the ground, and it has giant, oversized hands. It has no neck, its shoulders simply smoothing up into a dome-like head.
The Golem's face resembles that of a haniwa, its eyes and mouth simply deep black pits. A strip of paper emerges from its mouth and spirals around its entire body, inscribed with the names of God in every language known to Man, and some that are not. The hebrew word 'emet', or 'truth', is carved into its forehead. The word glows with bright blue light.
Resonance
William is, because of his double life, tightly focused on keeping himself from resonating strongly when living in his 'preferred' life as William Blazer, Traffic Cop From Hell. The most you'll probably get when he's trying to hold it in is that he /has/ some kind of resonance - military discipline serves him well here. However, he's so focused on his own resonance that he barely notices others - he has to relax his discipline to really sense resonances, which causes his own to unfurl like a banner.
NWO Crouching Grunt Hidden Badass, however... SENSE: Imagine yourself trapped in the center of an enormous, sprawling labyrinthe. Possibilities are open everywhere, but you have no map, and no light. That's William: the feeling of groping along in the darkness down limitless paths, desperately wanting to find a place but not knowing where you'll end up - with nothing to count on but the immovable sturdiness of the walls around you.
SMELL: Smoke and clay, with a weak impression of gunpowder and old blood.
SOUND: Powerful, rumbling bass impacts heard through a thick stone wall, irregularly timed but never allowed to grow louder.
Faceless EMET
William Blazer lives two lives. The life he wants to live is that as a police officer for the city of Sumaru, protecting people until he can calmly retire a satisfied man. Unfortunately, foreigners get the shortest of all shrifts, and he's been stuck as a traffic cop for several years - enter a letter from a mysterious US contact, giving him one last mission, promising answers if he joined with the NWO, who had already approached him promising advancement if he'd just do... this and that. But William could not risk blowing his entire reputation by openly serving them, and the higher-ups agreed that certain... discretions would be wise.

Enter Faceless EMET. Only the top ranks of the NWO are aware of William's identity as the hulking NWO grunt. As Faceless EMET, William wears full-body urban camoflague tucked into black gloves and boots, with a kevlar hood and a large pair of goggles obscuring his face. A voice modulator sewn into the hood modifies his voice to a painfully high pitch, and two halves of the word 'emet' are sewn into the hood, on metal plates sitting over each temple. Only as Faceless EMET does William wield his powerful M4 Carbine, and only as Faceless EMET does William summon his true persona, the Golem of Prague.
Social Links
Links
0. The Fool

Tohru Adachi: William can't help but feel a certain affinity to Tohru Adachi, him perhaps being the only cop he can think of more kicked around than he is.
I. The Magician

William has developed no notable Magician links.
II. The High Priestess

William has developed no notable High Priestess links.
III. The Empress

William has developed no notable Empress links.
IV. The Emperor

William has developed no notable Emperor links.
V. The Hierophant

William has developed no notable Hierophant links.
VI. The Lovers

William has developed no notable Lovers links. so lonely :(
VII. The Chariot

William has developed no notable Chariot links.
VIII. Justice

Katsuya Suou: A fellow cop, William has ran into Katsuya a few times now - most notably, Katsuya was the first other officer William saw manifest the power of Persona. Having appealed to him to enter the ranks of Department 4, William then completely screwed up while fighting the Last Battalion, showing the Golem of Prague to Katsuya. Though the cop has made no connection between William and Faceless EMET, William has to make a decision what to do about him and the others that witnessed the event.
IX. The Hermit

William has developed no notable Hermit links.
X. The Wheel of Fortune

William has developed no notable Wheel of Fortune links.
XI. Strength

Katsura Tsuruya: Katsura tried to steal William's awesome army jacket, so a grumpily drunk William called his Persona, let Katsura hit him uselessly with her pipe a few times, and then took a swing at her with Golem. Intrigued that she was able to see his Persona - and slightly worried that he let his cover slip - he's started to keep tabs on her. Unfortunately, she joined up with the NWO, sharply altering their relationship. William has revealed himself as EMET to Katsura, and hopes to shield her from the worst of what the NWO can do. But... is that necessarily what she wants?
Enoha Koinose: William Blazer began investigating the curious case of Enohiko Koinose, but was pulled off of the case by his tyrannical superiors as soon as it looked like he was going to accomplish something. However, there is still a dangling thread that needs resolution...
XII. The Hanged Man

William has developed no notable Hanged Man links.
XIII. Death

William has developed no notable Death links.
XIV. Temperance

William has developed no notable Temperance links.
XV. The Devil

William has developed no notable Devil links.
XVI. The Tower

William has developed no notable Tower links.
XVII. The Star

William has developed no notable Star links.
XVIII. The Moon

William has developed no notable Moon links.
XIX. The Sun

Tatsuya Sudou: The NWO bossman William has had the most interaction with - he's brought him (as Faceless EMET) along on a few missions, and he is one of the few members of the NWO to know that Faceless EMET is Sumaru cop William Blazer.
XX. Judgement

Frederick Blazer: ONCE I CALLED YOU BROTHER / ONCE I THOUGHT THE CHANCE TO MAKE YOU LAUGH / WAS ALL I EVER WANTED