Miya Aikawa
From Persona MUSH Wiki
Miyako "Miya" Aikawa
Full Of Sound And Fury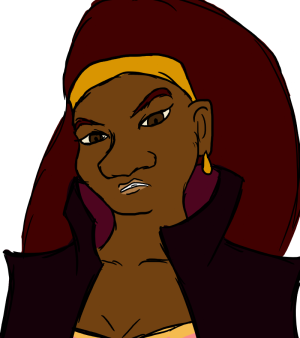 Status
Full Name
相川美夜子
Aliases
Miya
Arcana
Temperance (Reverse)
Nature
Shadow-Possessed
Gender
Female
Age
20
Birth Date
January 5th, 1992 (Metal Sheep; Capricorn)
Blood Type
B
Preferred Weapon
Fists
Job
Petty Criminal
Origin
Original 2012 OC
Player
Boomage
Social Stats
Expression

1

Thorny
Knowledge

2

Not So Bright
Academics

2

Didn't Even Graduate
Courage

5

NEVER PERISH.
Understanding

1

Self-Centric
Diligence

3

Attentive Enough
Equipment
Weapon:
Fists - Miya packs a pretty good punch.
Body:
Bancho Coat - Dark purple, with its sleeves rolled up.
Feet:
Stylish Boots - Feminine enough to be cute, and practical enough to hurt when they're shoved into some sucker's stomach. Sweet!
Accessory:
Headband - A goldenrod yellow, this plain headband keeps Miya's hair soundly out of her eyes.

Trivia
Miya is ethnically Japanese-Hawaiian, but her Japanese is flawless due to her purely Japanese upbringing - aside from her rough-and-tumble street accent, of course. She could probably pass for a dark-skinned Japanese woman, but anyone who wants to upset her is free to accuse her of being a foreigner.
Speaking of her accent, Miya can talk perfectly well -- she just prefers to speak roughly, because she thinks it makes her sound tough.
Miya is left-handed, and 5'4" tall.
Miya smokes and drinks whenever possible -- again, because it makes her ~*tough*~. She only has a mild tolerance for alcohol, though, and she's a very insecure drunk... so she tries not to go over her personal limit.
She once almost tried some of drugs their gang was offered as reward for a very successful run, but an older member of Rhythm stopped her and showed her the damage she'd taken from it. Miya made a promise not to do anything which would involve shooting herself up, and she's kept it quite faithfully. (The gang ended up declining the drugs.)
Miya adores animals of all kinds. Animals don't judge like people do, after all.
Miya isn't very smart. :(
Quote
"To love at all is to be vulnerable. Love anything and your heart will be wrung and possibly broken. If you want to make sure of keeping it intact you must give it to no one, not even an animal. Wrap it carefully round with hobbies and little luxuries; avoid all entanglements. Lock it up safe in the casket or coffin of your selfishness. But in that casket, safe, dark, motionless, airless, it will change. It will not be broken; it will become unbreakable, impenetrable, irredeemable. To love is to be vulnerable."
-C.S. Lewis
Profile
Miya is a woman whose life has been defined by misunderstandings and misfortune, mostly self-inflicted. Adopted as a very young child by Japanese parents, Miya feels as if she has never known true acceptance; she is both desperate to be loved and aggressive towards anyone who tries. She tries to tell herself that relying on her own tough-as-nails attitude will get herself through life, because the alternative is relying on others -- and others only hurt her. Though she attempted to do good through SEES when they discovered she had the Potential, paranoia and suspicion eroded her trust in the organisation, leaving it ripe to be shattered as Shuji Ikutsuki made his move. Now free of their influence, she wanders, forcing her thuggish will on anyone who stumbles across her path.
Skills
Sharp Tongue -- Not-So-Sharp Wit, What's a Tsundere?, No One Could Ever Love Me So I'll Bully Everyone To Make Myself Feel Better, Adopted Children With Issues Club Leader, I Was A Good Guy Once, Those Days Are Over Now, And I'll Make You Pay For Crossing Me
Shadow Information and Resonance
"I am thou, thou art I. They trapped us here... so... so let's destroy them all."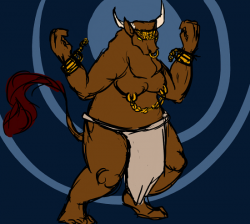 The Minotaur was the unfortunate spawn of an ensorcelled Pasiphae, forced to lust after a perfect white bull by the scornful goddess Aphrodite. This unnatural scion was neither man nor bull, and it possessed a terrible bloodlust; for it could not eat of man's food, nor of the cattle's grass, but only consumed human flesh. The seers saw only one solution: eternal entrapment. Minos built a labyrinth to host the beast which was his son, and there it would dwell until it was killed by Theseus -- aided by the Minotaur's own sister.
The Minotaur appears as a huge, muscular woman with a bull's head and tail, wearing golden jewellery and a loincloth. Aside from her tail, there is no fur on her body, even on those parts of her thick skin which host cattle-features.
Resonance:
SENSE: Blind rage, a wounded animal looking to kill a path to freedom.
SOUND: A bull's whuff, the scrape of hooves against the ground.
SMELL: Dirt and sweat, the cattle rolling in dust.
Social Links
0 - THE FOOL
Minako Arisato - Rescued her from the Dark Hour's terrors. Sort of. Kinda. Still just another SEES idiot. Trash.
I - THE MAGICIAN
Akerou Hoshimoto - Stalker.
Junpei Iori - Some fucking nerd womaniser SEES trash she doesn't care about him WHY THE FUCK WOULD SHE.
Yosuke Hanamura - Just some guy she continually sees around these weird Persona conflicts.
II - THE HIGH PRIESTESS
III - THE EMPRESS
IV - THE EMPEROR
V - THE HIEROPHANT
Shinjiro Aragaki - Apparently trustworthy. Seems to know a lot about Persona. Didn't bother telling her the most important part. Trash.
VI - THE LOVERS
VII - THE CHARIOT
Yoh Yamagatani - Miya only briefly met him during that one buffet. Probably a dweeb.
VIII - JUSTICE
Tsuyoshi Tadase - Some nerd from the buffet. But get this - he has a raven! Cutie! The raven's great, but the owner's definitely a dweeb.
IX - THE HERMIT
X - THE WHEEL OF FORTUNE
XI - STRENGTH
Katsura Tsuruya - Hasn't seen her for ages. Too bad they never got into trouble together.
Masahiko Irie - Apparently a member of the Yakuza, a guy with a hero complex. Miya doesn't like his heroics, but she can appreciate his position.
XII - HANGED MAN
Miyuki Tsukuda - Too bad she didn't figure shit out until it was too late. Maybe she coulda helped this kid out. No good now.
XIII - DEATH
XVI - TEMPERANCE
Shion Katsuragi - Possibly the only cool cop in the history of the police force.
XV - THE DEVIL
Itsuka Mizuhara - Got her into SEES. Didn't bother telling her what she was getting into. Trash.
XVI - THE TOWER
XVII - THE STAR
XIX - THE SUN
XX - JUDGEMENT
Soundtrack
Momentum


Gavin Rossdale - Adrenaline


All I'm Good For


Mother Mother - Wrecking Ball


Ethics Are Hard


Stabilo - Flawed Design


Adrenaline keeps me in the game


Adrenaline, you don't even feel the pain


Wilder than your wildest dreams


When you're going to extremes


It takes adrenaline!



Run through the speed of sound


Everything slows you down


And all the colors that surround you


Are bleeding into the walls


All the things you really need


Just wait to find the speed


Then you will achieve


Escape velocity!

I made a wreck of my hand


I put it through the wall


I made a fist and not a plan


Call me a reckless wrecking ball!



I throw my plates against the wall


And give it all I got


I aim to break not one but all


I'm just a big ol' wrecking ball!



I am unruly in the stands


I am a rock on top of the sand


I am a fist amidst the hands


And I break it just because I can!

When I was a young boy


I was honest and I had more self-control


If I was tempted I would run


Then, when I got older


I began to lie to get exactly what I wanted


When I wanted it


And I wanted it


Now, I'm having trouble differentiating


Between what I want


And what I need


To make me happy


So instead of thinking I just act


Before I have the chance to contemplate the


Consequences of action.

The World Has Wronged Me


New Model Army - Ambition


Makin' Them Pay


Soho Dolls - Bang Bang Bang Bang


The Discarded Daughter


Regina Spektor - Prisoners


Stepping out onto the stage the smalltown star tonight


Flexes out for fame and fortune into the lights


The way she tears into the heart makes me realise


That I never understood hatred until I looked into those eyes


She cries, "No one's going to talk down to me again


No one's ever going to patronise me again


I'm going to get out of this town, steal myself a crown


I'm going to get myself some power


If it's the last thing that I do!"

Teacher says that I've been naughty


I must learn to concentrate


But the girls they pull my hair


And with the boys I can't relate


Daddy says I'm good for nothing


Mama says that it's from him


Manic sister thinks I'm cracking


Brother says it's in my genes...

'

If Hans Christian Andersen could've had his way with me


Then none of this shit would have ever gone down


In my cell I'm tattooing myself with


Mermaids and swallows


And though I do swallow


My mama thinks I'm grown


But I'm really just little


And someday I will remember...