Anzai Mizuno
From Persona MUSH Wiki
Anzai Mizuno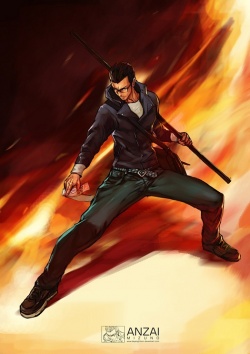 Status
Full Name
水野安西 (安西ミズノ)
Arcana
XII - Hanged Man
Nature
Persona-User
Gender
Male
Height
6'1"
Date of Birth
November 2nd, 1993
Age
17
Guardian Dragon
Moon Dragon
Persona
Mizuno
Weapon
Bo Staff
Faction
SEES
Team
Attacker
Japanese Voice Actor
Mamuro Miyano
English Voice Actor
Brock Samson
Social Stats
Courage

3

Thora's Apprentice
Diligence

4

Dutiful Grandson
Knowledge

3

B Student
   Shinto

5

Priest
Understanding

3

Warm
   Understanding Aigis

5

Explains All The Things
Expression

2

Little Shy
Quote
"You want a good luck charm? Wow, did you ever come to the wrong shrine."
Profile and Skills
Anzai Mizuno is a third-year student at Gekkoukan High School who is regarded, when people bother to think about him at all, as a fairly ordinary student. Tall, quiet and generally polite, he has decent grades, doesn't play any sports or take part in clubs, and tends to head home early more often than not. Others know him as the kannushi, or caretaker, of the Suwa no Mori shrine, a sacred grove located on the mainland off of Port Island proper whose ownership fell to him after the death of the previous caretaker, his grandfather. A select few, however, know him as something else entirely: a Persona-user, and an occasional ally of SEES during their struggles in the Dark Hour. Though initially terrified of the power sleeping within him, Anzai has braved coffin-filled streets and walked through the desert of time to help his friends, armed with nothing more than a staff and a few slips of paper. He is not yet the priest he is trained to become. But he is learning.


Skills: Incredibly Unlucky, Stick Fighter, Wears the Kind of Glasses That Actually Get Foggy in the Fog, Wields a Mean Broom, Writes Every One of Those Fortunes, Thank You For Your Kind Donations, It Probably Doesn't Mean Anything That My Persona Looks Like a Demon My Ancient Ancestor Sealed in That Tree Over There, Really, I Might Be a Magical Boy But That Doesn't Mean I've Got a Transformation Sequence (Sorry, Ladies)
Persona
"What need have we to fear winter's chill? We are flame."
According to the legend passed down the Mizuno family line, the original Mizuno was a wandering priest who came to the assistance of a small fishing village that had come under attack by a raging demon of flame. The priest eventually managed to seal the demon into the sapling of a cherry tree that had somehow survived the inferno, but not before the demon cursed the priest and the sons of his line with eternal misfortune. To this day, the caretakers of the Suwa no Mori are taught that if their line is ever broken, the demon will be released to run free in the streets of Port Island once more.
For a time, Anzai believed his Persona to be a massive canine demon cloaked in fire and shadow, a reflection of his family's legends upon his psyche. Now, however, he knows the truth - that the demon itself was blocking his power from coming forth, causing the young man to draw it gradually through the seal each time he used his magics. Thanks to the assistance of his friends, the demon slumbers once more, and Anzai has finally completed his contract. His Persona - Mizuno - is a composite of the three-hundred-plus generations of his family, the collective guardians of the Suwa no Mori. Mizuno takes the form of a grey-haired priest in monk's robes. The kind of man he hopes one day to be.
Resonance and Other Abilities
Anzai's everyday life is dogged with bad luck. People with resonance generally sense Anzai as something mildly unpleasant - the smell of burnt hair, vuvuzelas, that sort of thing. Anzai can detect the presence or absence of Shadows - usually manifesting itself as a strong feeling of discomfort - but generally cannot identify their numbers, locations, strengths or attributes. He has not yet demonstrated the ability to detect Persona-wielders or the Shadow-possessed. To the extent that he has Fuuka- or Rise-like sensory abilities, they are incredibly mild.
As a result of his training as a kannushi in the Shinto tradition, Anzai has a depth of knowledge of the legends of the spirit world and religious tradition that is unequaled among people of his age group. He also has a certain amount of knowledge related to the construction of seals and (theoretical) magic.
Social Links
0 - THE FOOL:
Minako Arisato - A very friendly senior member of SEES. A little glompy. Anzai does not mind at all.
Minato Arisato - Okay honestly, whatever you have heard about staring down your sister's shirt is a total lie. And besides, she's kind of short and I'm really tall, so it's kind of hard not to when you okay so not helping.
Tohru Adachi - Detective Adachi is an intelligent and valued member of the Inaba police force! Anzai holds him in considerable respect for his wise counsel and the care that he shows for his fellow man. Such a nice guy. Almost an older brother!
I - THE MAGICIAN:

II - THE HIGH PRIESTESS:
Fuuka Yamagishi - She is so tiny, yet fierce. Anzai's protective feelings sort of began to grow into something more, but while they went out a few times he has been distant lately.
III - THE EMPRESS:
Mitsuru Kirijo - Only a tiny bit intimidated by her. Really. She does have an appropriately old-fashioned and respectful bearing to her, though.
IV - THE EMPEROR:

V - THE HIEROPHANT:
Shinjiro Aragaki - Only a whole lot intimidated by him. Really.
VI - THE LOVERS:

VII - THE CHARIOT:
Aigis - Anzai had a fairly large thing for Aigis before he knew she was a robot. Now he only has a fairly small thing for her.
VIII - JUSTICE:

IX - THE HERMIT:

X - THE WHEEL OF FORTUNE:

XI - STRENGTH:
Thora Kobayashi - When Anzai was having trouble mustering up enough testicular fortitude to fight people with his demon magic, he went to the local expert on the subject and tried to punch her in the face. Since he helped Thora secure control of the East Side of Mikage-cho (partly by taking his shirt off around succubi), he has been made an honorary member of the Blue Wolves. He likes Thora a lot, as she's one of the few people he can talk to without looking down.
XII - THE HANGED MAN:

XIII - DEATH:

XIV- TEMPERANCE:

XV - THE DEVIL:

XVI - THE TOWER:

XVII - THE STAR:

XVIII - THE MOON:

XIX -THE SUN:

XX - JUDGEMENT:

(more later, folks)