Yukio Fujii
From Persona MUSH Wiki
Yukio Fujii
Orange Hulk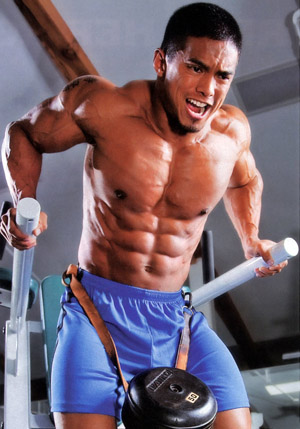 Status
Full Name
Yukio Fujii
Aliases
RAID
Arcana
The Star
Nature
Persona-User
Gender
Male
Age
20
Birth Date
April 7th, 1991
Blood Type
O-
Preferred Weapon
Fists
Faction
Darkside
Job
Professional Wrestler
Assignment
Sumaru University (Part-Time)
Origin
Original Character
Voice Actor
Jeremy Renner
Trivia
Yukio is a quarter Korean, but you can't tell by looking at him, which is why RP scenes aren't 75% "people spitting on him, openly."
Yukio is known among his business-course classmates at Sumaru U as "the orange guy who shows up to every class in a tracksuit."
Yukio earns money on the side by doing bare-knuckle street fighting.
When speaking to women, Yukio will always say the wrong thing at the wrong time, leading to situations where his brain visibly short-circuits, women slap him, or both.
Yukio waxes his entire upper body, and his legs, because he's a wrestler and that's what they do.
See above for why Yukio has a Jersey Shore-level tan.
As RAID, Yukio wears a mask, and skews toward purple and gold ring attire.
Yukio holds a world record for most squats, although it's not clear what officiating body decided this.
Windbreakers and tracksuit jackets are apparently the only things Yukio owns with sleeves.
Yukio is surprisingly skilled at crochet.
Yukio has a third eyelid.
Yukio was a hot-dog eating champion at age 14. He has been known to describe hot dogs as "efficiently shaped."
Yukio is naked whenever it's least convenient for him to be naked, which is just a sad fact of life.
Quote
"You think you can stop me?!"
Profile and Skills
Profile
Yukio Fujii is an angry young man, ready to take on the world. Haunted by the mysterious disappearance of his twin sister, he's channeled his energies into violence. As a rookie pro wrestler, he fights for Sumaru's POWER-7 promotion as the masked heel RAID. For extra money, he does bare-knuckle street fighting. On top of all this, he's a part-time student at Sumaru U, majoring in business. Despite these cutthroat pursuits and a truly abysmal temper, Yukio is capable of being a friendly, if awkward, person -- albeit one who seems to have absolutely no idea how to pick up a girl.
Skills
Yo, There's a War Going on Outside No Man Is Safe From, It Don't Matter If You Three Feet or Eight-One, You'll Get Eight From the Nine-M, Straight Blown, Wig Split, Melon Cracked, All That on Day One
Persona
Asterion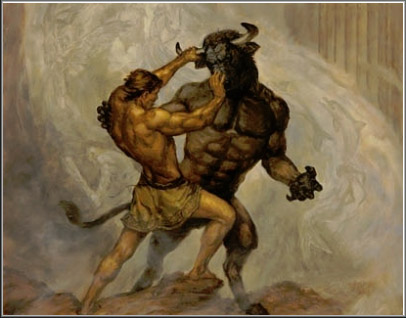 Background
Asterion is the Minotaur of Greek myth, the true name of the monster at the center of the Cretan labyrinth, child of of a female human and a male bull. Owing to his unnatural, incompletely human nature, Asterion grew savage, and fed on the flesh of humans. Minos, King of Crete and Asterion's foster father, exiled him to the center of a great maze, from which he could never escape. Every seven years, seven virgin boys and seven virgin girls were sent to the center of the maze, to be eaten by Asterion as sacrifice. When the hero Theseus arrived in Crete, he volunteered to slay the minotaur, and with the help of Asterion's sister Ariadne, did just that.
When Asterion manifests as Yukio's persona, it's not uncommon for him to be drooling blood. He stands around ten or eleven feet tall (not counting horns), and is disturbingly anatomically correct -- and worse, nude.
Resonance
Yukio's resonance is powerful like a stench. His oft-surging anger guides it: typical sensations include intense heat, the smell of fresh blood, the screams of children, the taste of human flesh, and a general sense of confusion and dislocation, as if one had suddenly found oneself in, appropriately, a maze.
Social Links
I. The Magician
Alistair Crawford: Alistair presented himself as some kind of playboy operator-type at a party. Yukio isn't sure he trusts him, because the last time he did trust him, it ended with Yukio walking up to a police detective and claiming to be her gigolo for the evening.
VI. The Lovers
Tatako Kinoshita: Yukio doesn't really know Tatako per se, but while doing a promotional appearance as RAID, he did a bit of audience-participation with her, insulting Port Island and gently pushing her around. She was a good sport.
IX. The Hermit
Eien Seida - Yukio has crossed paths a couple times with Seida-san, mostly presenting himself as some kind of gibbering idiot. They teamed up, kind of, during a Dark Hour in Yumezaki Ward, which ended with her pride hurt and him clueless, as usual.
XI. Strength
Rica Eikoudan (Reverse): Because of Yukio's ongoing feud with organized crime, Rica was sent around Yukio's place to break his legs. After ambushing him as he was getting out of the shower, the two proceeded to destroy both his apartment and a neighbor's in the course of a fistfight, until Yukio bashed a toaster oven into Rica's skull in a way that made him initially think he'd killed her.
Masahiko Irie: When Masahiko Irie, a powerful Yakuza figure, attempted to speak to Yukio about the problems between Yukio and his crime family, Yukio's response was to headbutt the young don and accept his challenge of a fight. That is how that social link is going.
Thora Kobayashi (Reverse): Thora was the most vociferous person in the crowd as a RAID promotional appearance, heckling and screaming for blood, blood, blood. Maybe they will meet again. Maybe there... will be blood.
XIV. Temperance
Shion Katsuragi (Reverse): Yukio made an ass of himself to Shion at a party once by simultaneously presenting himself as "a male prostitute" and "a retarded."
XIX. The Sun
Tatsuya Sudou (Reverse): Fuck that guy and fuck his crusty eye-hole too.
XX. Judgment
Kichiro Higa (Reverse): Kichiro bumped into Yukio once and Yukio almost knocked him the fuck out over it. That is how Yukio rolls.
RP Logs
blah blah fuck you