Alistair Crawford
From Persona MUSH Wiki
Alistair Crawford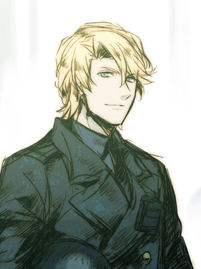 Status
Full Name
Alistair Preston Crawford
Arcana
I -

The Magician

Nature
Persona-User
Gender
Male
Date of Birth
February 17, 1991
Age
20
Faction

Darkside

Occupation
Student / Merchant
Persona
The Cheshire Cat
Weapon
Switchblades
Eyes
Blue
Hair
Blonde
Height
5'10"
Voice Actor

TBD
Social Stats
Expression

3

Average
Knowledge

4

Pretty Smart
Courage

2

Hit'n'Run
Understanding

5

You're A Book
Diligence

3

Average
Equipment
Weapon:
Switchblade & Stun Gun
Body:
Polo Shirt with a Little Horse on it
Feet:
Shoes
Accessory:
Camera
Trivia
Alistair is British.
Not actually an active Persona-user just yet. He's more grounded in the real world.
Runs a business of trades and favors out of his dorm room.
His father is a regional director in Adorn Corporation, a company that specializes in 'beautifying' run-down or old areas.
He is studying Business Management at Sumaru University.
(He's also taking cooking classes. Shh.)
He doesn't speak fluent Japanese, but gets by very well.
Can easily be mistaken for a tourist; he always has a camera with him.
Spends a fair chunk of time on imageboards. 2ch anyone?
Quote
"I can get you what you need. You just might not like the price."
Profile And Skills

Alistair Crawford, foreigner in a foreign land, is a student at Sumaru University who operates a small business out of his dorm room. He's that guy your friend knows who can help you get what you're after, specializing in the the finding of items and information for people -- and he's a real stickler for being paid. Now in his second year at the campus, he's proven infamous for extracting payment from those that owe him, one way or another. Those who fail to pay have been known to have their lives flipped right upside-down, their names run through the mud. Away from business, Alistair is an easy-going, fun-loving fellow, with a love for cooking and lurking on imageboards. Presently unaware of his connection to the rotund Cheshire Cat, he nevertheless finds his life shifting away from the doldrums of the business world, instead finding more and more reason to wear a broad grin.

My What A Big Grin You Have, The Merchant of Sumaru, Whadda Ya Buying?, Right Place At The Right Time, Whadda Ya Selling?, Foreigner, That's Not A Knife, Make Sure You're Connected, A Pound of Flesh, Let's Make A Deal, Once More Round The Rabbit Trail, Masterchef In The Making
Persona and Resonance

Purrrrrr.


For Alistair, the Cheshire Cat is the Persona that he manifests. It is in essence the part of Alistair that grew up locked away; the aspect of him that wanted to have fun, that wanted to be creative, that wanted to be not serious and to play games with people. And all of those desires and wants manifest as this overly large, rotund cat that's entirely too large to be healthy yet still bounds around.

The Cheshire Cat itself helped to guide Alice to where she needed to be. It gave warnings, it gave advice, but it also mislead -- sending the girl to where she needed to be, to send her on a journey that would teach her something about herself and, in the long run, help her to fulfill her goal.

The way Alistair operates his little business has started to match this as he further embraces his true self -- the desire to balance work and play. And in many ways, it is the very journey that Alistair walks down that the Cheshire Cat is guiding him along towards that nebulous end goal.

After all, Alice is very close to Alistair. That actually wasn't planned, but funny how that worked out.

The Cheshire Cat itself is much like the Magician card; it has the tools by which to guide someone to what they want or need, it knows how to guide to that destination -- but the journey itself may be longer and more winding than initially suspected.

SENSE: Flighty anticipation, like something momentous was about to happen.
SMELL: Catnip. That's right. Catnip.
SOUND: The faint scratch of claws snagging on a cheap carpet.
Notable Social Links
I - THE MAGICIAN
II - THE HIGH PRIESTESS