Nanami Kato
From Persona MUSH Wiki
Nanami Kato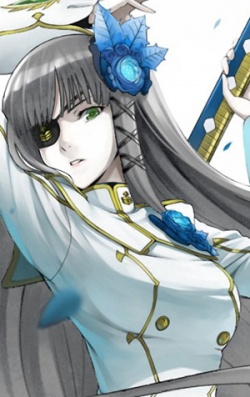 Status

Full Name

加藤 七美

Nature

Shadow-Possessed

Arcana

XIX -

The Empress REVERSE

Shadow

Yansa

Gender

Female

Age

20

Height

5'7"

Hair

Silver

Eye

Green

Date of Birth

July 20th, 1991, 2 AM

Sign

Cancer(Sun)/Scorpio(Moon)/Gemini(Asc)

Guardian Dragon

Light Dragon

Voice Actor

Atsuko Tanaka
Quote
"I don't need your pity."
Profile and Skills
The eldest daughter of Hiroshi Kato, a noted Nippon Seiki executive, Nanami Kato nonetheless does not receive nearly as much attention or exposure as does her younger brother, Shin'ichi, who seems poised to follow his father into a successful business career. It is widely rumored that this is due to Hiroshi Kato's preference for his son over his daughter. However, his daughter does not seem uncared for; she appears to be in possession of all she could materially want, though her recent decision to transfer from Nagaoka University to Sumaru University seems to conveniently take her far from the rest of her family. Though once a much quieter and more pleasant girl, in recent years-- particularly after a publicized accident in junior high that lost her her right eye-- a notable mean streak has emerged.
Azure Paler Than the Sky, Eyepatched Bitch, Her Tragedy, Magpies, Mother Issues, Now NANAMI is the Popular One!!, The Biggest "R" I Feel is Regret, Thorns of Death, What's 'Self-Esteem'
Equipment
Weapon: Shikomizue
Body: Evening Gown
Feet: Heels
Accessory: Eyepatch
Social Stats
Understanding: 1 - Reading Between the Lines
Courage: 2 - Passable
Knowledge: 4 - Smart
Diligence: 2 - Prone to Give Up
Expression: 3 - Nasty
Trivia
Nanami is missing her right eye. The eyepatch makes it very obvious.
Combat Information
pika pika
Shadow
The archetypal 'destructive mother' goddess of Yoruban myth, Oya was one of the wives of the storm-god Shango. With dominion over natural disaster, particularly in the form of hurricanes, lightning storms, and fire, Oya caused mass destruction-- but always in order to clear a path for new growth. In fact, it would be more accurate to call Oya a goddess of change-- or a catalyst-- than a goddess of disaster, for her storms and lightning are purifying forces which sweep away the stale and usher in the new. She represents sudden change, but her chaos is always necessary, and always precedes something better to come. Oya is also a symbol of feminine strength; this, along with the fact many mythological maternal figures are similarly known for "destruction or barrenness locked in a cycle with growth, birth, and bounty," (Demeter, Coatlicue) identifies her with the Empress Arcana.
This is the incarnation of Oya Nanami should have expressed, were she a whole individual. Instead, given her multitudinous issues, she has succumbed to Shadow Possession instead, and has been taken over by a version of Oya that expresses only the destructive components, and none of the creativity or benevolence that should follow Oya's purges. Blocked mid-cycle, Nanami wears a version of the goddess which destroys for no purpose, other than perhaps personal gratification, and which is blocked from the healing or guiding energies it might otherwise have expressed. For the sake of distinction one of Oya's other names, 'Yansa,' is used.
Notable Social Links
↕
Soundtrack
Shallow Grave - The Birthday Massacre

Just another reason looking for the next 'because' / Just another has been wishing that she never was
↕