Anna Yoshizaka
From Persona MUSH Wiki
Anna Yoshizaka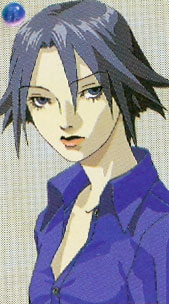 Status

Full Name

吉栄 杏奈 (よしざかあんな)

Nature

Persona-User

Arcana

XIX -

The Tower REVERSE

Persona

Aeshma

Gender

Female

Age

19

Height

5'7"

Hair

Blue

Eyes

Blue

Date of Birth

November 11, 1991, 3 PM

Sign

Scorpio(Sun), Capricorn(Moon), Aries(Asc)

Faction

New World Order

Team

The Dragons

Guardian Dragon

Moon Dragon

Voice Actor

Michiko Neya
Quote
"The one thing you can't outrun is inevitability."
Profile and Skills
Once upon a time, Anna Yoshizaka was the star of the Seven Sisters High track team. Her life as a runner came to an end when she was struck by a drunk driver, breaking both her legs in such a fashion that she would never compete again. Bitter over the loss of her sole ambition and aspiration in life, Anna descended into a suicidal depression, convinced there was nothing more for her in life. From there, it was a few short steps to becoming a part of the Masquerade; though she stays with the group not out of any idealism or thought for reform, but to show others that a realization of the futility and pointlessness of everyday existence is merely one catastrophe away.
Running Fas- Wait No, Enjoys The Feel Of The Wind Whipping Through Her Hair, Her Loathing Outshines The Sun, Ennui, Alcohol Makes A Body Bitter, Possibly The Only Sane Person On Her Team, Not Crazy, Just Really Depressed
Equipment
Weapon: Leather Whip
Body: Double-Breasted Trenchcoat
Feet: Heeled Boots
Accessory: Leo's Self-Esteem
Social Stats
Understanding:
Courage:
Knowledge:
Diligence:
Expression:
Combat Information
"Believe in me and you shall die forever."
Persona
"I am Aeshma... The one who sails the sea of blood with the sails of anger and hate. I'll let you know the true power of fury."
A Zoroastrian demon, Aeshma governs wrath, fury, and rage. Opposed to Asha in the broad sense of representing 'lies' while Asha represents 'truth,' Aeshma's true opponent is, however, Sraosha: a representation of obedience and correct discipline. Aeshma distracts from proper worship, distorting "the intention and meaning of sacrifice." A demon of rage, Aeshma sows disputes and strife in the human world via the inspiration of hot blood, vengeance, lust, and anger.
Destructiveness and anger form the link between Anna's Persona and her nature. Anna's sheer preoccupation with self-destruction causes her to radiate that negativity outwards, poisoning others with her bitterness, loathing, and rage against what she ultimately views as an arbitrary and vindictive universe. Fitting of the disruptive nature of her Persona and Arcana alike, Anna exists now to cause those cataclysmic occurrences for others... but only so they can be shown, as she was shown, that at the end of all that pain and suffering, there is no gain, no hope, and no dream of improvement or regaining what was lost.
Notable Social Links
↕
Soundtrack
God Save the Queen - Sex Pistols

When there's no future / How can there be sin? / We're the flowers in the dustbin / We're the poison in your human machine
↕