Shiko Mori
From Persona MUSH Wiki
Shiko Mori
The Clockwork Maiden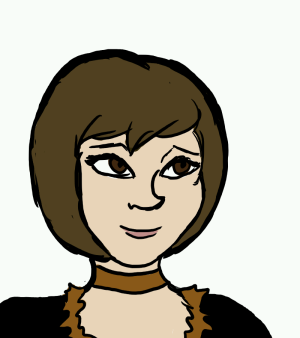 Status
Full Name
森死子
Aliases
Shiko
Arcana
The Star
Nature
Persona-User
Gender
Female
Age
29
Birth Date
January 28, 1984 (Water Pig; Aquarius)
Blood Type
A
Preferred Weapon
Baton
Faction
NWO
Job
Assassin
Divisions
The Dragons
Assignment
Often-Underestimated Diplomat
Origin
Original 2012 OC
Voice Actor
Jewel Staite
Player
Boomage
Social Stats
Expression

1

Too Shy To Express
Knowledge

2

Forgetful
Academics

3

Graduated
Courage

2

N-not very brave...
-> Shikobot:

5

No Self-Preservation Whatsoever
Understanding

4

Kindly Lady
Diligence

5

To The Death
Equipment
Weapon:
Baton - A shiny black baton.
Body:
Frilly Blouse and Skirt - A lacy black-and-bronze get-up.
Feet:
Knee-high Boots - With a vaguely steampunk flair.
Accessory:
Elegant Gloves - Lacy evening-gown gloves which handily hide fingerprints.

Contacts
Scold: "What would your mother say if she saw you, why -- gallivanting about like this! Shame on you!" Shaking her finger at the demon, Shiko gives it a matronly scolding, disappointment evident on her face. May cause sad, frightened or angry reactions.
Admission: "I... I really don't know... and sometimes that frightens me." Baring her soul to the demon, Shiko offers some personal anecdote in order to bring them both closer. May provoke interested, sad or frightened reactions.
Negotiate: "What do you want? It may well be in my power to provide." Applying the age-old art of diplomacy, Shiko tries to ply the demon with offers of goods or services in order to win its favour. May provoke interested, sad or angry reactions.
Befriend: "You know... you're really not the ones we're after anyway! So, would you like a cookie? They're fresh." Shiko offers the hand of friendship to a demon with cheerful sincerity. May provoke happy, angry or interested reactions.
Trivia
Shiko's name can also be read as C-Ko; while the sound of it is a real Japanese name, the kanji she spells it with simply don't add up. This is the first clue that something is amiss with the girl.
Shiko's real name is Sumiko Nakahara -- the only people who know this are those who know her whole history. Her parents believe she's dead.
Shiko has a wonderful singing voice.
Quote
"War is peace.
Freedom is slavery.
Ignorance is strength."
-- George Orwell, 1984
Persona Information and Resonance
"I am thou... thou art I. I am Icarus, he who shall be free. Come, fly with me, and we shall touch the sun."
Icarus, the son of Daedalus, was trapped on Crete with his father. Daedalus crafted wings of wax and feathers in order for them to fly away to freedom, and he warned his son not to fly too close to the sun, nor too close to the water. But Icarus, revelling in his freedom, diverted from the path his father had set and soared up towards the heavens. The sun melted his wax, and he found himself flapping only his arms. He thus plunged down into the water and drowned.
Icarus appears as a clockwork contraption in the shape of a man; his wings are bronze mechanisms.
Resonance:
SENSE: The tingling heat of sunlight, a sense of vertigo.
SOUND: The ticking and whirring of clockwork.
SMELL: The smell of hot wax.
Profile and Skills
Profile: When most people see Shiko Mori, they presume that she's a secretary with an unlucky name. She just has that "secretary" sort of aura. Perhaps it's the notepad she constantly carries around? She's a kindly, optimistic older woman who always seems to be out and about (when she isn't out of town), though it's difficult to pinpoint exactly what her job -is-. She's pretty tight-lipped about it. Maybe she's a housewife who's ashamed of her husband...
Skills: Swiss-Cheese Memory, Ex-Loli Assassin, Easily Led, Remote-Controlled Villain, Clockwork Wings Clockwork Heart, Doormat Appeal, Her Name Can Also Be Read As C-Ko
Social Links
0 - THE FOOL
I - THE MAGICIAN
II - THE HIGH PRIESTESS
III - THE EMPRESS
IV - THE EMPEROR
V - THE HIEROPHANT
Hiroshi Tachibana (NPC) - He's been out of her life so long that Shiko doesn't think of him any more, but all she would need to remember is to see his face, hear his words. His presence is a scar born deep within her soul, and his cruelty must be satiated above all other things. Her father. Her lover. Her slaver. Her mind.
VI - THE LOVERS
VII - THE CHARIOT
VIII - JUSTICE
IX - THE HERMIT
X - THE WHEEL OF FORTUNE
XI - STRENGTH
XII - HANGED MAN
Hideyoshi Tsukino - He's a good kid. Too bad he feels like he has to defend people at his age. Kids shouldn't have to worry about this stuff!
XIII - DEATH
Seiichi Miyamoto - Traitor. Sudou-sama seems to like him. Maybe just grievously wound on sight.
XVI - TEMPERANCE
Shion Katsuragi - Shiko once viewed Shion as a rival for Tatsuya's affections; that voice has been largely muffled by her actions. She may be Shion's senpai, but in many ways, she feels more like her kohai; Shion's taught her a lot.
XV - THE DEVIL
XVI - THE TOWER
Mikiya Ryouhara - She sincerely doesn't like him -- and not just because he molested her, either. They bleed the same sort of blood...
Ryouma Kirisato - An old friend whom Shiko has trouble remembering.
XVII - THE STAR
XIX - THE SUN
Tatsuya Sudou - He possesses all of Shiko's loyalty... and her love.
XX - JUDGEMENT
Soundtrack
Shion: A Fine Frenzy - The Minnow and the Trout
"Help me out," said the minnow to the trout, "I was lost and found myself swimming in your mouth! Oh help me, chief, I've got plans for you and me, I swear upon this riverbed, I'll help you feel young again..."
Wavering Heart: Florence + The Machine - Rabbit Heart (Raise It Up)

This is a gift, it comes with a price! Who is the lamb, and who is the knife? Midas is king, and he holds me so tight, and turns me to gold in the sunlight!

Tatsuya: Ingrid Michaelson - Fire

Op- en heart, sur- gery, that - is what - you do, to me. Cut - me up, set - me free, that - is what - you do, to, me....

Myself, Yourself: Kalafina - Magia

<You are the memory that continues to dream -- I am the sleepless tomorrow. I will move forward in order to attain the miracle of the two of us meeting!>

Hiroshi: Lacuna Coil - In Visible Light

Will I suffer in vain? You're feeding all my fears. I cannot escape -- you're here in my head! Grief is the light, grief is the light, I can't deny I'm afraid of you...

Nightmares (Locked Inside The Memory Vault): Nine Inch Nails - Head Down

And this is not my face -- and this is not my life -- and there is not a single thing here I can recognise -- and this is all a dream -- and none of you are real -- and I'd give anything, you know I'd give --

Dreaming Of Electric Sheep: Regina Spektor - Musicbox

Life inside the music box ain't easy! The mallets hit, the gears are always turning. And everyone inside the mechanism is yearning to get out...

How To Follow Orders (Internal Paradox): Skye Sweetnam - Human

You know what Simon says? He tells you what to do. What if he told you to take off all your clothes, and dance... in your birthday suit?

Shining Light: The Cruxshadows - Sophia

So you must carry this light into the darkness, you must be a star unto the night. You will find hope, alive among the hopeless -- that is your purpose to this life!

Lietmotif: Thomas Bergersen - Starfall
Dreams (Wishing Hard Inside Your Heart): Vienna Teng - Gravity

Look, love, they've given up believing, they've turned aside our stories of the gentle fall. But don't you believe them! Don't you drink their poison too! These are the scars that words have carved on me.