Noriko Hisakawa
From Persona MUSH Wiki
Noriko
The Kid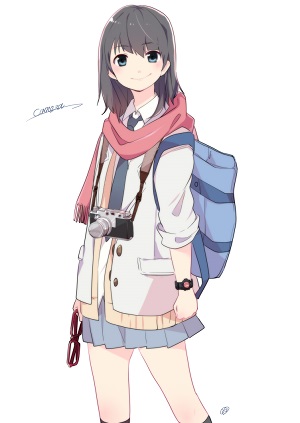 Status
Full Name
Noriko Hisakawa
Aliases
NA
Arcana
I - The Magician
Persona
Sherlock Holmes
Nature
Persona User
Gender
Female
Age
16
Birth Date
May 1st 1995
Blood Type
A+
Preferred Weapon
Fists
Faction
Department 4
Job
High School
Origin
Original
Player
SweetOrange
Trivia
Noriko is an only child.
Noriko's father is always working overtime
Noriko does not appear to have a mother
Noriko is severely lacking in the friends department
Noriko reported one of her few friends for shoplifting, the friendship ended soon after.
Quote
"Why are we sitting around doing nothing? The trail of evidence is cooling as we speak! C'mon, let's go."
Profile and Skills
Profile
Noriko Hisakawa is the daughter of a single father and cop, and she's rather known for wanting to follow in his footsteps. She can be argumentative to a fault, and some people claim she's just trying to hide her insecurities by being abrasive. Whether she is or isn't, she's often loud and occasionally a bit rude. Noriko has started working for Department 4 as an intern, a move which surprises few people on Noriko's side, though they're not always sure why D4 would have teenage interns. Outside school (or by now work), she spends most of her time around the few friends she have and the people at her school still remember she reported a friend for shoplifting once.
Skills
Maintaining the Family Business, Family Business: Cop, Intern, Enthusiastic, Getting In Trouble, Saying the Wrong Thing at the Wrong Time, Photography, Secret History, Even Secret From Herself
Social Links
VII - THE CHARIOT
Yoh Yamagatani - The Goofball - Yoh seems like a pretty nice guy, a bit goofy and silly sometimes, but that's okay. He means well and can somehow stand Noriko, which is really great.
VIII - JUSTICE
Ken Amada - Hero-kun - Ken is a really nice guy. Like Noriko, he's young for the people he's working with and she gets the feeling that he sometimes feels under appreciated. Noriko certainly knows what that's like.
IX - THE HERMIT
Shizuka Tanaguchi - Her - Noriko is entirely not sure what to think of Tanaguchi-san. She keeps running into the woman, dark hour, arcades, whatever. Tanaguchi-san keeps having her equipment destroyed, and Noriko is getting kind of curious what kind of equipment she has.
XVI - TEMPERANCE
Miya Aikawa - The Delinquent - Aikawa-san seems to pride herself on being bad company. Noriko isn't sure why, she gets the feeling Aikawa-san could be a good person. It's aggrevating.