Sayuri Minase
From Persona MUSH Wiki
Sayuri Minase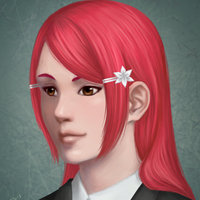 Status
Full Name
水無瀬 小百合 (みなせ さゆり)
Arcana
VIII - Justice
Persona
None yet.
Gender
Female
Age
19
Birth Date
March 14, 1992
Preferred Weapon
Practice Naginata
Faction
New World Order
Teams
Nationalist
Job
University Student
Player
Sayuri
Summary
Sayuri is the daughter of the Minase family, who were once one of the noble houses of Japan. Frighteningly traditional, the Minase live by traditional Japanese values that have not, apparently, changed in several hundred years. The Minase have donated large amounts of money to the NWO for years, driven by their desire to see Japan restored to the way "it ought to be."

Sayuri herself is an extremely kind-hearted, social, outgoing, and friendly young lady. She is extremely graceful and ladylike, and is occasionally a little anachronistic for modern Japan. She's doting and big-sisterly and loves to give advice. She's an extremely hard worker and a driven perfectionist, and she is extremely devoted to her classes and extracurricular activities.

But she is devoted to rules, law, and order. There is a right and a wrong way to do everything. She encourages what is "right" in everyone. And most things are plainly black and white. Combined with a loyalty to her family (and, by extension, the NWO) that knows no limitations, she comes off as ridiculously duty-bound. When everything is a duty, all you have is obligations, and everything must be right, well... You end up with an incredibly driven and single-minded lady. She can't even see when she's being unreasonable.

Oh, yes. She's also stubborn as a mule. Trying to change her mind is an act of masochism.
Trivia
Sayuri is a member of a fictionalized version of the Minase family, which are one of the ancient noble houses of Japan. The kazoku were abolished years ago, and the (fictional) Minase are currently just a wealthy, private family.
Her last name loosely translates to "Water Without Currents," which can have a feeling of either "tranquility" or "stagnation." Either works equally well for the Minase.
On the other hand, Sayuri means "Lily." She likes to wear her namesake.
Sayuri likes chocolate. A lot. In fact, she likes it to the point that Rei worries about her. At home, her family didn't buy all that many sweets... But here? At least she gets a lot of exercise.
She's red haired because... well, mostly because of anime logic. Her family always believed her red hair was because she was a "special" child (both for being spiritually sensitive and, well, living in the first place. Her family is /really/ inbred.) She is 100% pure Japanese, though. (And 100% Minase, which is kind of a problem.)
Brief History
The Minase were once a powerful noble household. But even in traditional times, they were always seen as extremely traditional. Little liked, often feared, and occasionally considered fanatics, they made allies where they could--And, somehow, ended up in an alliance with the Saionji family that has lasted hundreds of years. The two families could not have been more different. But they shared a lineage and a history of being unliked by the other families.
The Minase are obsessed with purity. This has led to an aggressive amount of inbreeding. For centuries, Minase have only married Minase. This has led to the family nearly driving itself to extinction. In the modern day, the family is wealthy but tiny. Sayuri is the heir apparent, and also the only child of her parents to have survived.
Just like the Minase and Saionji shouldn't get along, it's hard to imagine how Rei and Sayuri do. But Rei is actually her oldest, closest childhood friend. They met in the Minase Gardens when they were 6 and 7, respectively. She was fascinated by the older boy, and determined that there was something special about him. This led, somehow, to a pinky promise that he would be her "big brother." And somehow it stuck--Although their friendship is unusual, and seems to mostly revolve around her nagging him incessantly and him humoring her endlessly, they are undeniably close. She is well aware that he's withdrawn, quiet, and often curt--But she's convinced that he's a wonderful person beneath it, and tries her best to nag him into being more outgoing and social.
Sayuri attended the prestigious Gakushuuin University in Tokyo for her first year. Given that that was the university that the royal and noble houses have traditionally attended, there was no reason to assume that she would ever go anywhere else. But she was called away recently to help represent the Minase family directly to the New World Order. Consequentially, she was just transferred to Fra Mauro University on Port Island.
Quirks
THE REAL WORLD IS HARD
Sayuri grew up sheltered in her family's Tokyo home. There, everything was controlled. She didn't use computers or cell phones except for school-related activities. Her schedule was tightly controlled. She still keeps a tight and responsible schedule--because that's the only good way to live--but the real world is going to blindside her. Trains? Text messages? Hanging out online? Cooking for herself? These are mysterious arts. She has no clue what she is doing.
SERIOUSLY WHAT IS GOING ON HERE
She is profoundly, profoundly naive. She has this beautiful, beautiful image in her mind about how the world is supposed to work. Given how sheltered she is and how black-and-white her worldview is, it's not extremely accurate. She's naive about the real darkness in the world, naive about the real world, and naive about what would fix it. But good luck ever convincing her of that.
Skills and Hobbies
Sayuri has a very mild spiritual sixth sense. It's not terribly useful--she can't distinguish between types of things, so shadows and Personas feel just as "weird"--but she does notice when things are /odd/. It's certainly predisposed her to believe in omens.
Sayuri loves her history. So very, very much. And while she'll read just about anything, she is most fascinated with Japanese history.
Supernatural + History = ???
When she was very young, her odd combination of talents drew her to an interest in Shinto. Her highly traditional family was more than happy to hand her their family's very odd, personal form of the religion, one that was very literally full of demons, spirits, and darkness. She knows a bit about the shadowy world of Personas and shadows, though she knows nothing /personally/ of it. This means that when she runs into /real/ trouble--Trouble that is not at all like the youkai stories--she is going to be in serious trouble.
Aside from that, she has spent a lot of time studying very esoteric Shinto and Buddhist beliefs and is very fond of her family's shrine. She never goes anywhere without her omamori (and she makes sure Rei doesn't either).
It might seem odd for a graceful young woman to also be studying naginata-jutsu, but it's actually a very traditional female weapon. She attends practice at least once a week, at least when she can, and takes it very seriously.
Notable Social Links
IX - THE HERMIT

Rei Saionji : "Rei-niisama" is her oldest childhood friend. Her transfer to Fra Mauro was sudden and unexpected, and she's decided that she's going to use this opportunity to surprise him. He will definitely be surprised. But now she'll get to see him regularly! Won't he be thrilled? He better be thrilled. (You would have to ask her why in the world she would think Rei is capable of feeling "thrilled" about anything.)