Akane Inochi
From Persona MUSH Wiki
Akane Inochi
Inochi's Ojou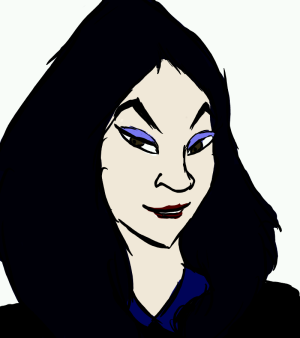 Status
Full Name
命茜
Aliases
Akane
Arcana
The Emperor (Reverse)
Nature
Persona-User
Gender
Female
Age
25
Birth Date
November 19th, 1988 (Earth Dragon; Scorpio)
Blood Type
O
Preferred Weapon
Handgun, Knife
Faction
NWO
Job
Businesswoman
Divisions
The Inner Circle
Assignment
Ordinance Supplier
Origin
Original 2012 OC
Voice Actor
Miki Ito
Player
Boomage
Social Stats
Expression

3

Manipulative Bitch
Knowledge

4

Intelligent Bitch
Courage

2

Paranoid Bitch
Understanding

0

Stunted Bitch
Diligence

4

Strict Bitch
Equipment
Weapon:
Inochi Special - A sleek handgun. Comes in both licenced and less-traceable forms.
Body:
Business Suit - A neatly-cut black-and-blue suit.
Feet:
Heels - Low enough to walk with, high enough to be respectable.
Accessory:
Purse - A black businesslike purse, large enough for important documents. And weapons.

Trivia
Akane's name means 'Deep Red', and just to spite it, she's taken on blue as her patron colour.
Akane has made a few rounds as a dominatrix, and she enjoys messing with masochists, but they only satisfy her up to a point.
Her Guardian Dragon is the Moon Dragon.
Soundtrack
Inochi-hime
Porcelain and the Tramps - King Of The World
I'm the fucking king of the world

(Get on your knees)

I'm the fucking king of the world

(Do as I please)

So get up and get out and I'll show you

What it means for me to control you

'Cause I'm the fucking king of the world


Bow to me

Bow to me

At my feet and bow to me.
Huli-Jing Seduction
Soho Dolls - Right and Right Again
If you hold your rank

You'll have me to thank

And you break new rules, go spread the news

I know I can be forward

In a way too awkward

If I can't convince, I will confuse


If you wanna stay

Gonna have to come to bed...
Droit du Seigneur
Dragonette - Fixin' to Thrill
That's alright, it's alright, it's alright

We'll get you something that you can't get at home

And your mama, your mama

She don't know what she don't know

So we could do it any way you want

We only like you 'cause you're cute and young

You gotta work what daddy gave you, son

Come on and show me that you know how to use it

And do your duty!
Paranoia / Egomania
Megadeth - Dread and the Fugitive Mind
Let me introduce myself

I'm a social disease

I've come for your wealth

Leave you on your knees

No time for feeling sorry

I got here on my own

I won't ask for mercy

I choose to walk alone


What's yours is mine, and what's mine is mine too

If you shake my hand, better count your fingers.
Psyche
Curve - Chinese Burn
She'll break a promise as a matter of course

Because she thinks it's fun to have no remorse

She gets what she wants and walks away

And she doesn't give a fuck what you might say

Because it cuts her up like Irish mortar

Mother's pride is what we taught her

Soiled and petty as we happily taunt her

Friend or enemy we're all to blame


She'll burn us bad

She'll flaunt her fame

She'll make us remember, remember her name...
Quote
"... bear welcome in your eye,

Your hand, your tongue: look like the innocent flower,

But be the serpent under't."
- Lady Macbeth, Macbeth
Persona Information and Resonance
"I am thou... thou art I. I am Daji, the cruel concubine. Let us revel in the debauchery of pain."
Born of the Su family, Daji was King Zhou of Shang's favourite concubine. She was made his prize when he conquered Yousu, and eventually caused his downfall as he became increasingly infatuated with her. Daji's loves of debauchery and sadism were pandered to by the King in order to win her favour. She had an inquisitive (if twisted) mind, and engaged in several terrible experiments in order to satisfy her dark scientist's curiosity. Daji invented the method of torture called Paoluo, and she and King Zhou would watch, laughing, as her victims danced and burned. After the fall of the Shang Dynasty, she was executed.
Daji appears as a naked Chinese woman with pointy ears, at the height of wantonness, holding various instruments of pain. Sometimes, she gives hints as to her true nature -- a huli jing spirit.
Resonance:
SENSE: The esctacy of orgasm surveyed by a smile which only shows teeth. Lusty primal urges warring with the good sense of the intelligent mind. The meal which you know will taste great -- until the poison sets in. Which side of the coin one feels depends on the individual; some will find a sense of arousal, others a sense of caution, and still others will find both desire and doubt at the same time.
SOUND: A noblewoman's laughter, moans of pain.
SMELL: Blood and the smell of sex.
Profile and Skills
Profile: An up-and-coming businesswoman and princess of the weapon producers known as Inochi Industries, Akane Inochi is the sole inheritor of her family's business. This makes her an attractive companion for many who desire her power, and she's been known to have a fling or two with the men who try and court her. But perceptive people will notice that there's something off about this ojou. Her past partners are reluctant to talk about her, her employees speak of being overworked, and her smile always seems to hide teeth...
Skills: The Innocent Flower, Definitely Not The Snake Underneath It, The Way Of A Woman With A Maid, Profit Leads To Power, Power Leads To Profit, She's The Ojou, But You Can Call Her 'Mistress', You're All PEASANTS!, Noblewoman -- Tyrant -- Arms Dealer, Paranoid Princess, She Has Excellent English Skills, And She Quotes Shakespeare With Them, But Usually She's Nice Enough To Translate
Social Links
0 - THE FOOL
I - THE MAGICIAN
II - THE HIGH PRIESTESS
III - THE EMPRESS
IV - THE EMPEROR
V - THE HIEROPHANT
VI - THE LOVERS
Nene Shudo
Like a cunning little Russian doll, she's nested inside herself. How many layers are there to you, girl? I will learn the answer, and you will serve me.
VII - THE CHARIOT
VIII - JUSTICE
IX - THE HERMIT
X - THE WHEEL OF FORTUNE
XI - STRENGTH
XII - HANGED MAN
XIII - DEATH
XVI - TEMPERANCE
XV - THE DEVIL
XVI - THE TOWER
Mikiya Ryouhara
What a wonderful, dangerous, horrible boy. I think I shall have him killed, if the opportunity comes up. He offends me.
XVII - THE STAR
XVIII - THE MOON
XIX - THE SUN
Tatsuya Sudou
If I were his father, I would be ashamed. And irate. Well, to be honest, I'm irate regardless. He's an annoying, smug little masochist; that he's a masochist is the worst part. If he feared pain, I might at least have something to use against him.
XX - JUDGEMENT
XXI - THE WORLD
Nyarlathotep
Can you scream? Can you feel pain? I wonder, o Devil. I wonder. Pray I do not learn the answer.

The Dragons
Fools, peasants and charlatans. Nepotism is a fine enough tactic, I suppose, yet I'd balk before allowing any son of mine to drag in a group so rough and blasé. They have no sense of tact -- no class -- they play at the world of shadows, forcing every lock, smashing every window. This group of thugs is ultimately beneath my notice.

The NWO
Passed down from my foolish father, from his father, from his; a place within the goosestep of an ancient pact. Yes... it would be nice if they were able to enact their aims. If those efforts involve a steady flow of weapons from a certain dealer, hm, all the more power to them. They're quite charming as customers -- I have no reason to redact the traditional deals they've been offered by my company.