Chizuru Ishigami
From Persona MUSH Wiki
石神 千鶴
Chizuru Ishigami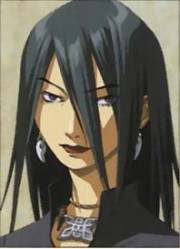 Status
Fullname
Chizuru Ishigami
Arcana
Wheel Of Fortune
Nature
Civilian
Gender
Female
Date of Birth
August
Age
30-something
Faction
NWO
Team
SEBEC
Eyes
Black
Hair
Black
Height
5'5
Voice Actress
Kikuko Inoue
Persona
Shikigami
Weapon
Handguns
Other Things
Chizurus' Darkside forum-name is dragonQueen, an ironic call to one of her best skills.
Chizurus' alias is 'Wang Long Chizuru'. She's more well known around Sumaru and everywhere else for her ability to read fortunes and divine rather than her sorceress/Onmyoji abilities, especially in the Wang Long Fortunetelling area. This delights and infuriates her.
That Extra Sensory Perception skill? More useful than it looks.
There always seems to be a black cat nearby when Chizuru is around. No one is quite sure why.
She really didn't like the KNOWS program. Not at all.
May have an unrequited crush on someone. Doom on everyone if it happens.
If she runs into Baofu, there are no guarantees on what happens.
Chizuru has a special pendant. No one seems to know what it stands for, and she doesn't tell anyone.
Her birthday, in specific to day and year, are hidden from even the NWO.
Chizurus' past is even protected except by those that can hack it (Baofu), and those high enough in the NWO to know.
She's a practiced Onmyoji, having been practicing for a solid 20 years at the very least.
Rumor has it, although it is not confirmed nor denied, that she fell in with the NWO at an issue with her college campus.
Ceiling Chizuru is watching you.
Chizuru has a bad habit of sneaking up on people, even in heels.
Chizuru has a bad habit of wearing heels into combat.

What's worse is that she's still decently agile in them.

Chizuru prefers to dual-wield handguns.
Just because Wang Long Fortune-telling is her most famous way of divining, do not expect it to be her only one. Not everything is perfect, and even Chizuru acknowledges it ... so that brings up the question... how does she know what she knows...? Not even Kandori is sure, as there are some things she just doesn't tell ... to anyone. Every woman has their secret.
Logs
Veni, Vidi, Vici In which Baofu and Chizuru run into each other and trade information. (RL date: 9/28/2010)
Quote
"Mr. Kandori will be in an appointment by the time I transfer you, would you like me to take a message for him?"

Profile And Skills
There exists still in this jaded society oracles and mystics; among what likely few remain is Chizuru Ishigami, a woman renown for her talents as a prophet and fortune-teller through Wang Long divination. Though recognized for this, some still remain skeptical of her skills, while others question whether or not she is some kind of actual witch. Such is, perhaps, a sort of half-truth, as she is an accomplished Onmyoji, who relies not on the use of a Persona, but instead mystic talents and esoteric manipulations. Oddly, Chizuru Ishigami has come under the employ of SEBEC--more specifically, as a personal assistant to Takahisa Kandori who, on occasion, solves his problems and handles his less-pertinent matters.
Skills: Extra Sinister Perception, Spreading Nasty Rumors About People, Unfortunate Alias, Evil Cat Lady, Who Needs Persona When You Have Shikigami?, Terror Of The Typing Pool, Feng Shui From Hell, Modern-Day Sorceress
Combat Information
Shikigami/Onmyoji

| Attack Name | SP Cost | Effects |
| --- | --- | --- |
| Pierce Attack - Handgun | 0 | Chizuru's dual-wielded handguns hurt. |
| Card Of Protection | 8 | Chizurus' special, a self-buff of 5 different types. |
| Area Of The Earth | 21 | Area earth attack. Think of rocks on your head. |
| Card of Binding | 10 | Bullets hurt when they debuff you... |
| Curse | 13 | Area wide darkness. |
| Earth Shikigami | 7 | Earth Demon |
| Fata Morgana | 7 | Marin Karin, area-wide. |
| Fiendish Card | 4 | Strength self-buff. |
| Fire Shikigami | 7 | Fire Demon |
| Rain Of Arrows | 13 | What it says on the tin. |
| Water Shikigami | 7 | Water Demon |
| Wind Shikigami | 7 | Wind Demon |
Social Links
0 - THE FOOL:
Tohru Adachi: Quite the fool, aren't you... ? Chizuru likes Adachi, he means well, it's just... he's such a /fumbles/... Thankfully, she does not seem to interact with him much.
I - THE MAGICIAN:
Chizuru has no noticeable Magician links.
II - THE HIGH PRIESTESS:
Chizuru has no noticeable High Priestess links.
III - THE EMPRESS:
Chizuru has no noticeable Empress links.
IV - THE EMPEROR:
Chizuru has no noticeable Emperor links.
V - THE HIEROPHANT:
Chizuru has no noticeable Hierophant links.
VI - THE LOVERS:
Chizuru has no noticeable Lovers links.
VII - THE CHARIOT:
Chizuru has no noticeable Chariot links.
VIII - JUSTICE:
Chizuru has no noticeable Justice links.
IX - THE HERMIT:
Chizuru has no noticeable Hermit links.
X - THE WHEEL OF FORTUNE:
Chizuru has no noticeable Fortune links.
XI - STRENGTH:
Chizuru has no noticeable Strength links.
XII - THE HANGED MAN:
Chizuru has no noticeable Hanged Man links.
XIII - DEATH:
Chizuru has no noticeable Death links.
XVI - TEMPERANCE:
Chizuru has no noticeable Temperance links.
XV - THE DEVIL:
Reiji Kido: Kandoris' brother. Designated a priority target. Where are you o/'~?
XVI - THE TOWER:
Takahisa Kandori: Takahisa Kandori is Chizurus' direct boss in both the more-normal SEBEC company as his personal secretary, and in the NWO as his jack(er, jill) of all trades. When he says jump, she jumps, but this pair has an odd hole in it. What kind of hole? Chizuru isn't telling... but that shouldn't make them any less dangerous, as the pair have a tendency to think alike, and that's the worst thing. Ever.
Thora Kobayashi: Thora Kobayashi has more to her than she's aware of, but that Chizuru is, and that's without the secretary having to look at the personal files. She's an enigma, and if there's something Chizuru loves, it's to crack that mystery that is the Great Oni.
XVII - THE STAR:
Chizuru has no noticeable Star links.
XVIII - THE MOON:
Chizuru has no noticeable Moon links.
XIX - THE SUN:
Chizuru has no noticeable Sun links.
XX - JUDGEMENT:
Chizuru has no noticeable Judgement links.