Shogo Kakita
From Persona MUSH Wiki
Shogo Kakita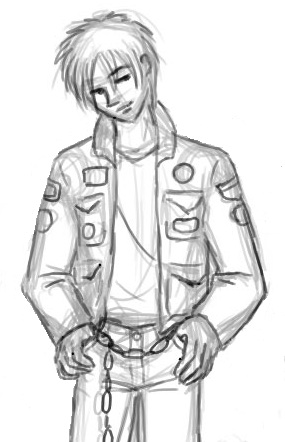 Status
Full Name
柿田照午
Aliases
Shogo
Arcana
Tower
Nature
Persona-User
Gender
Male
Age
16
Birth Date
August 10, 1995
Blood Type
B
Preferred Weapon
Combat Knife
Faction
Unaffiliated
Assignment
Gekkoukan High, 2nd year
Origin
Original Character
Player
Shogo
Trivia
Has two younger siblings, Himiko (12) and Jirou (10).
Hates mushrooms.
Is only half Japanese.
Quote
"I'd be insulted, if I cared enough to give a damn."
Profile and Skills
Profile
A second year student at Gekkoukan High, he's often known as a delinquent and a punk. A resident of Iwatodai, he can often be found lurking around either Iwatodai or Port Island stations, often with the crowds most are smart enough to avoid, and at all hours of the night. He lives with his mother and grandparents, at least he's supposed to, he rarely seems to leave the school or his hangouts. Though there are two children, younger siblings, that he's fiercely protective of. An average student at best, and a delinquent more by association than deed, he manages to fly under the radar and avoid having to deal with people in general.
Skills
It's Apathy Not Syndrome, Determined Defeatist, Don't You Dare Pity Me!, Good Is Not Nice, Sugar and Ice Personality
Persona
Telemachus
Background
The son of Odysseus, Telemachus remained true to his father's memory and honor even when everyone else was convinced he had perished at sea. He set out on a journey to find him, only to encounter him when he finally returned to Ithaca. Shortly after, they together enacted their vengeance on those who had taken advantage of Odysseus' absence.
Resonance
The feeling of righteous anger. That burning need for revenge on those who have wronged you. The scent of iron and blood, and the sound of a spears and arrows flying through the air.
Soundtrack
Big Bad Voodoo Daddy - Big and Bad - Combat

With some fire in your belly, you move a little faster. And the devil in your arm makes you hit a little harder.