Aika Nakamura
From Persona MUSH Wiki
Aika Nakamura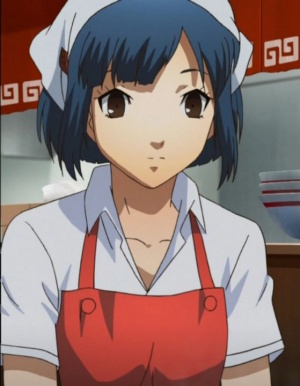 Status
Arcana
XII - The Hanged Man
Gender
Female
Preferred Weapon
Cutlery
Faction
Unaffiliated
Job
Waitress Everywhere
Origin
Persona 4
Voice Actor
Aoi Yuki
Quote
"Just leave the bowls."
Profile And Skills
Profile: The expressionless delivery girl and waitress at Aiya Chinese Restaurant, Aika Nakamura seems to moonlight at an unnatural number of restaurants in Inaba. A poor student but a legendary employee, Aika does not require an address (or sometimes even a hint of a location) to deliver fresh, delicious noodles right to you. Catering is available; ask about our specials.
Skills: Nurse Joy Without the Joy, Homing Missile with Noodle Payload, Actually Chinese, Android Sent Back in Time to Feed You, You Almost Can't Spell 'Aiya' Without 'Aika', They'll App Anyone These Days.